Hawaiian Airlines contest giving away free Hawaii-West Coast trips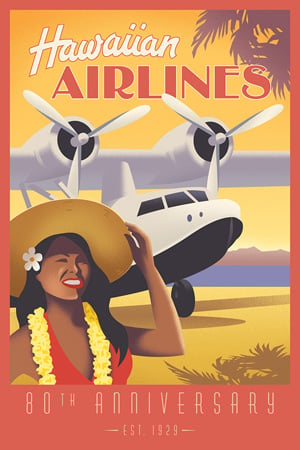 Hawaiian Airlines has been toasting its 80th birthday all year.
But the Hawaii-based air carrier's latest celebration of the milestone anniversary is one that could gift you with some actual time in the Islands. Hawaiian Airlines is giving away eight roundtrip coach ticket packages for two between Hawaii and any West Coast city the carrier serves.

The tickets are the grand prize in Hawaiian Airlines' "Travel Through Time" contest. Just answer eight questions—matching vintage Hawaiian Airlines flight crew uniforms to the year they were introduced on flights—and you'll be eligible for the ticket drawing. If your Hawaiian Airlines fashion savvy isn't up to snuff, don't worry: A pop culture clue is included to help.
Not that being an expert here matters. Just complete all of the questions and you'll be eligible for the final drawing—no matter how many answers you get correct.
There is one caveat to the contest: You must be a member of the carrier's HawaiianMiles membership program to enter. The free program rewards members with travel awards and exclusive deals. Click here for more information.
One winner per week will be announced from now through the contest's end on Sept. 23, 2009. Click here to enter, or to see if you've won. Winners will also be announced on Honolulu radio station KSSK on Friday mornings through contest's end.
Good luck!