Hawaiian Airlines reveals 'Moana'-themed airplanes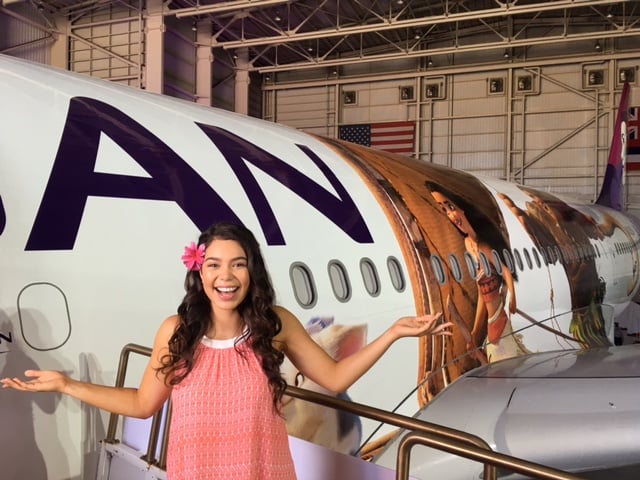 Three of Hawaiian Airlines' Airbus A330 airplanes will take to the skies with custom imagery of the characters from Disney's "Moana" adorned on their sides. The first of the planes to be added to Hawaiian Airlines' domestic and international network is the Hikianalia, with a scene of the demigod Maui, the bright-eyed Moana, and their friends, a pig and a rooster, navigating on a large Polynesian canoe.
"'Moana' is about an adventurous teenage girl looking to reconnect with her Polynesian voyaging routes. And in so many ways, that is what we do today," says Hawaiian Airlines CEO Mark Dunkerley. "The first thing you'll see is the spectacular outside of the aircraft that's been put together with some characters from the movie. Once you're inside, you'll see some of these murals and decals depicting images from the movie and we'll also have a bunch of cups and napkins and things like that to really make the movie 'Moana' come alive."
This includes the overhead baggage bins which are completely designed with artwork and more characters of the film. There are also plans to have special inflight entertainment, such as the casting video of Hawaii-born actress Aulii Cravalho, who plays the voice of Moana.
"I was kind of in awe, kind of in shock, then I saw how beautiful Moana looked," says Cravalho, on first seeing the planes. "I'm really just amazed at how amazing this film is and how many people have noticed just how important it is as well, so I'm really excited for everyone else to see it. And now it will be seen in the sky, so pretty cool."
Though it's not possible to request for these specific planes when traveling on Hawaiian Airlines, you can track its voyage online at hawaiianairlines.com/moana.
The film is set to release November 23.
Follow HAWAI'I Magazine on Instagram and pick up our November/December issue for our interviews with Cravalho.