Hawaiian rainforest stamp to get first-day issue at Hawaii Volcanoes National Park, Sept. 1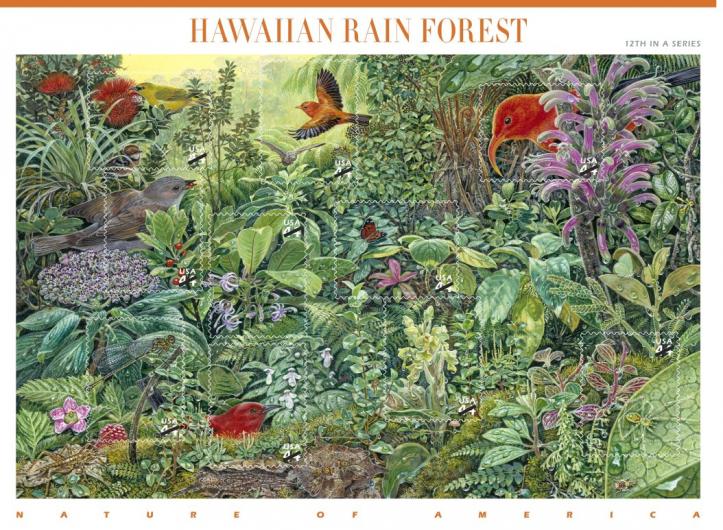 A new U.S. Postal Service stamp pane featuring the native plants and wildlife of Hawaii's rainforests will receive its first-day issue at Hawaii Volcanoes National Park this Wednesday, Sept. 1.
If you're on the Big Island that day, you're invited the stamp pane's first-day cancellation and unveiling ceremonies. The morning ceremony will be free and open to the public, as will entry to Hawaii Volcanoes National Park until noon.
In June, HawaiiMagazine.com reported that the newest stamp pane in the United States Postal Service's Nature of America Series would feature a painting of a Hawaiian rainforest by Big Island wildlife artist John D. Dawson.
The location for the stamp's first-day issue at Hawaii Volcanoes National Park is fitting. Dawson's painting—his 12th for the annual stamp series—was partially inspired by the native rainforests surrounding the park's Thurston Lava Tube. Additional design inspiration for the painting came from the Olaa Rainforest Reserve near Hilo—where Dawson lives.
Here's the schedule for Wednesday's stamp-issuing festivities at Hawaii Volcanoes National Park:
• 9:30 a.m.-2:30 p.m.: Hawaiian Rainforest stamp panes and postal cards will be sold and given first-day U.S. Postal Service cancellations on the Kilauea Visitor Center lanai.
• 11 a.m.-Noon: Unveiling ceremony at Kilauea Visitor Center hula platform. The ceremony program will include:
– Artist John D. Dawson (pictured, right) discussing his inspiration for the painting.
– Oli (Hawaiian chant) and hula by kumu hula (hula instructor) Ab Kawainohoikalai Valencia and Halau Hula Kalehuakiekieikaiu.
– Presentation of colors by Waiakea High School Navy JROTC Colors.
– Remarks by Hawaii Sen. Daniel Inouye, Lt. Gov. Duke Aiona, Big Island Mayor Billy Kenoi and U.S. Postal Service Deputy Postmaster General/COO Patrick Donahoe.
The USPS has released a new pane in the Nature of America stamp series annually since 1999, with a goal of educating people about the nation's diverse plant and wildlife communities. Previous stamps in the series included Dawson paintings of the Sonoran Desert, Pacific Coast Rainforest, Pacific Coral Reefs, Southern Florida Wetlands and the Arctic Tundra.
Two dozen different plant and animal species native to the Hawaii rainforest are shown in Dawson's acrylic painting for the "Hawaiian Rain Forest" stamp pane. Among these are ohia lehua and koa trees, palapalai and hapuu pulu ferns, the happyface spider and opeapea Hawaiian hoary bat and colorful birds like the apapane, iiwi, akepa and omao.
To read more about the "Hawaiian Rain Forest " stamp pane and artist Dawson, click here for an article we wrote when the stamp was first announced.
If you can't be on the Big Island for the ceremony, you can still purchase a first-day "Hawaii National Park"-postmarked "Hawaiian Rain Forest" stamp pane or postal cards from the USPS Postal store.
Hawaii Volcanoes National Park's main entry gate is located off Highway 11 (the Hawaii Best Road).