Hawaii's best swimming beaches revealed!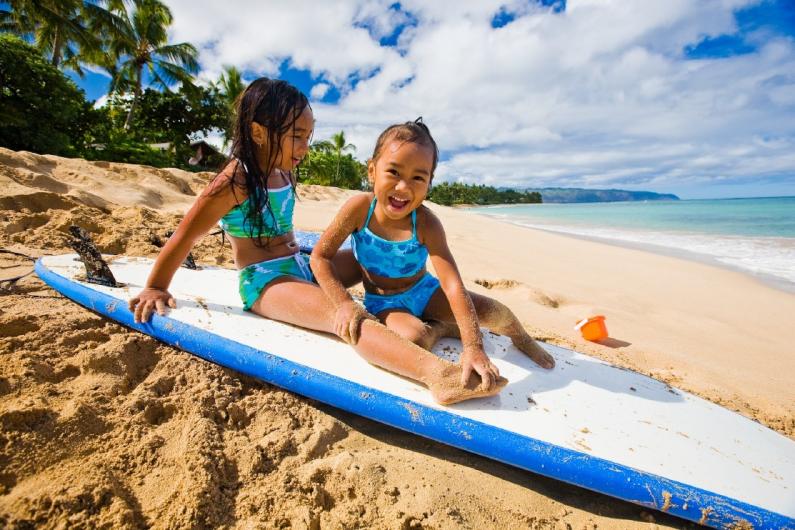 What are the best "swimming" beaches in Hawaii?
When HAWAII Magazine wanted to get the lowdown on the best beaches on Oahu, Kauai, Maui and the Big Island for a day of swimming and water activities, we went to John R.K. Clark.
Clark knows more about Hawaii beaches than anyone in the state. He's walked the shorelines and swum the waters of every stretch of sand in Hawaii—more than 500 beaches in all. Clark, 63, has spent much of the last four decades compiling a lauded series of Hawaii beach guidebooks.
He began writing his first book—Beaches of Oahu—in 1972, after leaving a brief stint as an Oahu lifeguard to join the Honolulu Fire Department. Clark burned up serious vacation time visiting every beach in the state, while rising to the rank of deputy fire chief. Beaches of Oahu was published in 1977—followed by Beaches of Maui County, Beaches of Kauai and Niihau and four other titles (available from University of Hawaii Press).
We were so impressed by stories of Clark's book research—paddling rugged coastlines alone on his surfboard to reach Hawaii's most remote beaches; scribbling beach notes on his board while circled by dolphins and, one time, a large tiger shark—we profiled Clark for HAWAII Magazine's September/October 2010 issue Portraits in Paradise column. Check it out. It's a great read.
But back to the subject of Hawaii's best swimming beaches.
"A 'swimming beach' to me, is a place I would take my family to swim," says Clark (pictured, right), explaining the criteria for his selections here. "A great one will have nice, white sand. It's going to be relatively danger-free, with no big surf and no worries about reef, wana (spiny sea urchin), box jellyfish or Portuguese man-o-war. There are going to be showers and bathrooms for the kids, too."
Here, exclusively for HAWAII Magazine readers, Clark shares his personal choices for best swimming beach on Oahu, Kauai, Maui and the Big Island, along with reasons why Clark chose the beach, his advice for enjoying your beach time, and photos.
Now, grab some sun block and get ready to jump into the surf … here are the best swimming beaches in Hawaii …
MAUI
Kapalua Beach Park
(Kapalua, West Maui)
"Kapalua is a nice little pocket of curved white sand beach. During winter, when surf kicks up on Maui's west side, its two lava-rock points block the surf so the beach stays calm. It's a great beach for swimming and snorkeling—you'll see fish and other marine life. The beach is a focal point of the Kapalua Resort. But there's public parking, restrooms and a right of way to the beach."
KAUAI

Salt Pond Beach Park
(Hanapepe, West Kauai)
"It's a beautiful setting—a wide white sand beach, nice and clear water, and a lagoon created by a rock barrier offshore. Even when surf is big outside the barrier, the lagoon inside remains protected and safe for swimming. There are tidal pools with lots of marine life for kids to explore. During the summer, you can watch the caretakers of the beach's salt ponds make paakai—Hawaiian sea salt."
OAHU
Hanauma Bay Nature Preserve
(Hawaii Kai, East Honolulu)
"This is one of the most beautiful beach settings in all of the Hawaiian Islands. For snorkelers, marine life is plentiful. The bay has a large sand pocket in the middle of the reef, called 'The Keyhole' that is perfect for swimming. The horseshoe-shaped bay was created when ocean water broke into the outside wall of a volcanic crater. So when you're in Hanauma Bay, you're swimming inside a flooded volcano, a unique setting."
BIG ISLAND
Hapuna Beach State Recreation Area
(South Kohala Coast)
"Hapuna has a shallow sandbar that heads out about 50 yards so little kids can play safely near shore, while older kids can bodyboard further out. It can be dangerous during the winter months when there's higher surf. But when it's calm, it's great for families. There are restrooms, picnic areas and lifeguards. Like all of the beaches on this list, it's just a great place to be."
BONUS: Want to see which stretches of sand our HAWAII Magazine Facebook ohana voted for as its Top 5 favorite Hawaii beaches? Click here.