Hawaii's iconic Mauna Kea Beach Hotel reopens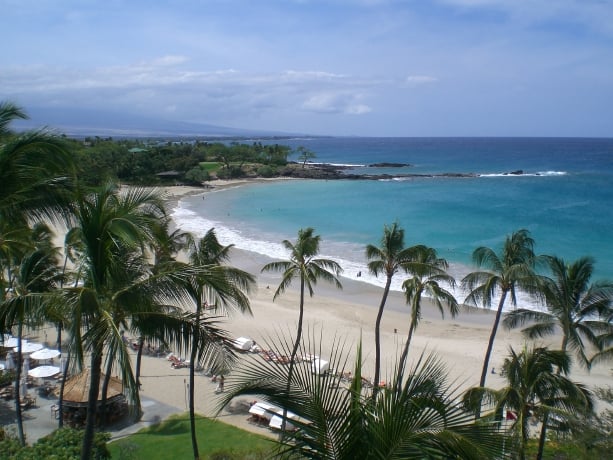 The Mauna Kea Beach Hotel got a glorious day for its official reopening, sunshiny, 79 degrees, with pleasant trades. Things are quiet here in the hotel lobby.
Everyone seems to be down enjoying the hotel's most prominent amenity, its crescent white sand beach.
Things will light up tonight with a "Cuisines of the World" food festival and a concert by jazz fusion band Hiroshima.
The venerable Mauna Kea Beach Hotel was the only one of the Kohala Coast hotels that sustained serious damage from the 2006 earthquake. Two and a half years and $150 million later, it has reopened, with a few changes.
The hotel never looked tacky, but it was starting to look dated, very beige and '60s. The original architectural design couldn't be improved—it's a triumph that blends spare modern construction with a tropical surroundings.
But the rooms were small. The new ocean front rooms take up a room and half from the old hotel. The new half room is a stunning bathroom with an open shower. There's a curtain that closes off the oceanfront picture window if modesty insists.
When Laurence Rockefeller designed the hotel in 1965, he put no televisions in the rooms. The Mauna Kea has finally given in and installed large flat screen TVs—though why would you want to gaze at a LCD screen when you can simply look out over palm trees, surf and blue skies?
Otherwise the hotel simply sparkles, with new paint and tiles, its priceless art collection newly restored and reinstalled. Wish you could be here—we will keep you updated on the festivities.