Hawaii's Little League team wins World Championship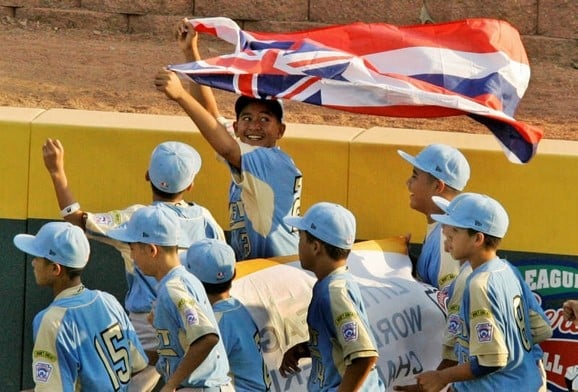 Hawaii's state champion Little League team returns home today as world champions.
The Little League team from the Oahu suburb of Waipio—representing the United States—defeated Mexico 12-3 Sunday at the Little League Baseball World Series in South Willamsport, Pa. It was Hawaii's second world championship win in four years. A team from another Oahu suburb, Ewa Beach, won the championship title in 2005.
It hadn't been an easy ride for Waipio at the 11-day series. Team member Iolana Akau suffered a hairline fracture in Waipio's opening appearance in the series, putting him out for two games. The team was close to losing the U.S. championship game on Saturday before a six-point rally in the final inning won them a world title berth.
Still, Akau's injury didn't stop him from making a homerun and diving for a catch (pictured left) in the fifth inning of yesterday's world title game.
"The Hawaiian youngsters don't know how to spell quit," ESPN sportscaster Brent Musburger marveled.
More than 28,500 spectators packed Howard J. Lamade Stadium in South Williamsport, but far more fans watched the game from Hawaii. I was one of those glued to the television.
The new World Champions return home to Honolulu International Airport tonight, at about 6:20 p.m., Hawaii time, on Continental Airlines flight 15.
Honolulu Mayor Mufi Hannemann is planning a Parade of Champions to honor both the Waipio Little Leaguers and Hawaii's winning Beijing Olympics athletes. A date has not been set.
Congratulations Waipio Little Leaguers! You've made all of us in Hawaii proud!
UPDATE, 8/28/08: The Parade of Champions will be held in Waikiki on Labor Day (Monday, Sept. 1) starting at 5 p.m. It will run down Kalakaua Avenue from Fort DeRussy to Kapiolani Park.
After the parade, there'll be a special Sunset on the Beach event at Queen's Surf beach, starting at 6:45 p.m. Stay for the featured film and live entertainment.