Hawaii's Makaha Sons bass player John Kapualani Koko dies at age 51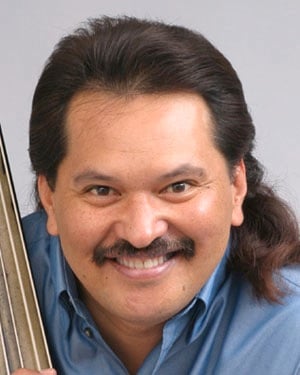 John Kapualani Koko, a longtime member of the Makaha Sons — a popular traditional Hawaii music trio that played twice at Carnegie Hall and before President Bill Clinton — died yesterday on Oahu. Koko was 51.
Koko had been contending with longtime heart problems and was pursuing plans to undergo a heart transplant, according to local print and broadcast media reports
The stand-up acoustic bass musician was born on Aug. 24, 1960 and raised in Nanakuli, Oahu. In his biography, posted on the Makaha Sons' website, Koko noted that his music career started at age 12 with a group called "Na Leo O Nankuli, which performed at the Makaha Sheraton in the early 1970s.
Also in the biography, Koko lists some highlights of his musical career including: two performances at Carnegie Hall in New York City; performing for President Bill Clinton and Hillary Rodham Clinton; and winning his first Na Hoku Hanohano award (the Hawaii music industry's equivalent of the Grammys.)
The Makaha Sons of Niihau began taking shape in the mid-1970s. Over the years, the group has reorganized several times. The group became a trio and changed its name to Makaha Sons in 1993, after well-known Hawaiian singer Israel "Bruddah Iz" Kaanaoi Kamakawiwoole left the group to pursue a solo career.
The current trio's other members are Koko's brother Jerome (12-string guitar) and Louis "Moon" Kauakahi (six-string guitar). John Kapualani Koko was a member of the group for three decades. Over the years, the group helped to popularize Hawaiian music and won several awards, including Na Hoku Hanohano awards and other Hawaii music awards.
Koko is survived by his wife, Tonia, four sons and two grandchildren. For more information about Koko and the Makaha Sons, click here.
VIDEO: The Makaha Sons performing Kui Lee's "I'll Remember You".