Hawaii's Natasha Kai makes U.S. Olympic soccer team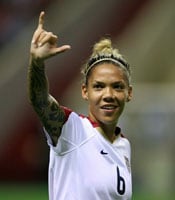 The United States Olympic Women's Soccer Team will have a Hawaii player on the pitch when it defends its 2004 gold medal in Beijing in August.
Former University of Hawaii soccer star Natasha Kai today became the first-ever female player from Hawaii selected for a U.S. Olympic team in the sport. The U.S. Women's National Soccer Team forward was one of 18 players chosen for the Olympic squad by U.S. coach Pia Sundhage.
Kai, who was raised on Oahu, joins an Olympic team loaded with the championship-winning U.S. national team's best-of-the-best. On Saturday, the national team won the 2008 Peace Queen Cup in Suwon, South Korea, with a 1-0 victory over Canada.
Sundage selected Kai for the Olympic team largely based on her performance in that match-up. Kai, with 11 goals, is second only to teammate Abby Wambach in scoring for the national team this year.
The U.S. Olympic team will play the first women's soccer match-up of the 2008 Beijing Olympics on Aug. 6 against Norway. Games with Japan and New Zealand follow on Aug. 9 and 12, respectively.
Kai—who lettered in five sports in addition to soccer while attending Oahu's Kahuku High School—is still the all-time leading scorer in University of Hawaii and Western Athletic Conference women's soccer history.
In 2006, she became the first-ever Hawaii player to make the Women's National Soccer Team. Kai was also part of the national team that won the 2007 FIFA Women's World Cup, the sport's world championship.
We'll definitely be watching the team in Beijing along with the rest of the world.
Congratulations, Natasha!