Hawaii's oldest national wildlife refuge celebrates 100 years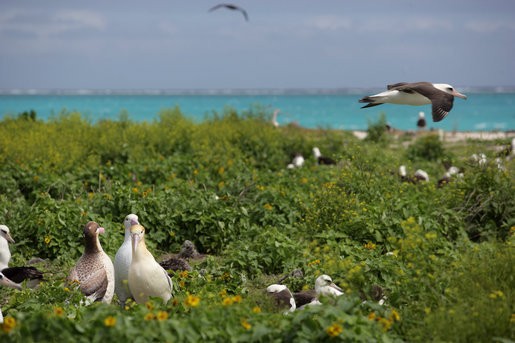 The Hawaiian Islands National Wildlife Refuge—Hawaii's oldest national wildlife refuge—this week marks its first century of protecting and preserving the fragile ocean ecosystems of the Northwest Hawaiian Islands.
If you're on Kauai today, stop by the Kilauea Point National Wildlife Refuge on the Island's north shore for the centennial celebration. The Hawaiian Islands National Wildlife Refuge (HINWR) is generally closed to all public access, and only accessible by boat or helicopter. Kilauea Point is located a couple hundred miles southeast of the refuge's easternmost border.
Once a major site of materials for the millinery trade, the HINWR is now largely devoid of human contact. The refuge spans roughly 800 miles in length, northwest of the main Hawaiian Islands—from the ancient Hawaiian settlement of Nihoa to the Pearl and Hermes Atolls. It lies within the boundaries of the Papahanaumokuakea Marine National Monument—established in 2006—which stretches a bit further to include Midway and Kure atolls.
Stretching northwest, islands in the HINWR provide habitats for hundreds of species of breeding seabirds, wintering shorebirds and endangered aquatic life such as the Hawaiian monk seal and the green sea turtle, or honu. Its 1,800,000 plus acres of reefs surrounding the islands and atolls are home to over 7,000 species of coral, fish and other marine life.
The refuge was first established by President Theodore Roosevelt on February 3, 1909, as the Hawaiian Islands Reservation in an effort to prevent the over-harvesting of seabirds and to protect seabird nesting sites
Staff of the Papahanaumokuakea Marine National Monument will give educational presentations and interactive tours at Kilauea Point today, from 1 p.m. to 3:30 p.m. Wildlife authors Mark Rauzon and Patrick Ching, who have spent time traveling the Northwestern Hawaiian Islands, will be on hand from 2 to 3 p.m. to sign copies of their latest work and regale the crowd with tales of their journeys.
If you haven't yet explored Kilauea Point peninsula—which juts out dramatically into the Pacific Ocean like a finger pointed north—you're in for a treat. The northernmost acreage of the eight main Hawaiian Islands, Kilauea Point is also home to many species of seabirds who nest in the cliffs surrounding the peninsula. This time of year, Kilauea Point is also a great place to spend an afternoon watching humpback whales and their newborn calves breach offshore. Binoculars are made available free at Kilauea Point's famed red-domed lighthouse. Tours of the lighthouse will also be offered, as scheduled.
For more information on Hawaiian Islands National Wildlife Refuge centennial festivities at Kilauea Point, call (808) 828-1413.