Hawaii's Papahanaumokuakea marine sanctuary named U.N. World Heritage site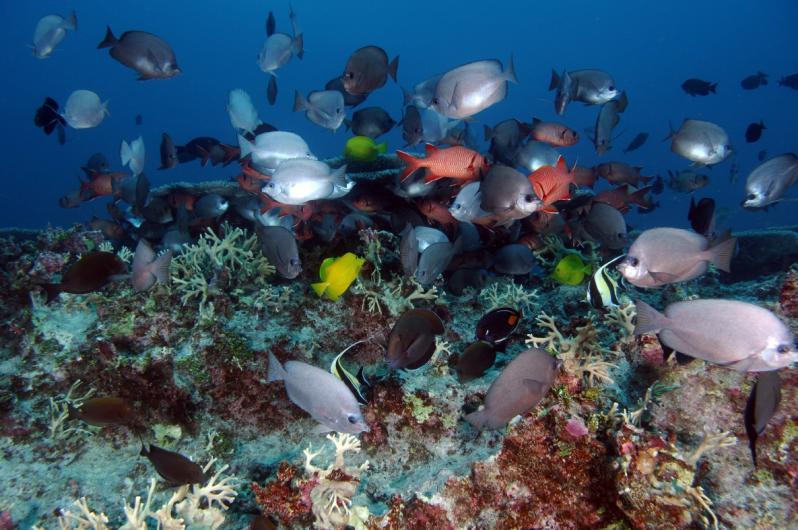 The Papahanaumokuakea Marine National Monument — a 140,000 square mile conservation area comprising 10 islands and atolls in the Northwestern Hawaiian Islands — has been designated as a United Nations World Heritage site.
With the designation from the U.N.'s Educational, Scientific and Cultural Organization (UNESCO), the area becomes one of only 26 "mixed" World Heritage sites in the world—and the first ever mixed site in the United States. The "mixed" designation honor's Papahanaumokuakea's natural and cultural importance.
Papahanaumokuakea is Hawaii's second World Heritage site inscribed by UNESCO. Hawaii Volcanoes National Park on the Big Island was inscribed in 1987, but not as a "mixed" site.
More than 890 sites from around the world have earned UNESCO World Heritage site designations. But Papahanaumokuakea is the first U.S. site added to the list in 15 years. UNESCO's "mixed" list is even more selective—Papahanaumokuakea joins a list of sites that includes Machu Picchu in Peru, the Tasmanian Wilderness in Australia and Mount Perdido in the French Pyrenees.
The area now known as Papahanaumokuakea was first proclaimed the Northwestern Hawaiian Islands Marine National Monument in 2006, by Pres. George W. Bush. It's name was changed to Papahanaumokuakea the following year. A very thorough explanation of the meaning of its Hawaiian name (and how to pronounce it) is here.
Papahanaumokuakea—which extends nearly 1,000 miles from Nihoa Island, northwest of Kauai, to Kure Atoll—is a truly unique place.
Its vast area of pristine coral reefs is home to more than 7,000 marine species, 25% of these endemic to the Hawaiian Islands. Its pristine waters are critical habitats for endangered species such as the Hawaiian monk seal, the green sea turtle and Laysan and Nihoa finches. The area also provides important nesting, foraging and hunting grounds for more than 14 million seabirds, making Papahanaumokuakea the largest tropical seabird rookery in the world.
Significant Native Hawaiian cultural sites are located on Papahanaumokuakea's Nihoa and Mokumanamana Islands. The area's islands and atolls are among the oldest land masses in the Hawaiian archipelago, dating back 28 million years.
Public access to the area is extremely limited, and fishing is off-limits.
A U.N. World Heritage site designation—mixed or otherwise—is primarily meant to raise the international profile of each site for continued preservation purposes. Papahanaumokuakea remains cooperatively managed by the State of Hawaii, the Department of the Interior and the Department of Commerce, with assistance from the Office of Hawaiian Affairs.
The National Oceanic and Atmospheric Administration maintains a great, and very comprehensive, informational website on Papahanaumokuakea, with photos, video, current news and lots of educational material. Click here to visit the site.
Papahanaumokuaukea Marine National Monument photo gallery
Photos courtesy NOAA