Hawaii's Roy Yamaguchi competes on Bravo's "Top Chef Masters"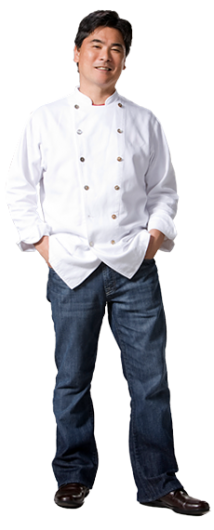 He has 37 restaurants, a James Beard award and a name recognized the world over. But can Roy Yamaguchi lay claim to the title of Bravo's Top Chef?
Find out tonight as the celebrated chef—who launched his Roy's Restaurants empire in the East Oahu town of Hawaii Kai—competes against 23 of his culinary peers in Top Chef Masters, a spinoff of the popular Bravo series Top Chef.
The 24 chefs compete in six opening-round episodes—four chefs in each episode. Similar to the original Top Chef, tonight's participants will test their skills in opening-round Quickfire and Elimination challenges. Only one of the chefs will be selected at episode's end to move on to the Champions round. In that round, the six chefs who won their respective first-round contests face off until a winner is crowned.
Tonight, Yamaguchi will compete in the Quickfire challenge, "Aisle Trial," which pits the chefs against each other in a grocery store. The Elimination contest, "Trick in a Box" will challenge Roy and the other chefs to make a meal based on ingredients in a mystery box.
Yamaguchi's all-star competition tonight? Michael Cimarusti, Jonathan Waxman and Art Smith. Smith was once personal chef to Oprah Winfrey.
The chefs invited to Top Chef Masters are well-established, with multiple restaurants, cookbooks, television shows and countless accolades to their name. If Roy makes it to the Champions round, things won't get any easier. Chefs Hubert Keller, Suzanne Tracht, Rick Bayless, Anita Lo and Michael Chiarello—who have already won opening round competitions—will be waiting for him.
The grand prize at the end of all of this is $100,000 for the winning chef's charity of choice—along with some serious bragging rights in whatever circles all-star chefs hang out in. Yamaguchi is competing for Hawaii-based non-profit Imua Family Services, which helps children with special needs on Maui and Lanai.
Imua Family Services gets $10,000 if Yamaguchi emerges victorious tonight.
Should Roy bring his signature chocolate soufflé to the table, we know he'll have as a good shot of winning as anyone.
Catch Top Chef Masters on Bravo network at 10 p.m. Eastern time and Pacific time; 7 p.m., Hawaii Time.
UPDATE, 7/23/2009: And the winner was … Art Smith, who took his Multi-grain Risotto with Crispy Rice Salad to the Quickfire round, and Fried Chicken Two Ways and Mango Pie to the Elimination round. Roy Yamaguchi took his Pasta with Fried Egg and Asian flavors to the Quickfire round, and Short Rib Kal-Bi and Mahi Mahi to the Elimination round.