Hawaii's Saint Damien inspires art, artists and aloha shirts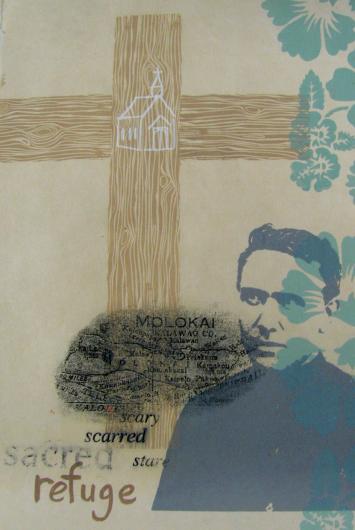 Hawaii's Father Damien was at the center of international interest earlier this month when he was canonized a saint by the Catholic Church in ceremonies at the Vatican.
Those ceremonies and celebrations in Rome are now over. But a tour of a Damien relic concludes in Hawaii this week, accompanied by many events happening at neighborhood churches and parishes statewide—click here for a complete schedule. A handful of Hawaii artists are also honoring Damien through their artworks.
Hawaii-born printmaker Maria Lee (pictured below) is one of many artists who have included images of Damien and Kalaupapa in her artwork. The idea for her exhibit, Kalaupapa: Keep In, Keep Out, was born after her work on a three-week National Park Service (NPS) project on Molokai's remote peninsula, where Damien ministered to and cared for Hansen's disease patients.
"I had the opportunity to meet patients and people employed in Kalaupapa—listening to and learning about their lives and personal histories," says Lee. "I learned about leprosy's devastation in the Hawaiian Islands, the consequences of isolation and stigma. I learned about those who died there, their hardships and sacrifices."
The purpose of Lee's three-week stay in Kalaupapa was to assess the condition of the headstones in the peninsula's graveyard. As a member of the NPS conservation team, she counted and measured the cracks on each headstone.
"Most of the graves are crumbling and deteriorating," says Lee. "It was our job to indicate which headstones needed repairs and which ones should be marked 'high priority.' We also indicated in the grave marker condition survey whether the inscriptions were readable or not. If these repairs aren't made in time, valuable information will be lost forever. It's important to preserve Hawaii's history."
Lee found headstones with inscriptions written in many languages, including Japanese and Chinese. She was also amazed at the sheer number of headstones on the peninsula.
"The memory of Kalaupapa was so powerful," says Lee. "I just knew I had to do something with it."
A year later, in 2004, Lee did just that. Kalaupapa: Keep In, Keep Out is the result—a mixed-media exhibit portraying Kalaupapa as "a place where extraordinary beauty coexists with a tragic past." Lee's artwork incorporates the personal stories of former Hansen's disease patient Catherine Puahala, and many images of Damien.
The exhibit plays upon the ironic fact that a former place of exile—designed to keep Hansen's disease patients in—is now governed by the state's limited-access policy—designed to keep the general public out.
"Today, if you're lucky, you might get an invitation," she says.
Lee's right. In order to stay on the Kalaupapa peninsula, you must be invited by a Kalaupapa resident and have a state Department of Health permit.
The only other option is to book a trip through Damien Tours, a Molokai company that handles the permit process and runs a peninsula bus tour of Kalaupapa's historical sites. (To inquire about a tour, call (808) 567-6171.)
Lee was born and raised in Honolulu, later moving to the Big Island of Hawaii ranching community of Waimea with her family. Creativity runs in her family. Lee's father, the late Tom Lee, was a graphic artist who created logos for First Hawaiian Bank, Hawaii Pacific University (HPU) and Honolulu's Board of Water Supply. Although many of her family members still live in Hawaii, Lee resides in Tucson, Ariz., and teaches at Pima Community College. Lee returns home to the Islands whenever she can.
Kalaupapa: Keep In, Keep Out is on display at downtown Honolulu's Pauahi Tower until Oct. 31.
[Pauahi Tower at Bishop Square, 1003 Bishop St., Honolulu. Call (808) 545-7500.]
A short walk up Bishop Street from Lee's exhibit is the Honolulu Printmakers' Damien-inspired exhibit at the Cathedral of Our Lady of Peace's Cathedral Gallery. Damien was ordained as a priest at the cathedral in 1864. The cathedral will also be the final resting place of the Damien relic currently touring the Islands.
The beauty of the Honolulu Printmakers exhibit—which incorporates the works of 23 Hawaii-based printmakers—is in each artist's expression and interpretation of the Belgian priest. The prints are made more meaningful by the fact that a few of the artists have family members who were former Kalaupapa patients.
The Cathedral Gallery also sells an assortment of other Damien-related souvenirs, including bookmarkers, postcards, wooden sculptures and Tori Richard aloha shirts and dresses featuring images of Damien.
The Honolulu Printmakers' exhibit is on display until Nov. 3.
[The Cathedral Gallery, Cathedral of Our Lady of Peace, 1184 Bishop St., Fort Street Mall, Honolulu. Call (808) 536-7036, (808) 585-3311 or Toll free at (800) 530-1790.]
Big Island mixed-media artist Dietrich Varez teamed up with Hawaii apparel retailer Reyn Spooner to create the "Damien Sainthood" aloha shirt, honoring Molokai's beloved priest.
"I like Damien because he is a good guy," Varez says. "To live the golden rule is the supreme statement. Damien gave his life to help the people and he didn't need to do that. He gave himself to the Hawaiian people."
The limited edition "Damien Sainthood" aloha shirts are available in two styles (pullover and button-front style) and four colors (navy, red, natural and charcoal).
Click here to purchase Varez's aloha shirts online.
Varez also created block prints of Damien and Mother Marianne Cope, a Franciscan nun who answered King David Kalakaua's call to help Hawaii's leprosy patients in Honolulu. Cope later moved to Kalaupapa to care for Damien, who was ill with Hansen's disease. Like Damien, she cared for Kalaupapa's patients and is on the path to sainthood. The block prints are available online at Volcano National Park Art Center or by visiting Varez's Web site.
To learn more about the history of Saint Damien, click here for a feature on his life and long road to sainthood from HAWAII Magazine's September/October 2009 issue.