Hawaii's Statehood Remembered
Hawaii's road to statehood was long, winding and not without controversy.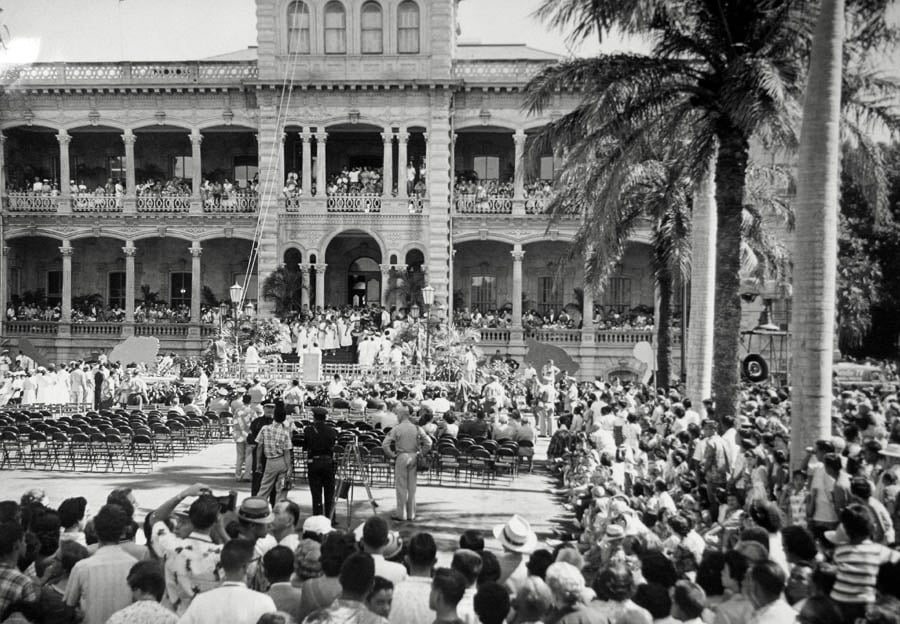 On March 22, 1959, Hawaii buzzed with excitement.
Hawaii had just been declared America's 50th state. Schools were dismissed. Government offices shut down. Retail shops closed. Hundreds danced in the streets and lawns surrounding Iolani Palace. On Sand Island, a bonfire roared two stories high, while fireworks bathed the night sky in a colorful glow.
The excitement was understandable. Statehood hadn't happened overnight. It took more than six decades of campaigning, petitioning and politicking before Hawaii received its star on the U.S. flag.
The push for statehood began in the early 20th century. Hawaii was a much different place then. Only 154,000 people called the Islands home—one-tenth of today's population. The pineapple and sugar industries drove the economy.
Hawaii governor Sanford Dole signed a joint resolution proposing the topic of statehood to Congress for the first time in 1903. Hawaii had been annexed as a United States territory just five years prior on July 7, 1898; Iolani Palace's Kingdom of Hawaii flag lowered a month later.
The prospect of statehood raised numerous concerns. Critics cited the young territory's undeveloped infrastructure and isolated location, while some opponents worried a new state would disrupt the balance of Congress.
There was also concern about Hawaii's large concentration of Japanese residents—43 percent of the territory's population was of Japanese descent. Many questioned the territory's allegiance. Future governor Oren Long disputed these doubts in front of a joint congressional committee session in 1937, saying Hawaii's Japanese-Americans were loyal to the U.S.
The 1937 congressional committee took note of Long's words. More importantly, they declared the territory fit the criteria for statehood. However, there was one caveat: The people of Hawaii must vote on the subject, a first for the territory. The plebiscite on statehood was held in 1940. The results: 46,174 in favor of statehood, 22,428 against.
The statehood campaign stalled after the Japanese attack on Pearl Harbor and America's entry into World War II. The Pearl Harbor offensive reignited the issue of Japanese-American allegiance. Meanwhile, martial law had been declared in Hawaii, and the territorial government was dissolved. Statehood seemed a lost cause.
The statehood movement slowly restarted following World War II. The heroic record of the Japanese-American 442nd Infantry Regiment during the war made it the most decorated American combat unit and helped to ease the nation's collective doubts about the loyalty of Hawaii's Japanese Americans.
President Harry Truman endorsed statehood for Hawaii in his 1946 State of the Union address, making him the first U.S. president to publicly address the topic. The U.S. House Committee on Territories recommended legislation for statehood for the first time.
In Hawaii, support for statehood was strong. The 1950 Hawaii Constitutional Convention approved a state constitution that would take effect upon achieving statehood—a maneuver done by other territories that had successfully lobbied for statehood.
In February 1954, 116,000 people convened on Bishop Street in Honolulu (photo, top) to sign a 500-foot-long petition that extended along the downtown thoroughfare. The petition was wrapped and taken to the steps of Iolani Palace for a ceremonial sendoff to Washington. Written at the top of the petition: "We the Citizens of Hawaii, U.S.A., petition for statehood now."
Despite these efforts, Hawaii would still have to wait. Alaska became the nation's 49th state on Jan. 3, 1959—the result of political jostling between President Dwight Eisenhower, a Republican, who pushed for Hawaii's statehood, and the Democratic majority of Congress, which supported Alaska. At the time, Hawaii was perceived as a Republican stronghold—ironically, since Republican hegemony would not long survive statehood. Nor would Alaska stay Democratic.
After several attempts at passing a Hawaii statehood act failed, Hawaii Congressional Delegate John Burns agreed to let Alaska be admitted first.
Months after Alaska's admittance into the Union, President Eisenhower signed the Hawaii Admission Act into law on March 18, 1959. Statehood now rested in the hands of Hawaii's people. Residents voted in record numbers (ballot photo, top), approving the statehood bill by a ratio of 17 to 1.
The people of Hawaii rejoiced en masse. Hawaii politicians created a two-day holiday to celebrate statehood. Local newspapers ran huge, 300-page editions commemorating the event.
Finally, on August 21, 1959, President Eisenhower signed a proclamation welcoming Hawaii into the union (photo, bottom). Hawaii was officially America's 50th state.
A few young Hawaii citizens became the media faces of the young state. One of these people was 6-year-old Dodie Bacon Browne, whose infectious smile has become an enduring image of Hawai'i's statehood. Browne's father, photographer George Bacon, took the picture after friend and fellow photographer Murray Befeler captured the famous shot of 13-year-old paperboy Chester Kahapea selling commemorative copies of the Honolulu Star-Bulletin.
Bacon refused to be outdone by his colleague. "My father saw it as a challenge," recalls Browne. "He called home and told my mother to put me in a muumuu. He came home with a copy of the newspaper, took my picture and rushed back to work." Bacon put his daughter's image on the Associated Press wire where it was picked up by newspapers and media outlets across the country.
A small minority of people, mainly Native Hawaiians, though not all of them, find statehood a divisive issue. There are some for whom not just statehood, but also annexation and the overthrow of the monarchy were imperialistic moves against a small Pacific nation by the United States.
On the other hand, for many in the Islands' population, statehood has become a given, the struggle to attain full-fledged citizenship largely forgotten. It has, after all, been two generations since statehood, although there are many still thriving in the Islands who have T.H. on their birth certificates—for Territory of Hawaii.
Photo credits: First Hawaii State William Quinn adding 50th star to U.S. flag (top), Hawaii 50th Statehood Anniversary stamp, issued in 2009 (bottom)
Hawaii State Archives; Eisenhower Archives, public domain; Commons Wikipedia