Hawaii's Tea Farmers Demonstrate Commitment to the Art of Tea
Hawaii-grown tea falls into artisan, small-batch and specialty markets.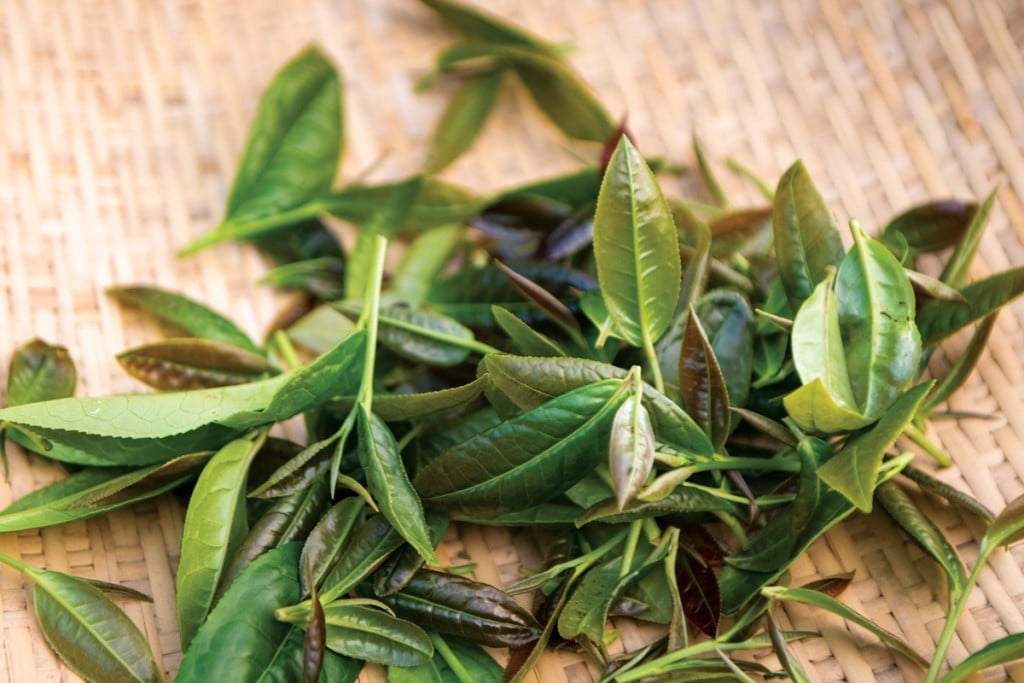 In Hawaii, with its high cost of labor and land, locally grown tea, incapable of competing with the third-world's commodity tea empires, falls into artisan, small-batch and specialty markets. To succeed in a niche that's hyper-focused on quality and characterized by a long-term startup period, growers like the five here, who come from all manner of backgrounds, must be profoundly dedicated. They tend to a crop that lasts a lifetime, craft a handmade product, and nurture an ineffable je ne se quoi that keeps their souls brewing for the languid life cycle of the unhurried camellia sinensis.
Wild at Heart
Tea," says Michelle Rose, "teaches you patience."
Rose would know. She's been tending the same tea bushes on her Kauai farm, Cloudwater Tea, for the last two decades, a slow-going plant that can take over five years from being planted until it begins to yield harvests. Perhaps, says Rose, raising three children gave her a taste for that patience. Or perhaps, it was her schooling in food science or her world travels: In a previous life, she worked as a flight attendant and once lived in Shizuoka, Japan, a region renowned for its tea fields. In any event, she says of the crop: "It called me forth."
Rose produces many teas but specializes in a black version of the rare (in Hawaii) assamica—or, Assam—variety of camellia sinensis, the plant from which tea comes. The bushes can last for decades, centuries, perhaps even millennia, but once they are in the ground once, they never need to be replanted—just tended and maintained. Like a marriage. "In Taiwan, when couples get married, they actually give them a tea plant," she says. "Because once you plant that tea, you can't move it. I have folks that say, 'Oh, I'm going to plant tea in my garden,' and I'm like: Are you there forever?"
In other words, it's a commitment: to getting dirty every day, going out in the rain every day, being ready to pick at the whims of the elements, for the same plants, for an entire lifetime. For Rose, it's perfect. "I couldn't be a lettuce farmer," she muses, thinking about the cycles of planting and replanting, of starting over each season with a new set of seeds in newly empty rows of soil. Today, she intimately knows all her bushes, which she has been pruning (sometimes with the help of her goats) and coaxing into gently producing tea leaves for a lifetime already. With plans to continue on for a lifetime more. "The people who are in for the long run," she notes of herself and her fellow Hawaii tea farmers, "are still in it."
Culture Stock
Tea is like a sponge," says Eva Lee. "There's acidic soil and there's sweet soil. If the soil is too alkaline and sweet, the tea plant can't survive. All elements create different flavors."
Lee has become a well-known figure in the local scene for her work championing Hawaii in the global tea dialogue. Along with her husband Chiu Leong, they make up Tea Hawaii & Company, based in the ohia forests and high altitudes of Volcano Village on the Big Island. Local tea, says Lee, is probably some of the cleanest and purest tea around. "Because of where we are situated on the planet, we don't have the same challenges that a lot of tea-producing countries have, whether it's pollutants from neighboring countries or some of the diseases that can challenge the plants, or insects and pests. We're in a very gem of a location," she explains. Even now, during the Kilauea eruption, Lee says, "we are most fortunate to have probably the clearest air on the island." Though the farm is about four miles from Halemaumau, tradewinds drive much of the ash away; if the wind shifts, the surrounding ohia forest acts like a filter for air quality. Even if ash were to reach the soil and plants, the result wouldn't necessarily be detrimental. "Ash fall that might be absorbed throughout the season into the soil, as [has] happened in the past, brings about a spicelike flavor like ginger," she says. "The main effects happening for us at this time are the earthquakes. It has signaled to the tea plants to produce more tea quickly with many sprigs flushing."
Lee and her husband grow camellia sinensis and process it into white, green, oolong and black tea; all true tea comes from the same plant variety, but the difference lies in how they are processed, from white being the least processed, to black, which is allowed to oxidize fully. Lee and Leong have cultivated the plant on their serene, forested property for the past two decades. Their relationship with the culture surrounding tea, however, goes back much further. "With the background of sort of the southern delights with tea, and the Chinese background of tea, I was raised by two different cultures, but with a common interest," says Lee. For Leong's part, he spent years committed to the Japanese tea ceremony, and the arts that surrounded it, such as the throwing of special ceramic tea bowls. (A shoji-screened ceramics studio makes up part of their property.)
They're both artists, through and through. Leong and Lee (who has a background in performing arts) seem to approach the world and their farm from an artistic perspective: Making something better and more beautiful than it has to be. Tea Hawaii & Company's shade-grown tea is cultivated at 4,000 feet, in the middle of a tropical rainforest of indigenous flora, where it doesn't have to fight the sunlight, and where it works in harmony with the surrounding native plants.
"There is a lot of focus and discipline (in the arts)," points out Lee. "The activities and the arts that connect—whether it be tea ceremony or whether it be philosophy, poetry, movement—that all interconnects. And then, when you add the possibility of growing tea and it being something that is with you for the rest of your life, there is an innate connection that continues."
Keeping the Forest for the Teas
One could, it turns out, also draw many parallels between tea and wine: The love of high elevations, the passion for heavy rainfall, the sharp sensitivity to soil pH and acidity. The growers toss around words like terroir, theanine, cultivars, nitrogen-fixing, clonal stock. "Not to get too geeky on you," says Eliah Halpenny of Big Island Tea farm, in Glenwood, just some few hundreds of feet down the road from Lee.
Halpenny, like Lee, launched her operations around the early aughts, when the University of Hawaii and USDA were actively encouraging new farmers to look to tea. Originally from Canada, she found herself in Hawaii after her husband, conservation geneticist Dr. Cam Muir, landed a post at the local university.  "I'm the farmer, he's more the academic," Halpenny says.
She's also the visionary for the farm, in which she planted a mixed native forest, of which tea is the understory crop. "Our soil and plants work as a team," she says. "All the plants are stronger in a forestlike setting." Instead of starting her farm with CTAHR-issued cultivars, she began with seeds sourced from the Darjeeling growing region in India, and when they sprouted, matured and produced their own seed, she planted those as well. The result is a diverse tea crop that is hand-picked and hand-rolled into black and green tea. "It is no surprise that our tea has a complex flavor that seems to lift eyebrows when first tasted," she says. So unique and rare is Big Island Tea's product that it has sold for $11,000 per kilogram at Harrods, a luxury department store in London.
"It's so rewarding to me. I love the soil, I love the plants, I like the picking, the processing, the smell of the tea. I never feel like I wish I weren't doing this. I used to work in advertising, and I would get up and think, '3 more days left in the week'. But here, I get up and every day—including the weekend—I always have something that I want to do outside. It's a list," she says, "as long as your life."
A Shore Sign
Rob Nunally has a thoughtful, quiet and refined voice. "Growing something that you take from the plant to the cup," he muses, "is very romantic. There is a great deal of reward in just knowing how to accomplish that."
Along with his partner Mike Longo, Nunally has owned Onomea Tea since 2003. Set just above Onomea Bay, practically at sea level compared to fellow Big Island growers, the farm's award-winning teas prove that lower elevation stock can still turn heads. Today, the duo produces black, white, green, oolong and one fermented tea, offers tours, and holds tastings in the Chinese gong fu cha style. Fifteen years ago when they moved to Hawaii, however, tea wasn't even on their radar.
"When we first bought the property, it was zoned agricultural and we thought we were going to be growing daylilies," remembers Nunally. "Neither of us thought that we would be tea growers, but it just kind of found us." Longo, previously a chiropractor, was actually running (and still runs) an online daylily auction, while Nunally was at the time managing his computer sales business. The daylilies refused to bloom consistently but, wanting to continue the agricultural legacy of their Onomea space, Nunally and Longo set out on a search for a new crop.
In the end, it was the USDA seed handout—as well as their love of tea as drinkers—that won them over. Now, Nunally focuses on tea full-time and meets people from around the world eager to sip Hawaii tea. "Hawaii teas do have a flavor characteristic," says Nunally. "They tend to be smooth teas, not so astringent. And a great deal of care is put into the picking and processing of the tea, which shows up in the leaf. It's mild. It has a great deal of flavor but is not bitter, not so challenging to the palate."
New Growth
Andrea and Alex de Roode are just beginning to get a taste. At five years old, their Maui Tea Farm is still young, with only half of it planted, and a scattering of things here and there ready to bring to market. A huge portion of the gearing up phase over the last few years was purely clearing and preparing their Kula ranch land, which is 4,000 feet high in Maui upcountry. Like the other growers, they see the value in a forest setting, with dappled lighting and nitrogen-fixing trees. "We're trying to mimic a native forest ecosystem so we're also planting koa and mamane, and we also grow mamaki, which we also make tea from. We're kind of doing this understory agroforestry mix with native forest plants and tea," says Alex.
Alex and Andrea are no strangers to the product. Their retail tea and herbal infusions brand, PONOinfusions, which offers a roster of blends based on other organic teas, was up and running long before they started farming. "As we get the farm more established we'll be able to integrate more farm-grown ingredients," says Alex.
From there, they've got their eye on farm tours, infused liquors, body products and more. In the meantime, they're in it for the long haul—day jobs and all (Andrea is a nutritionist and Alex teaches sustainable building and construction at Maui College). Maui Tea may still be too young to pay all the bills, but Alex says, "The tea farm is sustaining us spiritually."