Hawi: A guide to Hawaii Island's funky town and historic sites
This little town draws curious visitors with its quaint cafés, trendy boutiques and charmingly isolated residential community.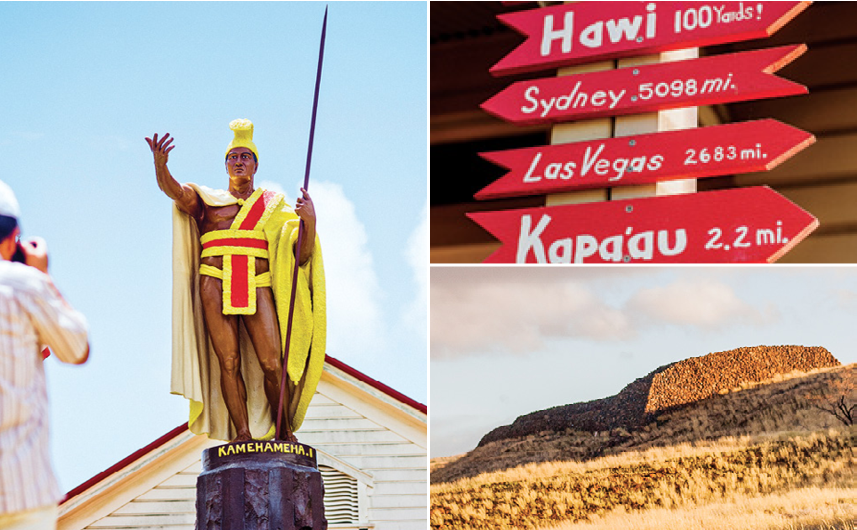 Wander north 
of Kailua-Kona and you'll quickly wonder where the buildings are.
Vast lava flows, the ancient remnants from Hualalai volcano, are pocked by tufts of golden grass and extend for miles along the coast before meandering toward the resorts at Waikoloa. In front of you is Kohala, the oldest and only truly extinct volcano on Hawaii Island.
On Kohala's lush green slopes high above the sea, you'll find northerly Hawi—the former site of the Kohala Sugar Mill and presently a tiny community of less than 2,000 people. What was a clutch of rundown buildings just 20 years ago is now a lively, two-block downtown of plantation-style buildings harboring a laid-back island vibe and unique boutiques and cafés.
Recently, we headed north on Highway 19 to find the gems in Hawi, and explored North Kohala along the way. Here's what we found and how you can retrace our steps…
A significant, historic Hawaiian heiau
Less than a half-mile past the junction where Highway 19 turns inland and Highway 270 continues along the Kohala Coast is one of the most significant cultural sites in the state. Puukohola Heiau National Historic Site consists of three stone heiau (temples)—two visible from walking paths, and one now submerged and guarded by black-tip reef sharks. King Kamehameha I commissioned the newest and most prominent of these between 1790 and 1791 at the behest of a prophet who foretold Kamehameha would conquer all the Islands if he dedicated a heiau there. Twenty years later, coincidence or not, he successfully united the Hawaiian Islands. Though you can't go inside the structures, a model on the lanai (patio) of the visitors center gives a bird's-eye view. Open daily, including federal holidays, 8 a.m. to 4:45 p.m., nps.gov/puhe.
The welcoming community center
Continue north on Highway 270 to the lush green bend on the island's northerly tip. On the outskirts of Hawi, you'll find the friendly and useful Kohala Welcome Center, a building recently renovated by and staffed with volunteers. "The community here," says a volunteer named Olivia, "is why I fell in love with this place." Arrows on the building's exterior show how far Hawi is from other world communities (New York, 4,907 miles; Sydney, 5,098). Inside, you'll find personalized travel advice, displays giving a brief history of the region and cultural artifacts, including some from the old Kohala Sugar Mill. Monday through Friday, 9 a.m. to 4 p.m.; weekend hours vary, kohalawelcomecenter.org.
The perfect coffee pick-me-up
Ready for a java stop? Then visit Kohala Coffee Mill, a gathering place in the heart of town. In addition to its impressive espresso bar, try the café's other offerings, including regionally made Tropical Dreams ice cream, smoothies, snacks, breakfast fare and locally sourced lunches such as the "revULUtionary" ulu (breadfruit) burger with green goddess dressing and papaya hot sauce. Eccentric painted tables extend to the four-tiered deck space it shares with neighboring Kava Kafe. Monday through Friday, 6 a.m. to 6 p.m.; weekends 7 a.m. to 6 p.m., (808) 889-5577.
Stylish aloha wear
Across the street, Aloha Man's bright yellow beach shack pumps island music and beckons with colorful displays of trendy surf apparel, jewelry, hats and art. Inside, we found surf artist Heather Brown's towels and bags, ManiniSunshine kids' clothes, Akua Creative's men's and women's T-shirts featuring psychedelic patterns of sea creatures, geometric-print bikinis and gold earrings shaped like Hawaii Island. Monday through Saturday, 10 a.m. to 6 p.m.; Sunday 10 a.m. to 4 p.m.
Prime produce stands
Tucked behind the eclectic Olivia Clare Boutique, Kohala Grown Farm Tours and Market cooperative is a venue for area farmers to sell their fruits and veggies. Honey, teas, soaps, books and posters depicting the Big Island's diversity of avocados and mangoes are also for sale. The market serves as the meeting point for the company's tours—offered Wednesdays through Fridays—to unique agricultural sites and popular Pololu Valley Lookout, and include a farm-fresh lunch. Market hours Monday through Friday 10 a.m. to 5 p.m., located Saturdays at the Hawi Farmers' Market, (808) 937-4930, farmtoursnorthkohala.com.
The town's biggest, oldest eatery
When you're hungry, head to Bamboo, Hawi's largest and oldest restaurant. One part restaurant and one part souvenir shop, Bamboo is in a building that was originally a hotel, then a general store between 1926 and 1993. Shop for aloha wear, then try the catch of the day—delivered fresh daily by local fishermen—or the chicken sate pot stickers from the pupu (appetizer) menu. Other favorites include local lilikoi (passion fruit) cocktails, salads, burgers, kalua pork (slow-cooked pork) and more. Hours vary, lunch and dinner, closed Mondays, bamboorestauranthawaii.com.
Decorative artisanal gourds rooted in tradition
In a town with more galleries than stop signs, perhaps the most unique is Ipu Kane, showcasing Michael Harburg's interpretation of the traditional Niihau craft of ipu pawehe, or decorative gourd staining. "It was a lost art," he explained when we visited. "It was taught to me by a local doctor who figured out how to do it." The dry gourd is etched and filled with dye for three weeks; the dye seeps through the skin, highlighting exterior patterns. Gourds with 360-degree multicolor scenes of taro leaves, turtles and even biblical imagery fill his gallery. Eager to share his knowledge, Harburg sent us home with seeds, saying, "come back in five months with your gourds and I'll show you how to do it." We just might. Daily from around 11:30 a.m. to 4 p.m. or by appointment (808) 896-9081, ipuguy.com.
The original King Kamehameha statue
After shopping, continue east to neighboring Kapaau—home to the original King Kamehameha statue on the North Kohala Civic Center lawn. The storied statue depicts Kamehameha wearing the traditional red and golden feather apparel of alii (chiefs). Commissioned by the state and completed in Italy in 1880, the statue was supposed to be erected in Honolulu, but sank to the bottom of the sea near the Falkland Islands during its first crossing. A second statue was created, the one that stands today in front of Aliiolani Hale in Honolulu. Fishermen dredged up the first statue in 1912, and it was eventually placed in its current location in Kapa'au near the legendary Hawaiian monarch's birthplace.
An incredible valley lookout
From Kapa'au it's just 6 miles through neighborhoods and across vine-topped, one-lane bridges to the end of the road. Park your car and prepare to take photos from Pololu Valley lookout, a scenic vantage of the island's mountainous northern coastline, 420 feet above a black sand beach. If you have an hour, follow the trail at the end of the parking lot and walk down to see the crashing waves and lava sand up close.
The storied paniolo countryside
On your return, take the misty inland Kohala Mountain Road (Highway 250). The Norfolk Pine-lined streets veer off into the green cattle ranches that extend down into the paniolo (Hawaiian cowboy) town of Waimea. From there, it's a straight shot south along Highway 190 to Kailua-Kona or west on Highway 19 to the seaside resorts at Waikoloa.