Head to Kula Shave Ice in Hilo for a Healthier, Refreshing Treat
This stand serves organic shave ice made with fresh, Hawai'i-grown ingredients that will have you coming back for more.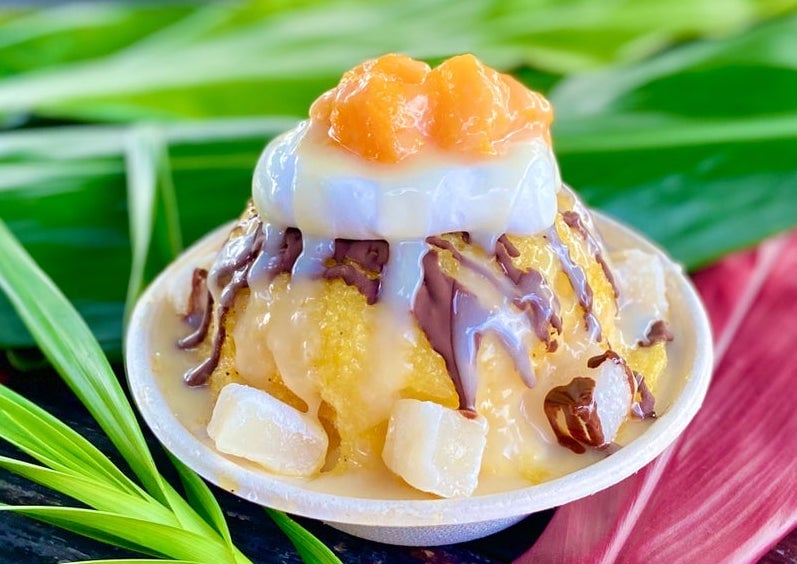 Located in the heart of downtown Hilo, Kula Shave Ice is taking the beloved local treat to the next level with organic and fresh ingredients.
Kula is committed to providing the highest quality shave ice on the island without using processed syrups and preservatives like the more "traditional" shave ice.
"We make all our fruit syrups with organic fruit, organic sugar and pure water, and we freeze our own ice," says co-owner Tiffany Golden. "We use only our own carefully developed recipes and never use any preservatives or artificial ingredients to cut corners."
Shave ice, known as ice shave in Hilo and snow cones in the Mainland, features fluffy ice doused in sweet syrups and delicious toppings, sometimes served with ice cream at its base.
Kula Shave Ice is run by Tiffany and her husband, Luke, who incorporated their name into the business. "The word kula is actually a lesser-known translation of golden," says Tiffany, clearing up the confusion that this is named after the popular Upcountry Maui town. "I guess it really worked out!"
Kula started about four years ago in a trailer built by Luke and was parked in Pohoiki, aka Isaac Hale Beach Park, in Puna. Though the 2018 eruption of Kīlauea volcano forced the Goldens to relocate, they found a home for Kula in downtown Hilo. Two years ago, they opened a second location in Hale'iwa, O'ahu.
Each menu item is carefully handpicked at Kula. "We never stop taste testing and debating what to keep on our menu because we want quality over quantity and if something isn't amazing it's not on the menu," Tiffany says.
The shop offers a colorful and tasty array of shave ice combinations such as The Kula Rainbow—one of its best sellers—a fruity blend of blueberry, strawberry and mango flavors over vanilla ice cream, and The Hilo Sunrise with strawberry, guava and pineapple shave ice.
You can also create your own shave ice with local flavors like guava, coconut and pineapple and top it off with fresh papaya, homemade mochi, and a snow cap (condensed milk). You can also indulge your sweet tooth by adding macadamia nut or vanilla ice cream.
A flavor you won't find at any other shave ice shop—Kula's hidden gem—is soursop, a large, oval-shaped fruit with fibrous white flesh and a spiny exterior. Its unique flavor is best described as a cross between mango and pineapple. Soursop is featured in The Local, combined with liliko'i (passion fruit) and topped with homemade haupia (coconut) cream.
The Goldens also take pride in their unique fusion of shave ice and poi, a thick paste made from taro root. "We brought in poi because it's healthy and delicious, it's a local specialty we deeply honor, and it provides a chance to educate our visitors," says Tiffany. "It helps us introduce a little bit of the 'real' Hawai'i into their experience."
Locals regularly enjoy poi, as it's a traditional staple food in Hawai'i. The Goldens recommend adding it to your shave ice if you want to experience Hawai'i's unique cuisine.
They also serve local favorites like ącaí bowls, smoothies and handcrafted lattes and slushes made with organic and locally sourced ingredients.
Kula goes the extra mile by using glass, metal and paper products rather than plastic, and only serves its treats in compostable bowls.
"We are trying to do something good for our community and especially the keiki (kids), but we are also trying to honor the history of shave ice itself," says Tiffany. "We value our integrity over profit and in the long run it gives our business a heart that I swear you can taste."
Kula Shave Ice: Open 9 a.m. to 5 p.m. daily, 57 Mamo St., Hilo, Hawai'i Island. Kula Shave Ice North Shore: Open 11 a.m. to 6 p.m. Wednesday throgh Sunday, 66-320 Kamehameha Highway, Hale'iwa, O'ahu. (808) 987-0245, kulashaveice.com, @kulashaveice.