Henry Kapono on his newest album, reinventing himself, and magical vibes at Duke's Waikiki
The iconic Native Hawaiian musician just wants to keep making music, moving forward and spreading the aloha.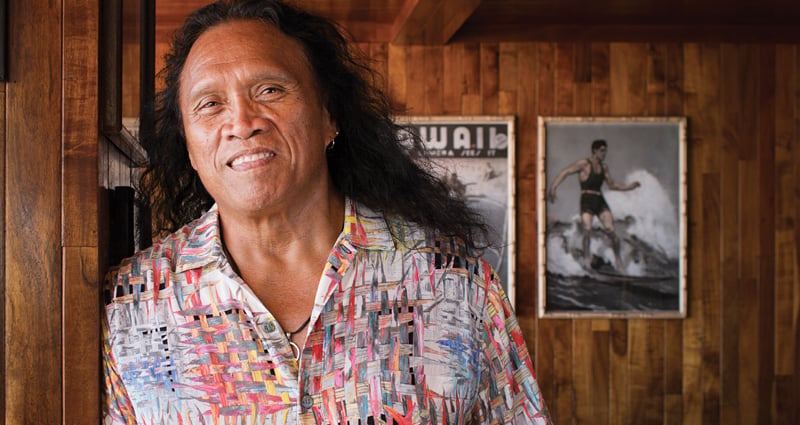 An electric guitar wails Santana's "Black Magic Woman" on the world-famous Waikiki Beach on a sub-tropically, warm Sunday afternoon. Shirtless and bronzed, beach boys sip beers in plastic cups as a group of visiting housewives gyrate with bare-feet to the rock 'n' roll. This musical phenomenon is a regular occurrence for the past 20 years as long as Henry Kapono is the guy on stage with the guitar at Duke's Waikiki.

"The vibe is kind of magical," explains Kapono of Duke's on a Sunday afternoon. "It's like having Sunday church, but it's fun [and] it's all about good times."

It's regularly a packed house that comes to hear the 66-year-old, full-blooded Native Hawaiian's eclectic set, and visitors sometimes schedule their trips around his performances.

"I get people from all over the world and they plan their vacations around coming to Duke's, some of them stay a couple months and they come to Duke's every Sunday and they're pretty loyal fans," says Kapono. "This is my home and if I can spread the aloha I think I'm doing something right for the islands, my people and my children."

Kapono has captured the energy and music from Waikiki with his latest live record "Duke's on Sunday 2," a sequel to his 2004 record with a new rendition of the song "Duke's on Sunday." The track encapsulates the fun-loving atmosphere of Waikīkī Beach so well that legendary, country/folk star, Jimmy Buffet, even covered the song on his 2006 "Take the Weather With You" album. You can tell Buffet was inspired by Kapono and Duke's because he built a bar and grill (Jimmy Buffet's Margaritaville) across the street of the barefoot bar.

"Duke's has become more of a destination for a lot of people," says Kapono about the barefoot bar and the sequel to his live performance record. "People from all over the world come to have fun, that's what I wanted ["Duke's on Sunday 2"] to be."

Kapono's latest creative evolution is a Hawaiian super group called, "The Rough Riders," which was formed in early 2015. Comprised of Kapono, and legendary, singer/songwriters. Brother Noland and John Cruz, this trio gets their band's name from the group of paniolo (Hawaiian cowboys) that shocked the world in 1908 by winning titles in the world championship of rodeo in Cheyenne, Wyoming. Their first single off their six-track EP is a Mumford and Sons-sounding rendition of Liko Martin's "Waimanalo Blues." The Rough Riders spent the Summer 2015 touring the U.S. mainland, rocking out old fans and gaining new ones along the way. It's in Kapono's willingness to expand his creative horizons that's kept his music in high demand all the way from the beaches of Hawai'i to the stages of North America.

"I love music and I know I have to constantly reinvent myself if I want to stay in the game so I'm constantly pushing myself to not just stay in one place, but move forward," explains Kapono. "My whole life I've always wanted to keep moving forward because there is so much to do, so much to see and so much to know."
This article, "Riding High," originally appeared in HAWAI'I Magazine's September/October 2015 issue, HIDDEN OAHU.