Here are some bingo cards for your Kamehameha Schools Song Contest viewing party
It's that time of year when Honolulu rings with the harmonious sounds of Hawaiian choral music.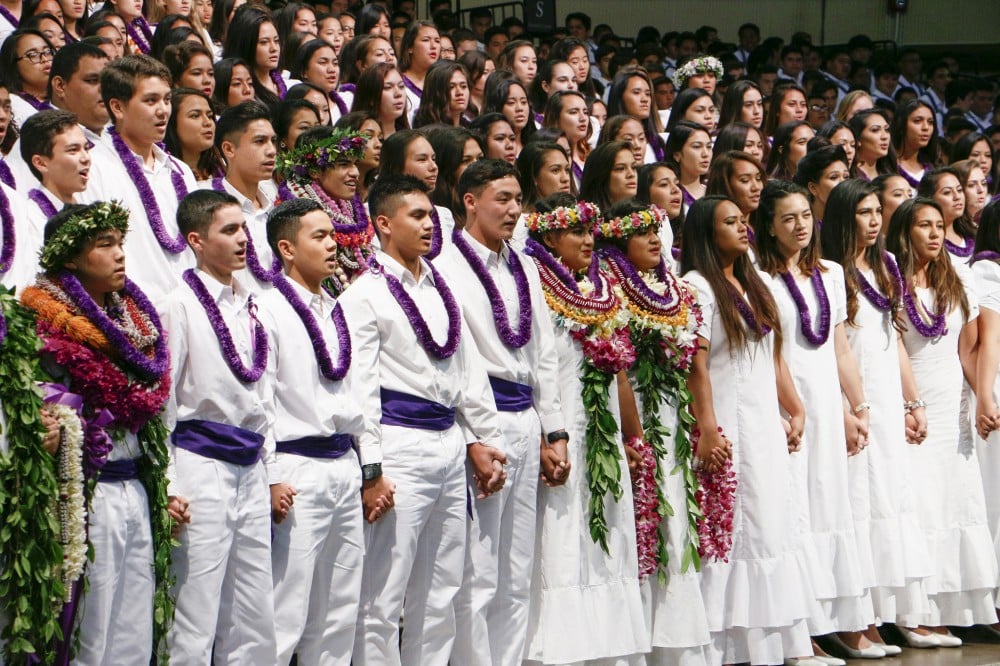 Find your pitch, people. The Kamehameha Schools Song Contest is fast approaching and you can watch it live on TV or streaming online. This Friday, March 17, the annual music contest gathers the Kamehameha Schools Kapalama Campus high school student body (grades 9 through 12) to perform Hawaiian mele (songs) in boys, girls and co-ed groups.
First, let's talk about the contest…

The inaugural song contest took place in 1921 and has been a long-standing tradition ever since—this year marks its 97th. The theme this year honors the music of Bina Mossman, who was a highly regarded composer and entertainer, mentored by Queen Liliuokalani.
Thousands attend the event in Honolulu and even more tune in from around the world. The broadcast pre-show is at 6:30 p.m. and live broadcast 7:30 p.m. You can watch the live stream here.
There are trophies and bragging rights to be won in areas of musical performance and excellent use of olelo Hawaii (Hawaiian language). More importantly, the competition inspires class unity and pride in one's Hawaiian heritage. Hawaiian music lovers enjoy songs that harken to the old days of Hawaii; graduates continue to get together to reminisce about the many after-school practices, the art to wearing dress whites in 85-degree weather and performing arts teacher Les Ceballos' favorite expressions.
Following the competition, there's a highly-anticipated hoike, a showcase of Hawaiian music and hula performances put on by the students and special guests who command the spotlight. During this time, the year's judges scores are tallied in secrecy off-stage. Here's last year's hoike, one of the best in recent memory.
Following this, it's time for (*drumroll, please*) the awards. They're announced in a suspenseful and exciting fashion. You can practically feel the energy jump through the screen.
Now, let's play some bingo!

Because why should the contest be restricted to just the students?
Print out the cards at the bottom of this post and pass out to members of your viewing party. Kamehameha Schools alumni may have an advantage in recognizing these classic Song Contest tropes (they did live them for four years after all), but anyone can follow along with some sharp-eyed attention.
To play, cover spaces when the corresponding noun or verb is heard or seen on screen (e.g., a portrait of Pauahi, a song contest leader drowning in lei). For spaces in quotations we're waiting to hear these specific words and phrases. If the space is subjective ("Perfect blend"), propose to the group to reach a consensus ("Yo, can we all agree that was A PERFECT BLEND FOR THE GODS??!).
We encourage taking creative license with these spaces; Shout Out to the Class You When Grad can appear in the form of a kumu (teacher) you had making a cameo in the audience, or your former class color draped on one of the current classes (I see you, ulaula…). Prepare to articulate exactly how you are "related" to someone when Your Relative Stay On Screen, ("That's my dad's friend from Molokai who he used to play baseball with in high school's youngest son") before covering that space.
Winning patterns include vertical, horizontal and diagonal lines. Discuss within your viewing party if a diamond or postage stamp would be considered victorious, or what an acceptable "K" shape would look like on the card.
I mua, Kamehameha!