Here's How to Watch Two Hawaiʻi New Year's Firework Shows Virtually
From Waikīkī to Wailea, see these firework shows from anywhere.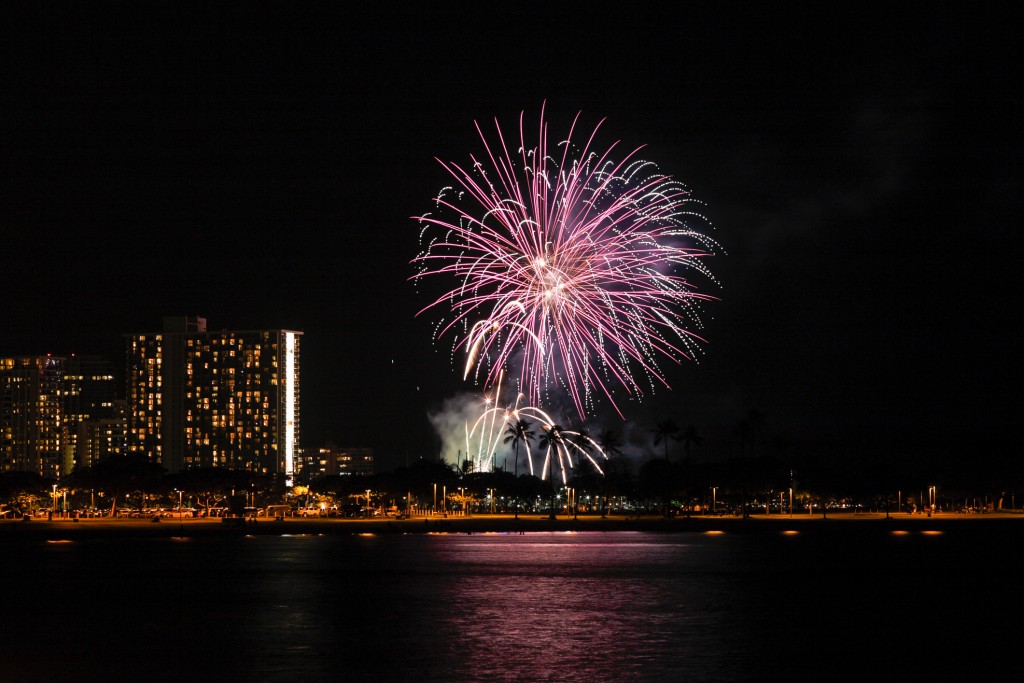 Hawaiʻi takes its firework shows seriously. On New Year's Eve, beaches are lined with eager crowds waiting for midnight to see dazzling fireworks explode over the Pacific Ocean. 
For those wishing they could enjoy New Year's fireworks from a beach in Hawaiʻi, or those wanting to avoid crowds at this time, these webcams provide spectacular views of the shows. From anywhere in the world, watch the celebrated return of fireworks to Waikīkī and the popular Wailea fireworks in South Maui.
Click on the blue links below to be directed to the live webcams.   
Tip: Hawaiʻi is unique because it will be the last state to enter 2022. Hawaiʻi is in the Hawaiʻi-Aleutian Standard Time Zone, which means midnight fireworks explode five hours after the ball drops in New York City. 
2022 Waikīkī New Year's Fireworks  
After two years, the firework display makes its grand return to Waikīkī. Feel as if you're just steps away from the beach with this webcam at the Moana Surfrider Resort. Once streaming, take control of the camera by clicking the arrows in the bottom right corner. Then choose various viewpoints from the menu in the top right. Choose "Diamond Head" for an ocean view of Lēʻahi (Diamond Head). The webcam also enables viewers to take screenshots and save pictures to a device. Make sure to snap a photo of the 2022 Waikīkī fireworks!
Click here to watch the 2022 Waikīkī New Year's Fireworks.
For commentary on the show, tune into Hawaiʻi Public Radio to listen to a live New Year's special. Tune to FM and dial KHPR 88.1 or 88.5. Also, listen to the show online. 
Fireworks from Wailea
Maui's prominent firework show launches from a barge offshore of the Grand Wailea Resort. So, there's no better way to watch the display than from the top of the resort. Positioned at the peak of the Grand Wailea, this webcam provides an unparallel view of Wailea Beach and the ideal vantage point for the show. While watching the firework display, snap a screenshot to save a photo of the 2022 Wailea fireworks. 
Click here to watch the 2022 Wailea Fireworks.