Hidden Eateries on Oahu You Need to Try
Small eating establishments off the beaten path that will amaze your taste buds.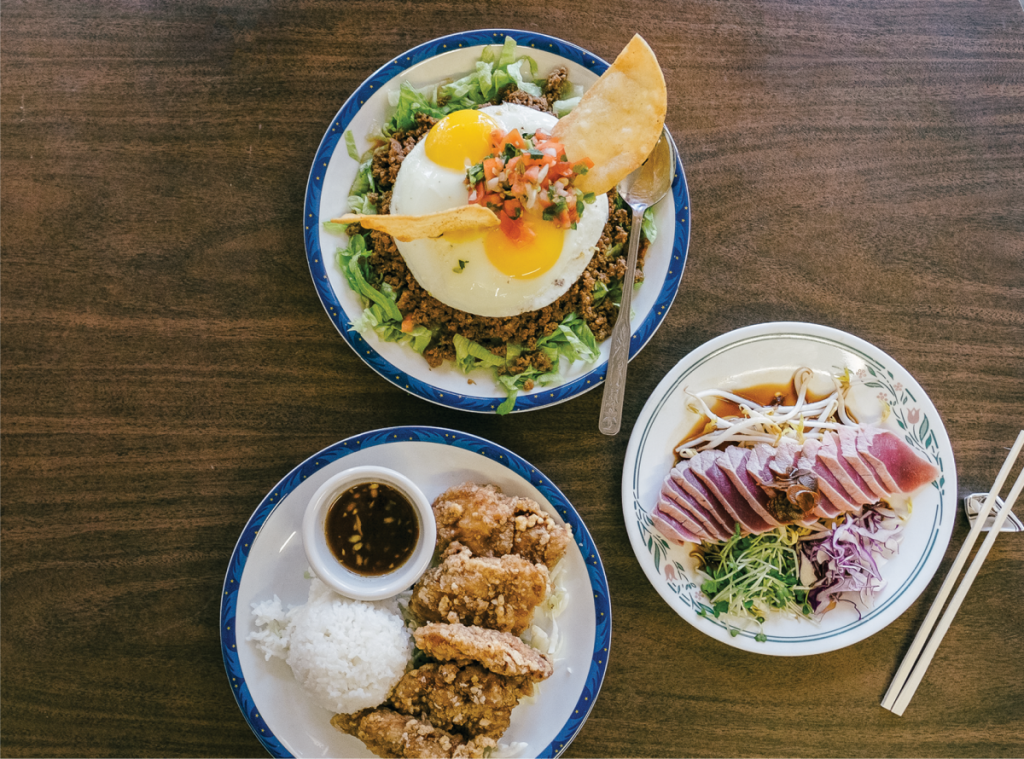 Take your tastebuds off the beaten path at one of these hidden gems on Oahu. Before you go, we recommend calling ahead to see if and when a restaurant is open for business. Most places on this list are small businesses with little kitchens, so be prepared to wait for your delicious dish.
1. Ethel's Grill
A hole-in-the-wall restaurant in Kalihi (just west of Aloha Tower), Ethel's Grill has limited seating and parking and is cash-only, but, once that steaming bowl of oxtail soup you ordered is sitting in front of you, you'll know it was all worth it. Other crowd favorites include the mochiko (sweet rice flour) chicken, Japanese hamburger steak, ahi with garlic butter, and, for the adventurous, deep fried turkey tails. Follow Ethel's Grill on Instagram @ethelsgrill_kalihi to see specials.
232 Kalihi St., Honolulu, (808) 847-6467.
2. Kyung's Seafood
This cozy, neighborhood restaurant and bar has an extensive Korean menu with á la carte food items such as kalbi (barbecue) beef, a tasty meat jun (beef dipped in egg batter, then pan fried) and a kimchi pancake made with kimchi, flour batter and vegetables. There's also a fresh seafood counter and jugs of flavored soju. Our favorite, the hot masago ahi poke, has fresh, cubed ahi, onions, hot chili flakes, masago (fish eggs) and Hawaiian salt for crunch.
1269 S. King St., Honolulu, (808) 589-1144.
3. Banán
Seek out the dairy-free soft serve at this colorful food truck, just past Waikiki, and you'll love how refreshing it can be on a long, hot day. The Original, a banana Banán topped with fruit, honey and granola, is a favorite, but don't be afraid to try a few of the other soft-serve creations, such as the açaí or coffee flavors.
3212 Monsarrat Ave. and two other locations in Honolulu, (808) 392-8862, bananbowls.com.
4. The Beet Box Café
This organic, vegetarian spot has food so tasty it could turn a meat-eating velociraptor into a gentle brontosaurus. Once tucked behind Celestial Natural Foods, the Beet Box Café has been so successful serving fresh, healthy grinds that it had to move into a bigger space; it's now next to Haleiwa's post office. This is the best stop for a smoothie, salad or meat-free meal on the North Shore. 66-437 Kamehameha Highway, Haleiwa, (808) 637-3000, thebeetboxcafe.com.
5. Monsarrat Ave. Shave Ice
While your friends are telling you to try Matsumoto's Shave Ice on the North Shore, rebel and stop at this relatively new shave ice vendor near Kapiolani Park in Waikiki instead. Look for Pioneer restaurant on Monsarrat Avenue, then look down the alleyway along its side. That's where you'll find the hidden shave ice stand that makes its own syrups from real fruit.
3046 Monsarrat Ave., Honolulu, (808) 732-4001.
6. Da Ala Cart
A true pop-up eatery, Da Ala Cart has an inconsistent schedule, but there are two things we can tell you for certain: One, if it's open, it's only open after 9 p.m. for the late-night crowd; two, this isn't a food truck, nor is it a cart. It's a tent, with a Japanese robata grill sitting on top of a table. Its chef/owner, Chris Quisote, serves items like grilled musubi, pork-belly-stuffed Korean peppers and lamb lollipops. Its usual location is the Launderland parking lot on South Beretania in Honolulu. Grilled meat and desserts, together in one spot … what's not to love? Current location is 2025 S. Beretania St., Honolulu. For more information, follow Da Ala Cart on Instagram @daalacart and visit daalacart.com.
7. Home Bar and Grill
The darkened interior with booths, dartboards and flat-screen TVs make it feel like your favorite dive bar back home; the extensive food menu sets it apart. The kimchi fried rice, tater tot nachos and garlic chicken are our favorites, but don't be afraid to try a few more!
1683 Kalakaua Ave., Honolulu, (808) 942-2235.
8. Lei Lei's Bar and Grill
Envisioned as the 19th hole of Turtle Bay's signature Fazio golf course, Lei Lei's Bar and Grill has grown into one of the North Shore's favorite hangouts. Residents often come here to celebrate special occasions, and professional surfers celebrate victories with a big dinner. The grill is known for its seafood dishes, but you shouldn't pass up the ribs.
57-049 Kuilima Drive, Kahuku, (808) 293-2662, turtlebayresort.com.
9. Tanioka's Seafoods and Catering
If it's from Tanioka's, it's going to be ono, guaranteed. Choose from a wide selection of fresh poke—ahi, shellfish, tako (octopus), and much more. Plus the food shop offers classic Hawaii-style plate lunches and bentos.
94-903 Farrington Hwy., Waipahu, (808) 671-3779, taniokas.com.
10. Harbor Pub & Pizza
This little pub is tucked under the Chart House Waikīkī restaurant and fronts the Ala Wai Boat Harbor. Upon entering, the place is so salty and fun, you'll feel as if you've hopped aboard a boat filled with skippers chatting about the day's adventures they had at sea. As entertaining as that sounds, Harbor Pub's main attraction is its gourmet pizza—there are 16 options—all freshly-made, thin-crust-style and piled with toppings.
1765 Ala Moana Blvd., Honolulu, (808) 941-0985, harborpubhawaii.com.
11. Paalaa Kai Mini-Mart and Paalaa Kai Bakery
The mini-mart is a typical liquor store, but those in the know go there for its fried chicken. Stop by here before watching the sunset on the North Shore and buy a fried chicken/musubi combo and a beer so you can properly enjoy "The Country" at dusk. 66-945 Kaukonahua Rd., Waialua, (808) 637-9182.
For dessert, stop by the bakery next door and buy a Snow Puffy. It's one of the signature pastries of Paalaa Kai Bakery and it's the only place on Earth that makes this delicious hybrid of a long john doughnut and a turnover. The Snow Puffy is so popular there's a whole case dedicated to it. 66-945 Kaukonahua Rd., Waialua, (808) 637-9795, pkbsweets.com.
12. Tacos Zarate
Hawaii may not be known for its Mexican food, but if you try one of Zaratez's tacos or burritos, then your perception may change. Its owner and chef, Paul Zarate, grew up in East L.A. and learned to cook from his family, making Zaratez one of the most authentic places to get Mexican food on Oahu.
4210 Waialae Ave, Honolulu, (808) 892-1565.