Hiking Koko Crater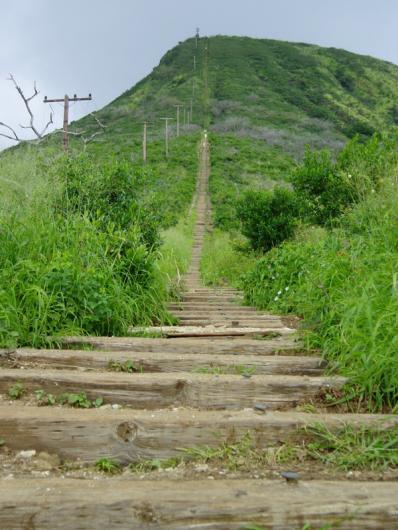 You ask. We answer.
HAWAII Magazine reader Veronica Craig writes:
On one of our many walking trips around Oahu, we saw Koko Crater, with a walking track to the top that looked like steps. Nothing was mentioned in our travel books. Could you please let us know, as we would love to climb to the top.
We're guessing the step-like "walking track" you're referring to, Veronica, are the ties of an abandoned railway that runs along the crater's west side. This is one of the best trails leading to Pu'u Mai, the crater's highest peak. The ties were for an incline tram used by the military during World War II, to transport personnel and supplies to a lookout post on the summit.
Access to this trail starts at Koko Head Park in Hawaii Kai. The first part of the hike is over a newly landscaped hill behind Goeas Baseball Field to the bottom of the old rail track. It's an exhausting trip. But the real fun is still to come.
Your next mission is a trek up the 1,000-plus "steps" to the top of Koko crater. The reward? A panoramic view of the east Honolulu shoreline—not to mention one heck of a workout.
A note of caution: Parts of the decades-old railway trail are in disrepair, possibly unsafe and recommended for experienced hikers only. If you do go, prepare accordingly and proceed with caution. You'll find tips from The Division of State Parks for preparing for similar hikes here.
I haven't hiked to the summit of Koko Crater yet, but it now definitely tops my list of things I need to do this summer. With views like this, I don't think I can pass it up any longer.
UPDATE, 6/12/08: I climbed the Koko Crater Trail. Read about my adventures here.