Hokulea arrives at Palmyra Atoll to marine life welcome, cold drinks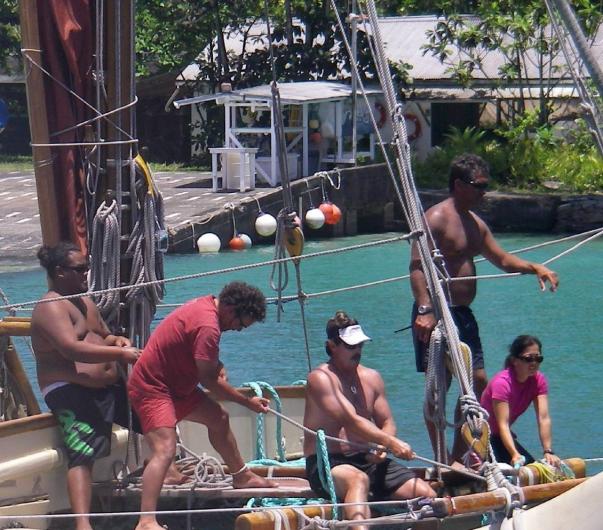 Hawaiian voyaging canoe Hokulea and its crew sailed into the calm teal waters of Palmyra Atoll yesterday, nine days after departing Oahu.
Crew members reported sight of the atoll— some 1,000 miles south of Hawaii—at 8 a.m. (Hawaii time) Thursday, posting the information on its voyage blog a few hours later. In a lengthier update today, crewmembers Jenna Chiyono Ishii and Pauline Michiko Sato blogged about Hokulea's very cool and very unexpected atoll welcome escorts, and other much-missed necessities accompanying the Palmyra arrival.
Wrote Jenna and Pauline:
On our approach, we were escorted by pods of dolphins (spinners, bottlenose) and melon-headed whales. It was a sight beyond imagination. Palmyra grew bigger and bigger and we saw the lush green trees on the low-lying atoll.
We were welcomed by The Nature Conservancy's staff by boat that led us through safe passage in this beautiful yet potentially dangerous system of reefs. It took a while to finally enter, but the wait was definitely worth it. The staff fed us a delicious lunch. However, the thing we went for first was an ice cold drink. This was the first time we had anything cold for a long time! We were in heaven!
The staff took us out on short field trips in the afternoon. Tomorrow we will write more and hopefully load some photos of our adventures.
As previously reported here, the current month-long voyage to Palmyra and back to Hawaii is the first of at least a dozen training missions preparing Hokulea crews for a global circumnavigation voyage in May 2012.
You can continue to follow the crew members' daily activities as they log them in Hokulea's Palmyra voyage blog, or on its Twitter page.