Holiday season dinners with Hawaii flavor! Recipes from Chef Peter Merriman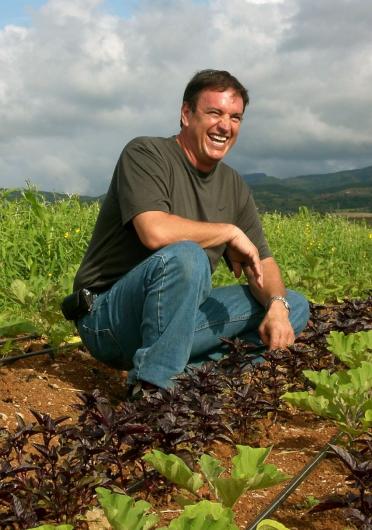 Recently, Peter Merriman rang us asking if our Mainland HAWAII Magazine readers might appreciate a few recipes that would add a bit of Hawaii flavor to their holiday season meals. We were all ears.
Merriman is one of Hawaii's most successful and celebrated chef/restaurateurs, and a longtime champion of using fresh, locally procured ingredients from Island farmers, ranchers and fishermen. Peruse the menus of all four of his Merriman's restaurants and cafes—two on the Big Island, and one each on Maui and Kauai—and you'll find dishes proudly boasting their locavore credentials.
"When I'm creating our restaurants' Thanksgiving menus, I begin thinking about traditional dishes, and then which locally sourced items are in season and how those ingredients highlight, not disguise, the traditional hand-crafted Thanksgiving dinner," says Merriman (pictured). "If you eat in a Merriman's restaurant for Thanksgiving, you'll enjoy a traditional Thanksgiving menu with a touch of Hawaii."
The ethos Merriman followed in compiling the Hawaii-inspired holiday season recipes shared here was making sure ingredients could be found wherever HAWAII Magazine readers were in the world.
"Bringing a touch of Hawaii to your Thanksgiving Day menu is easy," says Merriman. "The basic flavors of Hawaii—coconut, macadamia nuts, and pineapple—all go great with traditional Thanksgiving favorites. You can keep your family recipes and add these for a fun, tropical twist."
On the following pages, you'll find Chef Peter Merriman's recipes for Molokai Sweet Potato Palau, Cranberry Pineapple Relish, Macadamia Nut Stuffing and Kalua Turkey.
Mahalo for the recipes Chef Peter! And Happy Holidays to our entire HAWAII Magazine reader ohana!
Molokai Sweet Potato Palau
Palau is the Hawaiian name of a pudding made of sweet potatoes and coconut cream. "You can always substitute purple Molokai sweet potatoes with regular sweet ones," says Merriman. "The addition of coconut milk works well with both."
3 large purple Molokai sweet potatoes (or regular sweet potatoes)
1 cup coconut milk
1 cup diced onion
¾ cup butter
1 tsp salt
Peel and dice sweet potatoes into two-inch cubes. Cover potatoes with water and simmer until tender.
Remove potatoes from heat and drain water. Place potatoes in a saucepan and sweat in ½ cup butter. Set aside.
Sautée diced onion in 1 Tbsp butter on medium heat until translucent.
Place potatoes in a mixing bowl and add coconut milk and remaining butter. Mash with potato masher.
Add sautéed onions and salt.

Cranberry Pineapple Relish
"Adding fresh diced pineapple to cranberry sauce is another way to add a taste of Hawaii to your menu," says Merriman.
2 cups fresh cranberries
4 cups sweet pineapple, small diced
4 cups brown sugar
2 Tbsp fine chopped ginger
1 cup pineapple juice
½ tsp cinnamon
Add all of the ingredients into a saucepan. Bring to a boil until cranberries pop. Cool mixture until ready to serve.
Kalua Turkey and Macadamia Nut Stuffing
"In Hawaii, we eat kalua pork. The pork is cooked in an underground oven called an imu, steamed all day in banana stump and ti leaves. This gives the pork a moist smoky flavor," says Merriman. "Kalua turkey is common here, too. You can make it at home with liquid smoke.
"The addition of macadamia nuts to a traditional stuffing creates a nice contrast, giving a great texture and taste."
For Kalua Turkey:
1 whole turkey
Water or chicken stock
1 tsp. liquid smoke
Place turkey in roasting pan with water or chicken stock covering 3/4 of turkey. Add liquid smoke.
Place roasting pan in oven and cook turkey as your regular recipe calls for, dependent on weight.
For Macadamia Nut Stuffing:
"The addition of macadamia nuts to a traditional stuffing creates a nice contrast, giving a great texture and taste."
6 cups bread, diced and toasted
3 eggs
¾ cup turkey stock
1 small onion, diced
3 cloves garlic, chopped
1 cup chopped toasted macadamia nuts
1 cup chopped sautéed mushrooms
¾ cup Italian fennel sausage, chopped and browned
¾ cup chorizo sausage, chopped and browned
½ tsp red pepper flakes
½ tsp fennel seed
2 stalks celery, diced small
2 Tbsp chopped parsley
2 Tbsp chopped sage
½ lb. melted butter
Salt
Pepper
Sautee onions, garlic and celery.
Add browned Italian sausage and chorizo.
Place the above mixture into a large bowl and add all other ingredients. Mix well, adjusting taste with salt and pepper.
Brush a 6 in.-by-10 in. baking dish with butter and add stuffing.
Cover with foil and bake for 30 min. at 375 degrees F.
After 30 min., remove foil and bake an additional 15 min.