Holua sledding, the death-defying sport of Hawaiian chiefs
In Keauhou, a mile-long engineering marvel allowed alii (chiefs) to ride down a mountain at 50 miles per hour all the way to the sea.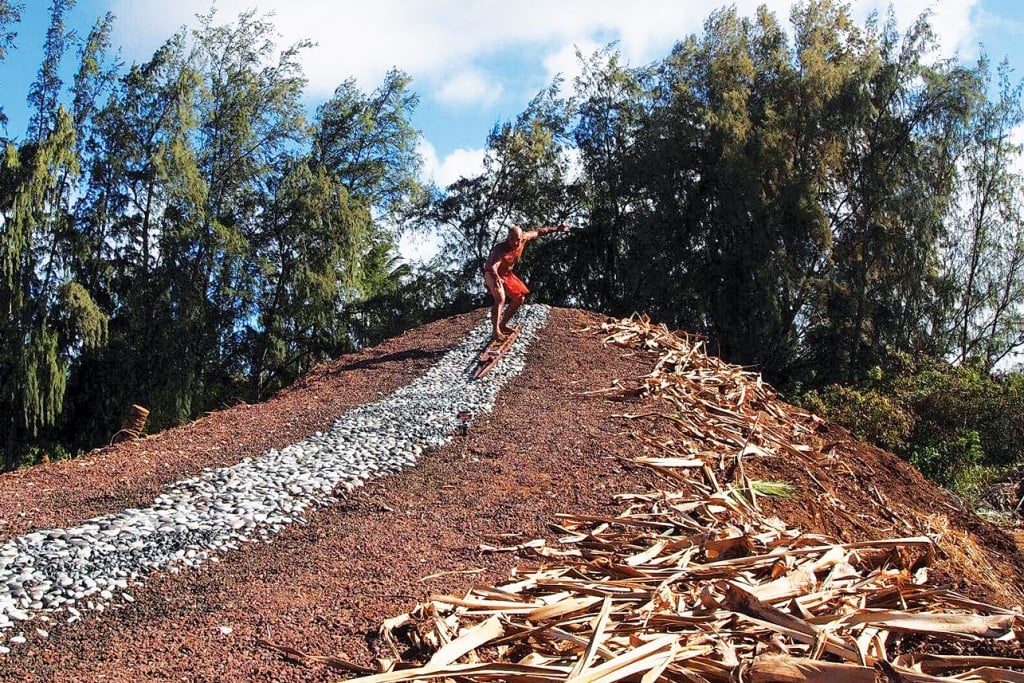 It's early on a bright autumn day in Kona and the sun is steadily baking the earth beneath my feet. Brittle blades crunch with each step and tiny clinging burrs linger on my long pants. I'm searching for the 3,000-foot-long Kaneaka, the longest remaining ancient kahua holua (sledding course) in Hawaii, on the steep slopes of Hualalai Volcano. Once stretching a mile long, it is believed to have been built in 1814 by King Kamehameha the Great.
The best preserved of these painstakingly constructed lava-gravel pathways are on Hawaii Island, snaking down from Kona's volcanoes toward the sea. It's easy to drive or walk right past them without knowing they're there or that, centuries ago, they served as proving grounds and play spaces for early Hawaiians. Here, far from the surf breaks, was the arena for Hawaii's other extreme sport: the sometimes death-defying act of hurtling one's body—face-first, standing up or kneeling down—on a tiny wooden papa holua sled down a groomed path along the side of a volcano.
Tom Pohaku Stone, a 65-year-old Oahu-based and Hawaii Island-raised cultural practitioner, has made Hawaiian sports his life's work as well as his passion. After the lifelong surfer heard about hee holua (sled riding) from his grandfather, he says he conjured up a blueprint in his mind and built his first sled—two narrow, 12-foot-long runners bound together with crosspieces 6 inches across and 4 inches deep, like a slender canoe—without ever having seen so much as an image of one. During a later museum visit, Stone says he realized his sled was almost identical to an 800-year-old holua, which sent him on a quest to dig deeper into the history of the sport. And, part of that meant using his creations to ride the mountains himself.
"You can ride a bobsled in the snow and it is sort of similar," he told me over the phone from his home. "The only difference is that you are four inches off the ground and there's no snow … you're riding down grass at 50 miles per hour or down rock at 80, and crashes are horrendous."
It's high risk ("So far, I'm the only one I know of who has gone to the hospital … I once tore off my face and had to have surgery."), but for Stone, also high reward. He has spent 16 years researching and studying the ancient tradition at the University of Hawaii at Manoa, and earned a master's degree in Pacific Island Studies and Historic Preservation in 2001. He has helped to uncover dozens of kahua holua sliding courses throughout the Islands and teaches Native Hawaiians about their traditional sports, including how to ride holua on grassy hillsides on Oahu, through his nonprofit, Kanalu. For more than 20 years, he has also made a living crafting holua (and surfboards) the traditional way—using hand-woven coconut cordage and woods collected in Hawaii. His sleds have been displayed in places like Bishop Museum, Puu Honua O Honaunau (often called the "Place of Refuge") National Historical Park, the Captain Cook Birthplace Museum in the U.K., and the National Museum of the American Indian in Washington, D.C. One also hangs from the rafters at the nearby Holuakoa Café, the largest eatery in Holualoa, a south Kona town named for the sledding tradition.
Stone believes the act of sledding may have held a deeper cultural meaning for all riders, aside from the adrenaline-fueled competitions between alii. In Hawaiian tradition, "Pele is revered for her ability in holua," he said. And, "all [slides] were on top of old flows or what was once a very significant place … They all have Pele names … so we ride across solidified lava to honor her." The sledding act—then and now—is steeped in protocol, including the oiling of sled and riders with kukui nut oil and, sometimes, laying down mats of pili grass or ti leaves to smooth and add friction to slow the ride.
The construction of slides was clearly a huge undertaking and, if Stone's work is any indication, the sleds are also quite labor intensive (from start to finish, a single sled takes him 27 hours to make), yet it's hard to know exactly what motivated Hawaiians to create either. According to Stone, holua's origin stories have been lost in time—only 11 original sources mention the sport in Hawaii. However, similar sleds and stories about them can be found elsewhere in Polynesia, where they may have been used as tools for moving heavy rocks. Stone believes that, from there, sleds could have been modified by Hawaiians to transport big trees out of the forest. "When you look at Kona, all we see is this pretty barren land, but originally what was there was this greater forest that we used for our canoes," said Stone. "If you look at every great slide that was ever constructed throughout all of Hawaii, [virtually] all go to where the rain forest reached down to its lowest level … they all go to the ocean."
Only the imagination can bridge the gap that takes holua from a functional tool to sporting equipment. Stone likes to think that it happened one day in the upper-elevation forest while community members were observing strict protocol to remove giant koa trees: "The kahuna (priest) of the time was probably on this great log as they were slowly sliding it downhill with lashings and … it got away from them. And then the kahuna was standing on it or lying on it, screaming for life, right, and reaches the bottom and at the bottom is a great chief who says: 'OK, you have to take it all the way back up because I have to ride it now—can't have the kahuna greater than me!' Right? And that's how it [could have] started."
As I approach the grass-pocked Kaneaka sled route, I try to imagine riders streaming down like surfers on a crusted lava wave, their bodies mimicking the act of hot lava flowing down past me and on to the sea. A cement walking-path neatly bisects the slide and, when I reach the ancient route, I stand in the center, just looking up the mountain. Before me is a path of millions of rocks—smaller ones stacked atop larger boulders—all meticulously placed hundreds of years ago and stretching off into the sunlight.
I close my eyes and am bowled over.
The best place for a firsthand view of a Kaneaka slide is off the "1871 Trail" in the back of Puu Honua O Honaunau National Historical Park. A great display on holua can be found in the Keauhou Shopping Center's Heritage Center. A smaller raised section closer to the sea is also visible from the Na Ala Hele Ike Hawaii trail in Kaloko-Honokohau National Historical Park—it's off to the left of the trail before the petroglyphs and fishponds when coming from the park's visitor center. Other slide remnants exist in Holualoa, though they are on private property.