Honolulu City Lights ready to flip its Christmas switch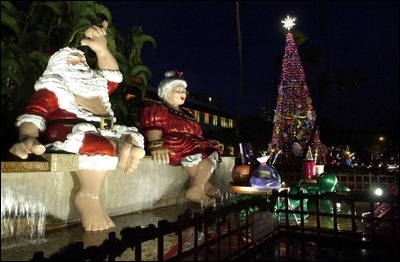 There's Honolulu's 50-foot official Christmas tree in front of the mayor's office. Christmas trees and gingerbread houses inside Honolulu Hale—our city hall. An electric light parade. Food booths. Downtown Honolulu's office buildings charging up their holiday light displays. And a 21-foot "Shaka Santa" dipping his toes in the Honolulu Hale fountain.
What's not to love about Honolulu City Lights—the city that never snows' annual display of holiday spirit?
If you're on Oahu on Saturday, you'll want to show up for the opening ceremonies of the 24th year of this cool yule treat. You won't be alone. More than 75,000 Honolulu residents are expected.
Besides all the stuff mentioned above, the Honolulu Hale grounds will be populated by an array of giant holiday character effigies. My favorite? A giant snow globe with a trio of chilled-out faux polar bears. (Forgive me for my enthusiasm here. I've never seen a real polar bear. I'm OK on giant snow globes, tho.)
Historic Kawaihao Church will host a sunset Christmas concert. A somewhat more contemporary Christmas show—with ukulele virtuoso Jake Shimabukuro, singer-songwriter-we-dig John Cruz and others—will play under Isamu Noguchi's Sky Gate sculpture after our mayor officially flips the switch on Honolulu City Lights.
There's more, of course. Most of us Honoluluans love the holiday season. You'll find a full schedule of the evening's events here and here.
Can't be in Honolulu this weekend? Everything but the Christmas parade and concerts continue at Honolulu Hale and downtown Honolulu through January 1.
Should you find yourself on Kauai this evening, the 12th annual Lihue Festival of Lights will brighten up the town's civic grounds. Opening night festivities start at 6 p.m. with a Lights on Rice Street parade, live music and the lighting of Lihue town's Christmas decorations. The lights in Lihue will be on nightly until Dec. 31.
Happy holidays!