Honolulu Festival celebrates strong ties between Hawaii and Asia-Pacific region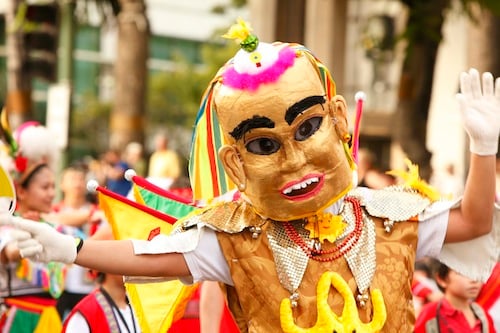 The Honolulu Festival, a lively celebration of strong ties between Hawaii and the Asia-Pacific region, will get under way tomorrow with music and dance performances and wrap up on Sun., March 4 with a grand evening parade along Kalakaua Avenue in Waikiki, and a dazzling Nagaoka Fireworks Show over Oahu's south shore beaches.
Now in its 18th year, the festival will feature its signature mix of arts and cultural displays, food events, and live performances from Japan, Taiwan, Korea, Australia, the Philippines, Tahiti, Alaska and, of course, Hawaii.
Among the highlights: the Honolulu Festival Friendship Gala and the annual finale, the Honolulu Festival Waikiki Grand Parade.
The Friendship Gala, which serves as a fundraiser for Honolulu Festival Foundation cultural education programs, will be held 7 p.m. to 9 p.m. on Sat., March 3 in the Hawaii Convention Center. Tickets are $90 for people older than age 21; $70, for ages 6 to 21; and free for children younger than 6 years old. For more ticket information, click here or call 808-833-3378. A lineup of 10 Hawaii restaurants will be serving up dishes and desserts. The event will also feature cultural entertainment presented by performers from various countries.
Festival organizers estimate that this week some 4,500 performers and visitors are touching down to Hawaii from Asia Pacific, mostly Japan. Performers representing the cultures of Japan, China, Taiwan, Korea, Australia, the Philippines, Canada, Alaska, U.S. Mainland, and Hawaii will dazzle guests with their entertaining displays of music and dance.
One troupe from Kochi, Japan, Sugaren, which is known for it's high-energy dancing that combines traditional and modern music and movements, will hold a free workshop with the International Rainbow Children Project, 1 p.m. to 4 p.m. tomorrow at the convention center.

Scores of stage performances and exhibitions will be presented between 10 a.m. and 5 p.m. on Sat., March 3, and from 10 a.m. to 3 p.m. on Sun., March 4 at Hawaii Convention Center, Ala Moana Center, and Waikiki Beach Walk. Admission to the festival performances and exhibits is free. For a schedule, click here.
Following Sunday's afternoon stage performances, festivities will move to Waikiki for the festival finale. The visiting performers from Asia Pacific will entertain in the Waikiki Grand Parade on Kalakaua Avenue, starting at 4:30 p.m., followed by the spectacular Nagaoka Fireworks Show. Making its first appearance outside of Japan, the show will light up the skies over Waikiki Beach.
In a news release issued by festival organizers, Keiichi Tsujino, president of the Honolulu Festival Foundation, said: "We encourage everyone to come out and show their support for our visiting performers and celebrate the beauty of our different cultures in the Pacific Rim."
The nonprofit Honolulu Festival Foundation presents the festival and perpetuates the culture, customs and traditions of Asians and Pacific Islanders through community outreach and charitable efforts. For more information about the festival, click here.