Honolulu goes green for St. Patrick's Day 2011! Here's where to go.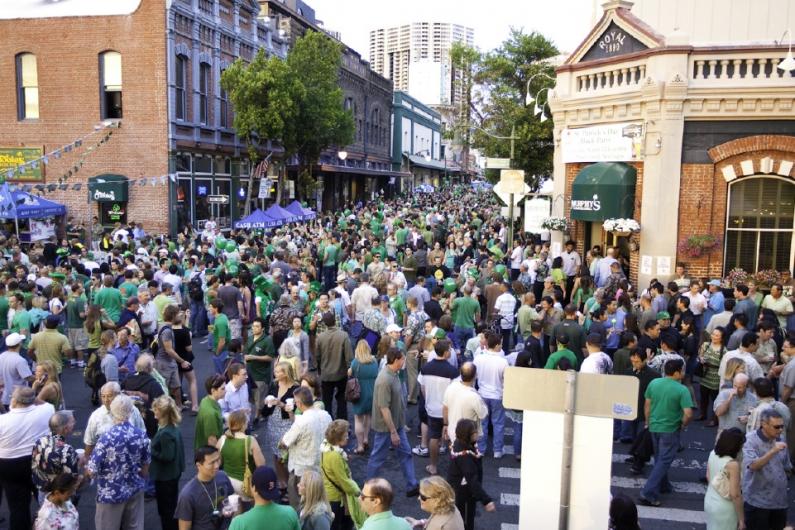 Hawaii may not have the largest Irish population among U.S. states (or countries in the Pacific Rim, for that matter). But such trivialities never give a moment's pause to the thousands of people who turn out every year to celebrate St. Patrick's Day in downtown Honolulu.
The annual St. Patrick's Day Chinatown Block Party—just a couple of blocks from HAWAII Magazine's downtown office—lures thousands of revelers to the Honolulu Chinatown Arts District's unofficial "Irish Corner." If you're going to the party tonight—and you should if you're on Oahu—that would be the intersection of Merchant Street and Nuuanu Avenue, where Murphy's Bar & Grill and O'Toole's Irish Pub are located.
No less than the brewers of Guinness Irish Stout have called our humble Honolulu block party "the single biggest St. Patrick's Day party any one bar throws in the United States," according to event organizer and Murphy's Bar & Grill owner Don Murphy.

Murphy started the downtown St. Patrick's Day celebration 24 years ago as a simple but boisterous party, kept within the confines of his Irish restaurant and pub. Within a decade the party spilled out onto Merchant Street, then Nuuanu Avenue, then a neighboring parking lot. Now it's a massive open-air festival boasting Irish foods, live entertainment and, of course, a stellar variety of beers, Irish and otherwise.
The restaurant opens for lunch at 11 a.m. with a St. Paddy's menu that reads like a Dublin pub: corned beef and cabbage, Guinness-braised lamb shanks, blarney burgers, fish-and-chips and homemade Irish whiskey cake and bread pudding. Murphy's is also bringing back its popular St. Patrick's Day Guinness Oyster Bar, with hundreds of fresh-shucked oysters, steamed clams, sautéed shrimp, crab cakes and oyster shooters.
Whatever you nosh, however, make sure you order some corned beef. Murphy's is donating $2 for every pound of corned beef it sells throughout March to the Hawaii Children's Cancer Foundation.

Can't make it for lunch? No worries, the real partying doesn't begin until sunset, when Murphy's shuts down Merchant Street and Nuuanu Avenue for the big block party. As for live music stages: Doolin' Rakes promises to bring the Irish tunes, while Elephant throws down harder-edge rock.
If you're in the neighborhood, sport some green and head to Chinatown. For more information, visit www.murphyshawaii.com or call (808) 531-0422.
Other interesting "green" events are also happening around Honolulu today. Here's a list:
• 44th annual Waikiki St. Patrick's Day Parade
Waikiki
Noon
Bands, marchers and floats head down Kalakaua Avenue and past Kuhio Beach to Kapiolani Park for an afternoon of Irish food, music and entertainment. The parade is sponsored by the Friendly Sons of Saint Patrick of Hawaii.
• St. Patrick's Day at the Tower
Aloha Tower Marketplace
6 – 8 p.m.
The Marketplace's celebration isn't as, ahem, lively as the block party in neighboring Chinatown. But if you're looking for something a bit more intimate and subdued, the Marketplace might be the place for you. Restaurants will offer Irish menus and the center atrium will feature "The Magical Music of Ireland"—an evening of Irish song and dance inspired by the history and legend of the Emerald Isles.
Erin go bragh!