Honolulu made it illegal to look at your phone while crossing the street
Don't let these Hawaii laws ruin your vacation.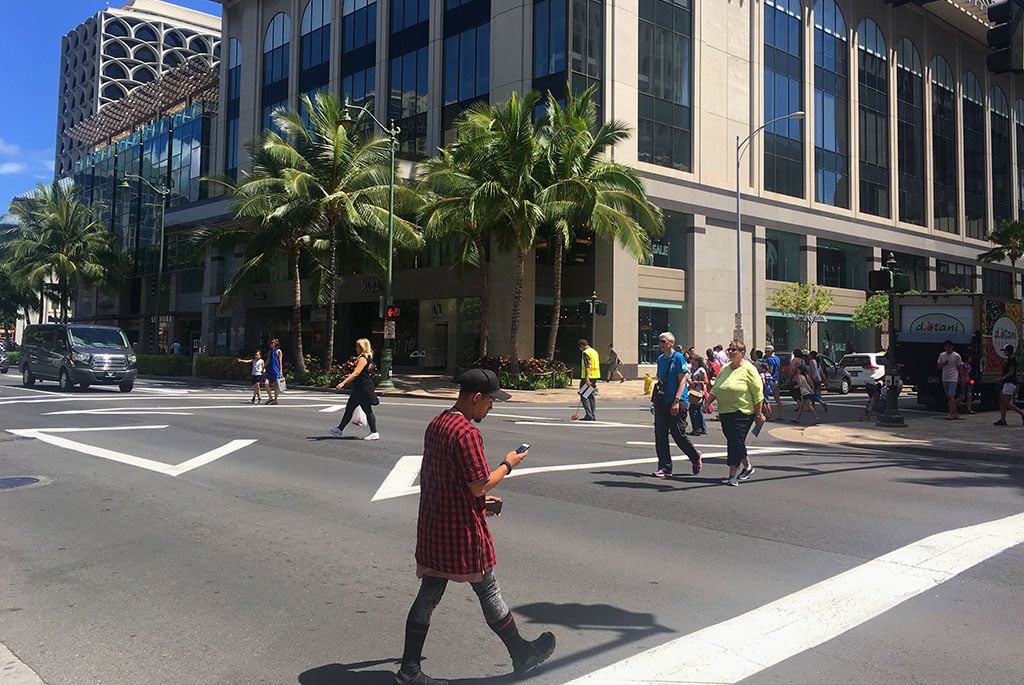 Honolulu just became the largest city in the U.S. to make it illegal to look at electronic devices (read: they mean your phone) while crossing the street. The news had the internet buzzing, with some calling the distracted pedestrian law an example of government overreach, and others saying it will make Honolulu roads safer for both pedestrians and drivers.
One thing is certain—when the law goes into effect on October 25, 2017, getting caught checking that Instagram notification while in a crosswalk could cost you big time: $15 to $35 for a first offense, $35 to $75 for a second offense within a year, and $75 to $99 for a third.
Violations like this one are easily avoided, though, by knowing a few of Hawaii's laws, below.
Crossing Against the Light
Fine: $130
Don't cross at a crosswalk if the crossing signal shows a red hand. It's illegal for pedestrians to enter the crosswalk even if the red hand is blinking and the countdown says you've got another 15 seconds. Those 15 seconds belong to pedestrians already in the crosswalk.
Distracted Driving
Fine: From $250
Don't drive your car while using your phone to talk, text, game, post, watch, snap, tweet, insta … you get the idea. Hawaii is one of 15 states to legislate an outright ban on handheld cell phones while driving. This includes when stopped at a light or stop sign. Instead, turn your phone on silent so you won't have any distractions, and turn the radio up.
Tobacco 21
Don't assume the 7-11 clerk will hand you that hard pack of Marlboro Red 100s willy-nilly because you voted for the first time in the 2016 election. In June 2015, Hawaii became the first Tobacco 21 state by raising the tobacco and e-cigarette smoking age to 21. The only other state to have raised the smoking age to 21 is California.
Click It or Ticket
Fine: From $112–$500
Don't turn that ignition unless everyone in your car is buckled in with a seatbelt—front and back-seat passengers. Child passengers under the age of 4 must ride in a child safety seat, and children between the ages of 4 and 8 must ride in either a child safety seat or a booster seat.
Roller Skates in Waikiki
Fine: $25
Don't lace up your roller skates thinking you're going to grapevine down Kalakaua Avenue sidewalk like roller disco royalty. Waikiki is a designated special district whose specific laws make it illegal to ride "skateboards, roller skates and similar devices" on roads and sidewalks. You can use a bike, or a Biki, but you'll have to keep to the roads.