Honolulu Night Market spotlights high-flying motocross, vintage summertime fashion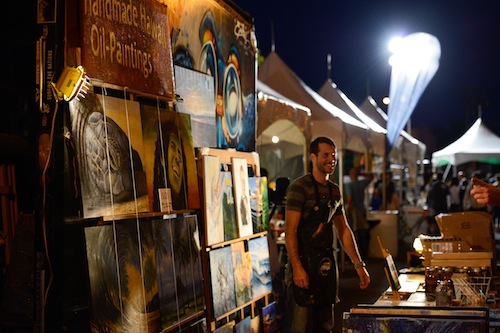 When was the last time your Saturday evening included high-flying motocross, reggae beats, and a fashion show, all in one place? How about your choice of sweet and savory French crepes, spicy coconut curries, or Argentinian empanadas? All of these (and more) can be found at Kakaako's monthly block party, Honolulu Night Market.
This Saturday (June 15), and on every third Saturday of the month, Night Market takes over Auahi Street, collaborating with pop-up eateries, local artists and designers, live musicians, and various performing groups from around the island.
First launched in September of 2012, Night Market made its debut in response to the immense success of the monthly "Eat the Street" food truck rally in Honolulu. StreetGrindz, founder and organizer of both events, created Night Market in an effort to accommodate a wider range of vendors and performers, looking for new ways to share their wares. The result is an eclectic blend of connoisseurs and craftsmen, hipster chic labels and family friendly fun. In a uniquely Hawaiian way, Night Market serves as a stage for artisans and artists to showcase what living in Hawaii means to them.
This month's Night Market will feature over 15 craft shops, 12 food vendors, and, for June's "extreme" theme, the Red Bull X-Fighters James Freestyle Motocross team. Among the team's athletes: three-time X-Games gold medalist Ronnie Renner. The motocross team will perform gravity-defying jumps and stunts. The team's exhibition, set for 6 p.m. to 7 p.m., will be followed by a meet-and-greet from 7 p.m. to 8 p.m.
A fashion show spotlighting loud-and-fun looks from summertime circa 1989 is set for 8 p.m. Barrio Vintage, a retro boutique situated in Honolulu's historic Chinatown District, will present the show.
Check out Pinch of Salt warehouse for local vendors selling island-inspired and handcrafted items, such as soy wax candles made by Peace of Paradise. The newly launched local company's products are made with cosmetic-grade scents and when melted, double as massage oil for your hand/feet/cuticles. These candles can only be found in a few stores on Oahu (and one in Japan). New scents and items will be debuted at tomorrow's Night Market, 6 p.m. to 11 p.m.
Eating options range from Simply Ono- gourmet-style plate lunches from chefs trained in classical, Filipino, local, Japanese and international cuisines- to the cheesy goodness of Inferno's artisanal wood-fired pizza and Petit Suisse Crepes. Decadent desserts will be served up at Let Them Eat Cupcakes and elsewhere amongst various vendors.
The Night Market is open from 6 p.m. to 11 p.m. Admission to the event is free. Street parking can be tricky but for those who don't mind a short walk, the "Eat the Street" lot is open (555 South St. between Pohukaina and South streets.)
For information and updates on future Night Market events, click here.