Honolulu Surf Film Festival slated to screen 16 Hawaii premieres. We're stoked!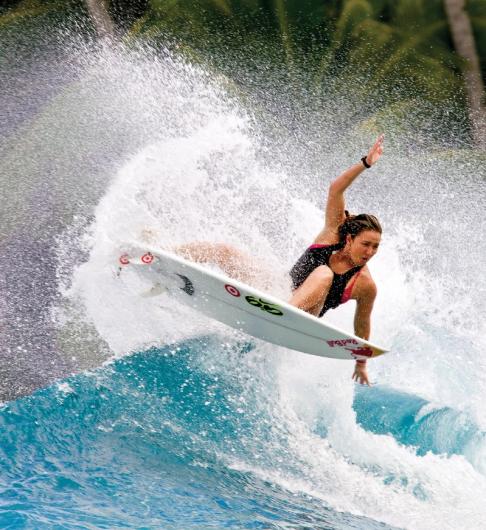 The fourth annual Honolulu Surf Film Festival, which will get under way Fri., July 8 at the Doris Duke Theatre, features 22 surfing films, including 16 that will be shown in Hawaii for the first time.
If you're on Oahu this month, we recommend checking out the festival's offerings, even if you're not a surfer. In addition to heart-stopping footage of competitive surfers taking on the island's North Shore winter waves, the film lineup ranges from goofy surfing adventures to a sobering probe of environmental issues tied to surf culture.
Among the Hawaii premieres are: Innersection, which spotlights action-packed competitive surfing footage, and Leave a Message, which profiles six top-level women surfers. Among them are Hawaii's Carissa Moore (pictured,right), Coco Ho, Malia Manuel and Monyca Byrne-Wickey. Another premiere, Accidental Icon: The Real Gidget Story, is a documentary about Kathy Kohner Zuckerman, whose account of surfing Malibu in the mid-1950s became the basis for a best-selling novel by her father Frederick Kohner and the hit 1959 movie Gidget, which introduced the modern sport of surfing to the world. Kohner Zuckerman, along with filmmaker Brian L. Gillogly will introduce the film at its July 20 screening.
An opening-night reception for the three-week film festival is set for 6 p.m. to 7:30 p.m. Friday in the Honolulu Academy of Arts' Pavillion Courtyard. Festivalgoers will be treated to the vintage surf sounds of Tiki Taboo and as well as free beer and wine from Kona Brewing Company and Barefoot & Bubbly, respectively. Available for purchase will be food from Whole Foods Market and OnoPops.
The reception is followed by the Hawaii premiere screening of Innersection (pictured, left) and Mayumba, which features a "surfEXPLORE," joined by Hawai'i surfer and Triple Crown of Surfing director Randy Rarick, as they journey to the remote south coast of Gabon in West Africa, where intriguing landscapes and waves abound. Opening night attendees may enter a drawing to win one of two high-performance, Donald Takayama–designed stand-up paddle boards from Surftech.
Here's the lineup for the Surf Film Festival's special guests.
July 9 (1 p.m.) — Thomas Brookins will introduce his film Shadows of the Sun and lead a post-screening Q&A. 1 p.m.
July 10 (1 p.m.) and July 12 (7:30 p.m.) — Pierce Kavanagh will introduce his film Manufacturing Stoke (Stuart Coleman, author of Eddie Would Go, will join Kavanaugh for the Q&A on July 10 at 1pm.)
July 13 (7:30 p.m.) — Stuart Coleman will sign copies of his book Eddie Would Go.
July 20 (1 p.m. and 7:30 p.m.) — Kathy Kohner Zukerman (the real Gidget) and filmmaker Brian L Gillogly will introduce Accidental Icon: The Real Gidget Story. Paperback editions of Kohner's book Gidget will be available for purchase at both screenings.
July 21 (7:30 p.m.) — Surf industry pioneer Bob McTavish will introduce the film Going Vertical, which features McTavish.
July 31 (7:30 p.m.) — Anna Trent Moore will introduce Surfing the '50s and lead a post-screening Q&A. She will also sign copies of her book Increments of Fear: The Buzzy Trent Story.
The festival's closing-night reception, 6 p.m. to 7:30 p.m. on Sun. July 31, 6-7:30 p.m. features free beer from Kona Brewing Company, food for purchase from Da Spot, and a book signing with Anna Trent Moore, the daughter of surf legend Buzzy Trent, and author of Increments of Fear. Also, attendees can, again, enter a drawing to win one of two high-performance, Donald Takayama–designed stand-up paddle boards.

For a complete listing of films and ticket information,
click here
.
Click on the surfboard in the image below to check out an extended trailer for the Honolulu Surf Film Festival. (Note: The trailer may take several minutes to load.)