Honolulu Surf Film Festival spotlights Hawaii watermen legends, intrepid stoke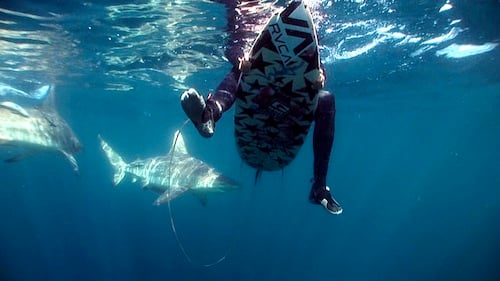 The fifth annual Honolulu Surf Film Festival will get under way this weekend at the Honolulu Museum of Art's Doris Duke Theatre with an opening-night lineup spotlighting Hawaii waterman heroes, such as bodysurfing great Mark Cunningham and paddling legend Joseph "Nappy" Napoleon.
Closing night for the fest, which will be running from Sat., July 7 to Wed., July 25, will salute legendary Hawaii surfer Gerry Lopez and late surf filmmaker Bud "Barracuda" Browne. The evening will feature a screening of Browne's early 1970s silver screen classic Gone Surfin'.
In all, surfing fans will get to see more than two dozen waves-inspired films. Among the other highlights: A Deeper Shade of Blue, which traces surfing's roots in film footage that begins and ends in Hawaii; Come Hell or High Water, which focuses on the beauty of bodysurfing, featuring Cunningham — a retired North Shore, Oahu lifeguard (pictured, below) — and other champs; I Just Love to Paddlee, a short film that follows Napoleon (pictured, left), at age 67, as he attempts to cross nine Hawaii channels in six consecutive days (nearly 240 miles).
Among the films focused primarily on far-away waters: Caught Inside, a narrative thriller from an Australian director (Adam Blaiklock) about a group of surfer friends who travel to a secluded island for "surfari." There's also Surfing and Sharks
 (pictured, above), which is set in South Africa's beautiful east coast, home to one of the world's largest concentrations of sharks. Shark experts, shark-bite survivors, and ecologists talk about the myths and the misconceptions tied to the animal. Finally, we're looking forward to catching Finnsurf, a documentary that captures intrepid stoke in Finland's frigid waters. Brrr. Lucky we surf Hawaii.
In a news release issued my the Honolulu Museum of Art, Gina Caruso, the museum's film curator and theater director, said: "This year, we continue to offer films that explore developing surf cultures in the most unexpected places." She continued, "but we're also focusing on surfing's roots, and on how the original spirit of surfing, born here in Hawaii, is alive and thriving throughout the world."
For more information about the Surf Film Festival's events, screenings and tickets, click here.