Honolulu Surf Film Festival to screen top new, classic surfing films. We're stoked!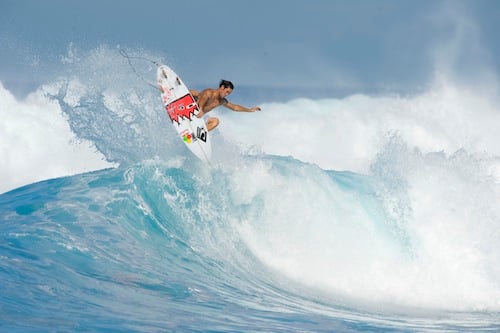 This month, escape the heat and drop in on the Doris Duke Theater at the Honolulu Museum of Art for the sixth annual Honolulu Surf Film Festival, which gets under way on Saturday (July 6).
The fest features 24 full-length and short surf films from around the world. Saturday's opening-night festivities will start at 6 p.m. with local grinds from Da Spot eatery, a performance by Hawaii musician Mano Kane, and a screening of The Heart and the Sea, which starts at 7:30 p.m. The film, which was three years in the making, includes footage from Oahu's world-famous North Shore break and monster swells in Australia. It also glimpses immerging surf cultures in New Zealand, France and Spain.
For surf enthusiasts and part-time fans alike, the fest's films offer something for everyone, starting with the sport itself and expanding into environmental, cultural, and social territory. Among the highlights: Jaws: Changing the Game, shot at the famous Maui surf break Pe'ahi (aka Jaws) where a handful of intrepid surfers ride the monster break without a jet ski tow-in; and Boardroom: Legends of Surfboard Shaping, which tracks the history of surfboard-making with acclaimed shapers like Hawaii-born Donald Takayama, short-board revolutionist Dick Brewer, and ancient-inspired designer Greg Noll.
Surf film pioneer Bud Browne produced the final film of the fest, Gun Ho!, in 1963. It features rare helicopter shots of Waimea Bay, legendary big wave surfer Butch Van Artsdalen. A special guest panel discussion will follow the screening. Among the panelists: Anna Trent Moore of the Bud Browne Film Archives, and surf legends Peter Cole, Ricky Grigg, and Kim Hollinger. The closing-night reception will take place from 6 p.m. to 7:30 p.m. on July 28 with the Gun Ho! screening beginning at 7:30 p.m.
Several of this year's films will also explore global environmental issues, including veteran surf filmmaker Chris Malloy's Groundswell, which documents the construction of a major oil pipeline in British Columbia, and Justin LePera's Isolated, filmed in Papua New Guinea, in which five world-class surfers are confronted with apparent social corruption and a shady mining corporation. Director and producer Justin LePera and producer Geff Clark will join in the film-screening event on July 19 at 7:30 p.m. Click here to see a trailer for Isolated.
As in other years, the fest will also highlight female filmmakers and surfers, such as director Anna Jerstrom with her short film Water Warriors, Lakey Peterson (pictured, above), 2012 US Open winner and star of Zero to 100, and Heather Gordon with her latest short film, Party Mix.
Regular screenings are $10 ($8 for museum members). Opening and closing night receptions are $15 ($12 for members). Festival flash passes, which includes 10 screenings excluding receptions, are $90 ($72 for members). For more information about the sixth annual Honolulu Surf Film Festival, click here.