Honolulu Zoo's 25th "Wildest Show in Town" summer concert series gets under way today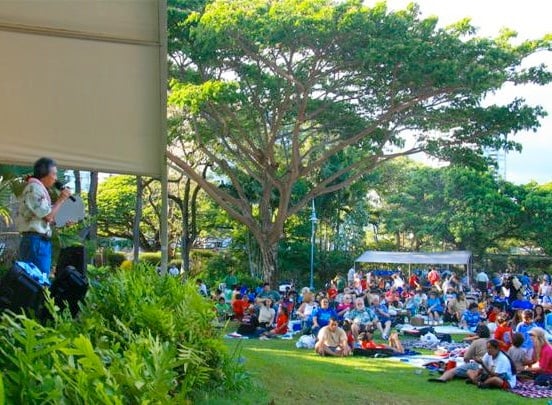 During early evening hours today, or on any Wednesday through Aug. 10, the sweet sounds of guitars and ukuleles will be drifting over the hedges at the Waikiki area's Honolulu Zoo.
Inside the zoo, on a stage overlooking a cool, grassy lawn, Honolulu Zoo's Wildest Show in Town will begin its 25th summer concert series at 6 p.m. When the gates open at 4:35 p.m., concertgoers may tour the zoo grounds for about an hour — mini-guided tours will be offered to the first 30 people who sign up.
The Honolulu Zoo Society maintains that the show is Oahu's longest-running summer series and remains among the most affordable. Admission is $3 per person, with proceeds benefiting conservation education programs.
The show's longtime emcee, ukulele master Roy Sakuma (pictured on stage,above) assembles the performance lineup, featuring many accomplished Hawaii musicians, and weekly ukulele giveaways for both adults and kids.
This evening's headliner, John Cruz (pictured, below), has been described as the closest thing Hawaii has to the mellow, guitar-strumming James Taylor. In 1997, Cruz, who grew up in Oahu's Palolo Valley, won a Na Hoku Hanohano Award (Hawaii's Grammys) for most promising artist with his debut album, Acoustic Soul, which included the hit tune Island Style.
Here's the rest of the performance lineup for the 2011 "Wildest Show in Town" summer series:
• June 15 — Barett & Tara Awai
• June 22 — Roy Sakuma, his "Super Keiki" & friends
• June 29 — Kelly Boy Delima
• July 6 — Manoa DNA
• July 13 — Ukulele Extravaganza featuring Herb Ohta-san
• July 20 — Melveen Leed
• July 27 — Jimmy Borges and his Jazz Friends
• Aug. 3 — Frank Delima
• Aug. 10 — Hookena
Concertgoers may bring their own picnic dinners or purchase refreshments offered by the zoo's concessionaire, "Taste of the Wild" catering. Beach blankets and low-slung seating are welcome. Leave high-back chairs at home. Also, alcohol will not be permitted on the grounds. This year's series is organized by the nonprofit Honolulu Zoo Society and sponsored by McDonalds Restaurants of Hawaii. For additional information about the concert series and the zoo, click here.