How Honolulu's Side Street Inn got its very own Rogue Ale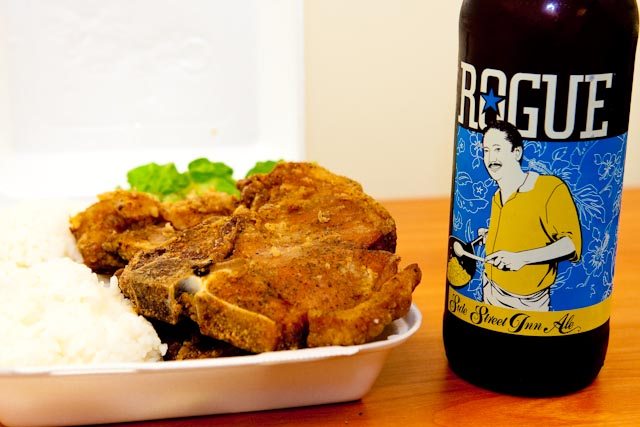 So this guy walks into a bar with a bottle of beer in a bag.
The guy? Jack Joyce, one of the founders of Rogue Ales in Newport, Ore., who spends four months a year in Hawaii.
The bar? Colin Nishida's Side Street Inn in Honolulu, which has been featured on Anthony Bourdain's Travel Channel series No Reservations.
In the bag? "Jack told me, Try this beer," recalls Nishida. "So I fumble it out of the bag, and the picture on the label looks familiar. Then I read the name, and I have to tell you it surprised the [expletive deleted] out of me."
On the label, a picture of Nishida and the name, "Side Street Inn Ale."
"A small batch beer like that isn't really a commercial venture for Rogue," says Joyce. "We just did it as a present to Colin. He's a good guy, who does a lot for his community and doesn't ask for a lot back."
We first tried Side Street Inn Ale at Colin's wedding reception last Saturday. His wife, Mel, handed me a glass full and said, "You have to try this."
Rogue's ales and lagers are almost as well known for their colorful names and bottle graphics as their flavor profiles. The microbrewery's Side Street Inn Ale was nice—malty on the front, nice hops, but not overpowering.
The real test, though, came yesterday at lunch. We split a bottle (we were in the office on a workday, after all) with an order of Side Street Inn's legendary pork chops. We felt our pairing was a must. Jack Joyce had printed on the Side Street Inn Ale bottle: "Dedicated to Colin and his pork chops."
Our verdict: a perfect combo.
The next shipment of Side Street Inn Ale reaches Honolulu again next week. It's available only at Side Street Inn and a few select retailers.
"It's been a big year for me," says Nishida. "A new location." (Another Side Street Inn is under construction on Kapahulu Ave., near Waikiki.) "A new wife, and now a new beer."