How Ice Cream and FLEX-ible Funding Help Those in Need
Oahu-based nonprofit Touch a Heart, with help from Hawaii Community Foundation, used an ice cream recipe to fund its internship program.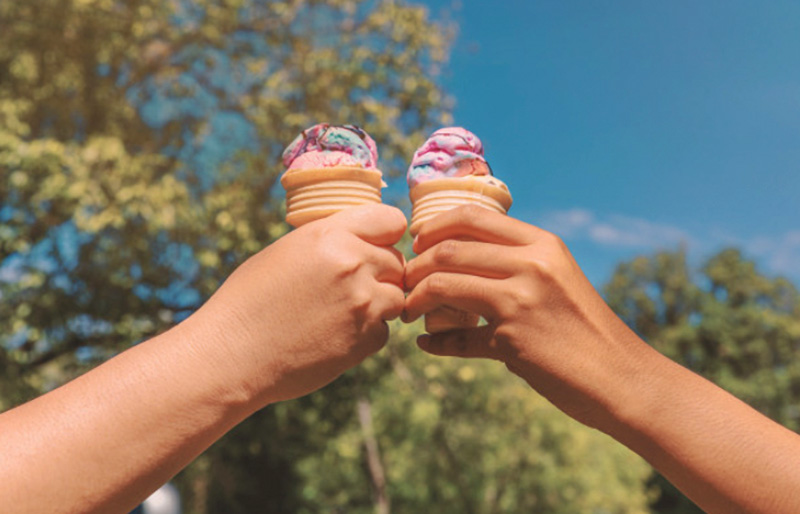 Who knew that supporting a good cause could be so delicious? This only-in-Hawaii ice cream flavor has become a mainstay at Uncle Clay's House of Pure Aloha in Ala Moana Center—Uncle Pono's Ulu Ice Cream—and its sales benefit people who are putting their lives back together after being down-and-out.
The breadfruit ("ulu" in Hawaiian) ice cream recipe won the Most Innovative Dish award at a "Taste of Kamehameha" cooking competition—but its creator, President and CEO of the Oahu Economic Development Board, Pono Shim, wasn't interested in commercializing it. He only wanted to raise awareness of breadfruit as a local ingredient with the potential to feed many in Hawaii. So, he gifted the recipe to Touch a Heart, an Oahu-based nonprofit that provides homeless and disadvantaged individuals with on-the-job training.
Today, Touch A Heart (TAH) produces the ice cream and sales of the delicious treat support the organization's internship program. The macadamia nut and lilikoi flavors are already acquiring a fanbase at Uncle Clay's House of Pure Aloha's Ala Moana Center location—partly for the flavors and partly because people want to support the community through TAH. "The ice cream is delicious," said Robin Kumabe, Executive Director at TAH "Like many things in Hawaii, it comes with a story," she adds.
You could even say that the ice cream comes with many stories. There is the story about how it was created. The story about how and why the recipe was shared. And now there are the many stories about each person helped by Touch A Heart's program.
"When I received my food handler certification, it opened up more possibilities and it changed my life," says TAH graduate Kellyn Cabral. "I learned how to be dependable, and how to be prompt, and my confidence has gone up. I'm a completely different person and I owe it to Touch A Heart."
TAH has also been recognized for their valuable work on several fronts—and ice cream is just the beginning.
The organization is also one of 189 nonprofit organizations awarded a 2019 FLEX Grant from the Hawaii Community Foundation (HCF). The innovative, unrestricted grants allow each organization to determine how to spend the funds: To keep a valuable program going, create a new program that the community has requested, or take care of needed repairs.
The HCF FLEX Grants Program was originally created in 2013 as part of HCF's Advancing Nonprofit Excellence Initiative, to maximize donors and funding partners gifts in support of nonprofits that achieve results and have a strong impact on the community. These organizations are also known as "high-performing nonprofits." Over the past six years, the FLEX Grants Program distributed grants that have provided more than $25.8 million to sustain many nonprofits across the state. This year, HCF has awarded a total of $4.4 million in FLEX awards.
TAH is considered a high-performing nonprofit, and it's transforming the lives of those with high barriers to employment, such as recent incarceration, recovery from drug addiction, or homelessness. This January, six more individuals graduated from the TAH internship program, having received job training in food service and new skills for participating In Hawaii's workforce.
Find out more about Hawaii Community Foundation's FLEX Grants.