How the Legacy of Hawaiʻi's Monarchy Lives On
The work of the royal families still influence the Islands.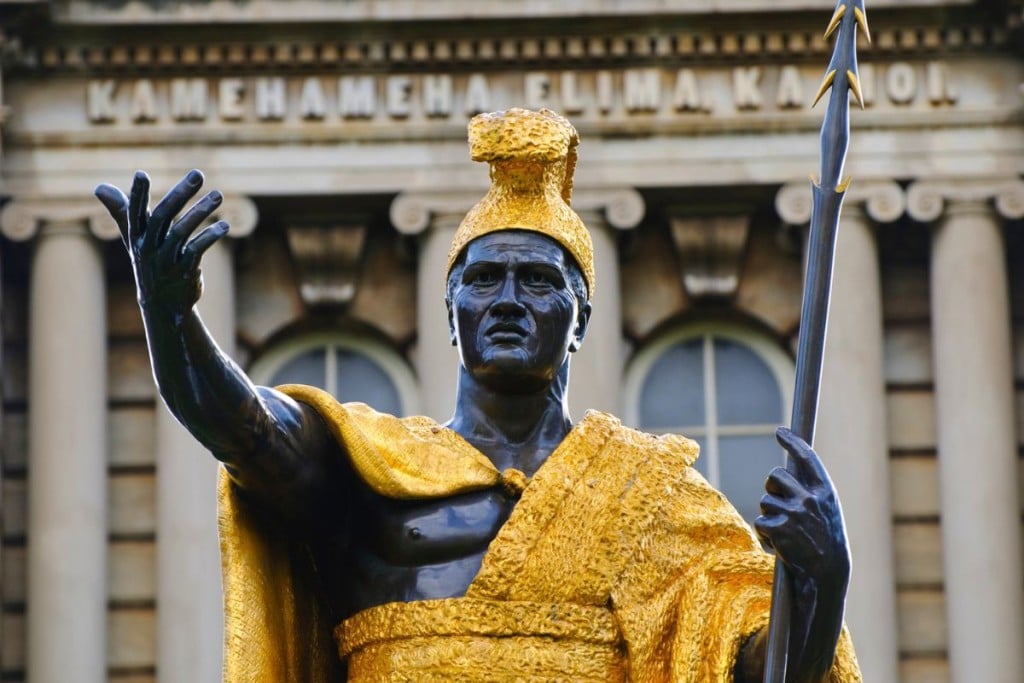 From rare wildlife and diverse topography to local cuisine and storied traditions, Hawaiʻi's environment and culture are distinct from any other place in the world.
In the U.S., Hawaiʻi is one of just two states with two official languages, in this case, English and ʻōlelo Hawaiʻi. (South Dakota is the other; Alaska has more than 20.) And it's the only state that was once a kingdom, ruled by its own monarchy.
In 1810, King Kamehameha I unified the Hawaiian Islands, becoming the first sovereign to rule over all Hawaiʻi. From unification until the overthrow of the monarchy in 1893, Hawaiʻi was an independent kingdom governed by Kamehameha the Great and his successors. During their reigns, Hawai'i's royal families were deeply involved in local communities, establishing hospitals, schools and trusts for the Hawaiian people. Some leaders also traveled the world seeking knowledge and the latest technology to educate and strengthen Hawaiʻi.
"The aliʻi (royal chiefs and leaders) considered themselves parents to their people," and many of their most impactful legacies demonstrate their affection and compassion for their kingdom, explains Zita Cup Choy, a historian at ʻIolani Palace on Oʻahu.
When illness was pervasive on Oʻahu, Queen Emma and her husband, Kamehameha IV, dedicated themselves to improving the health of Native Hawaiians. They established Queen's Hospital in 1859 to provide health care for all residents of Hawaiʻi. Now known as Queen's Medical Center, it's part of the nonprofit Queen's Health System, which includes four hospitals and more than 70 specialty health care locations and labs in Hawaiʻi.
Like Queen Emma, Queen Kapiʻolani was also concerned about the health of Native Hawaiians, specifically women. In 1890, she started the Kapiʻolani Maternity Home for Hawaiian mothers and their infants. Today, the Kapiʻolani Medical Center for Women & Children continues to honor the queen's legacy by providing advanced medical care for mothers and children.
Early Hawaiian monarchs were committed to supporting the well-being of Native Hawaiians, Cup Choy says. In 1850, just two years after the first board of health was started in London, King Kamehameha III appointed the first Board of Health for the Kingdom of Hawaiʻi; it wasn't until 1869 that the State Board of Health in Massachusetts was created, the first official state health board in the U.S.
While Hawaiian leaders were at the forefront of building contemporary health care systems, they were also nurturing an inclusive and educated society. Cup Choy explains that women had influential roles in Hawaiian politics long before the U.S., where women didn't win the right to vote until 1920. In the Hawaiian Kingdom, women served as judges and were even appointed to the House of Nobles. In 1891 Queen Liliʻuokalani became the first—and ultimately only—queen regnant in the Hawaiian Kingdom.
Along with the rulers who came before her, Queen Liliʻuokalani saw education as a pivotal tool in advancing the Hawaiian Kingdom. As a princess, she created the Liliʻuokalani Educational Society to offer schooling for impoverished Hawaiian girls. In 1909, she organized the Queen Liliʻuokalani Trust to help orphaned and destitute Hawaiian children, which continues to care for Island keiki today.
Princess Bernice Pauahi Bishop also recognized the importance of education for Hawaiian children. In her will, the great-granddaughter of Kamehameha the Great called for the establishment of Kamehameha Schools. After her death in 1884, her estate and inheritance went into founding the school for Hawaiian students. It opened as an all-boys institution in 1887 and in 1894, the trust started an all-girls school. Today, the private school system operates more than 30 preschools and three K-12 campuses across the Islands.
Cup Choy says visitors to ʻIolani Palace always mention how amazed they are by the generosity of Hawaiʻi's aliʻi. ʻIolani Palace is also an enduring and unique symbol of the Hawaiian monarchy. Located in Downtown Honolulu, it's the only royal palace on U.S. soil.
Construction of the palace began under King Kalākaua on Dec. 31, 1879, and was completed in 1882. King Kalākaua wanted to build a grand home that would rival the palaces he had visited in Europe. Although inspiration was taken from buildings designed during the Italian Renaissance, elements of classic Hawaiian architecture are prominent in the palace, helping to make for a one-of-a-kind aesthetic described as "American Florentine."
Inside, the palace was not only decorated with the finest furniture and ornate portraits of Hawaiian royalty, it was also equipped with advanced amenities for the period. King Kalākaua had flush toilets and intra-house telephones installed—a rare luxury at the time—and the palace was lit with electricity even before the White House.
Today, the architectural jewel and home of the last reigning monarchs of Hawaiʻi is a national historic landmark, and Cup Choy says palace tours are a chance for people to explore this important period of Hawaiian history. "ʻIolani Palace symbolizes who we were in the 19th century," she says. "I hope visitors recognize how modern, literate and educated we were."
Kalākaua, the king who was instrumental in the palace's construction, was also a benevolent ruler who championed the return of Hawaiian culture. He helped restore the tradition of hula, which early Christian missionaries had described as sinful. Rather than succumb to the rules of foreigners, King Kalākaua was proud of the Hawaiian arts. Known for hosting elaborate celebrations with hula performances, the king was nicknamed the "Merrie Monarch," and the world-famous hula competition in Hilo is dedicated to his legacy.
Cup Choy notes that prior to becoming king, David Kalākaua was a volunteer firefighter for Engine Company No. 4, which was established as an all-Hawaiian company. And even after taking the throne, Cup Choy says he continued to respond to fires. "The greatest legacy of the monarchs is how they cared about the people," she says.
In 1898, Hawaiʻi was annexed by the U.S. and officially became a U.S. territory in 1900. On Aug. 21, 1959, Hawaiʻi became a state. Yet, more than a century after the overthrow, the influence of Hawaiian royal leaders remains strong. For evidence, Cup Choy points to the many schools, streets and even hotels across the Islands. There you'll see lasting reminders of Hawai'i's royal families, from Lunalilo Freeway and Kalākaua Avenue to the Queen Kapiʻolani Hotel and the ʻAlohilani (which resides on land once occupied by Queen Lili'uokalani and is named after one of her beachside cottages).