How the traditional hukilau brings Hanalei Bay's community together
The centuries-old hukilau fishing technique draws together large numbers of friends and family to cast a gigantic fishing net from shore.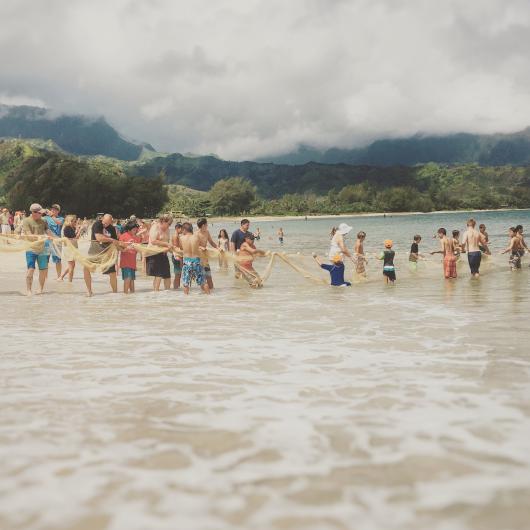 More than 150 people assembled at Kauai's crescent-shaped Hanalei Bay on Saturday for a traditional hukilau. By many estimates, it was the first time this ancient Hawaiian method of fishing has been practiced at this scale in the iconic north shore town of Hanalei in as many as 40 years.
What is a hukilau?
An important part of the Hawaiian subsistence economy, the centuries-old hukilau fishing technique facilitates the sharing of abundance within a community. The hukilau draws together large numbers of friends and family who work together to cast a gigantic fishing net from shore. Then, using arm strength, the group pulls the net back to the beach. Any fish trapped inside the net are shared among the families of hukilau participants, which historically included women and children as well as expert fishers.
"The hukilau brings the community together," said Blue Kinney, a Maui native who lives on Kauai and spent the morning helping to organize the event. "My grandfather, he was a fisherman, and at the end, when they got all the fish out of the net, he would distribute it to all of the families to take home. People would come from the mountains and they would bring taro and banana and they would give that to the fishermen and the fishermen would give them fish. Everybody shares."
How it's done
The net used at the hukilau Saturday was a patchwork of nylon and string measuring 1,000 feet in diameter. The process of spreading the net across Hanalei Bay near the Pine Trees surf break and pulling it back in to shore took the 100 or so participants about two hours to complete.
"It was like watching a football game," joked Ipo Kahaunaele-Ferreira, who sang and danced the hula after the net was pulled back in.
More than just a catch
The catch was small—an aha (needlefish), a few dozen oio (bonefish) and some aholehole (flagtail fish)—but event organizers and participants didn't seem to mind.
"It's not about the fish," said Blake Conant of the culture and community center Hale Halawai Ohana O Hanalei, an event sponsor. "It's about the process."
Fish or no fish, the hukilau provided the kupuna, or elders, in the community with a rare opportunity to share an ancient style of fishing with the younger generation.
"We laid the nets together, we pulled the nets in and we shared the catch," said Kauai mayor Bernard Carvalho. "Well, not too much catch. But that's okay, because it's about the memory and the experience."