How to golf in Hawaii on a budget
Play 54 holes on six islands for only $100—total.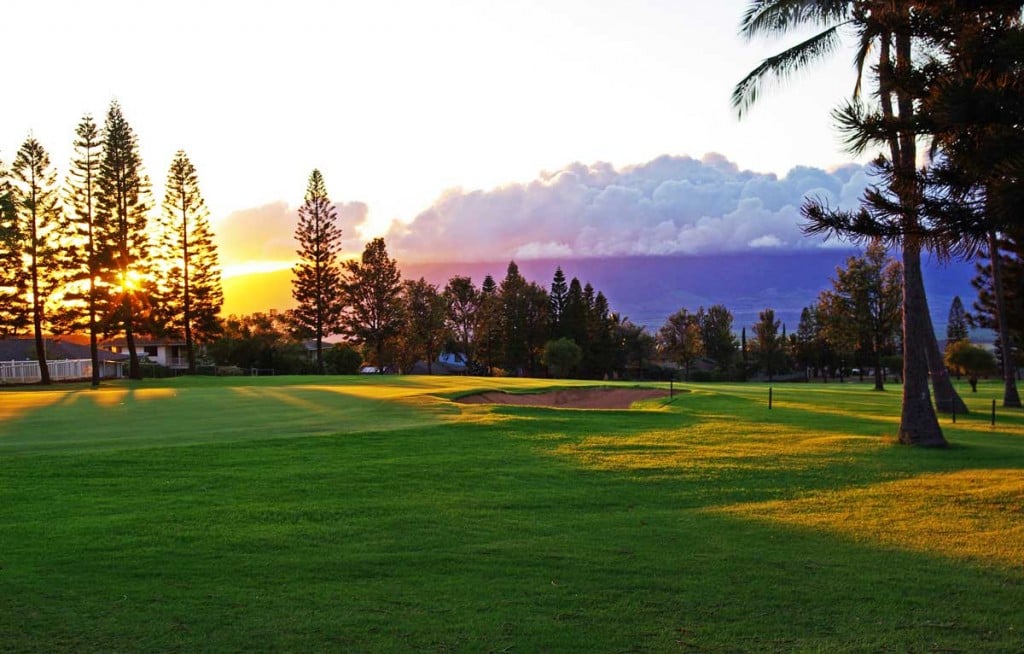 Golf.
In Hawaii.
Must be expensive, right?
It can be if you're playing at high-end resorts at the most popular time of the day, but golf in Hawaii can actually be affordable; in some cases it's even free.
If you wanted to plan an island vacation that spanned across six different islands, you could even play 54 holes for only $100—total.
Don't believe us? Here's how to do it, as well as some helpful tips:
Hawaii Island: Hamakua Country Club
Holes: 9+
Price: $20
Located in the town of Honokaa an hour northwest of Hilo, Honokaa Country Club is kind of like the all-you-can-eat buffet of budget golf. It's just $20 for the entire day, regardless of how many holes you play or how long you stay on the course. Kids under 17 golf for free, and if there's no one manning the golf course clubhouse, just drop a $20 in the slot for your round since the greens fees run on the honor system. If it sounds like a bit of old school charm, consider that the course is over 90 years old and the second oldest on the island.
Kauai: Kukuiolono Golf Course
Holes: 9
Price: $10
At slightly more than $1 per hole, Kukuiolono is hands-down the most affordable course on Kauai. This local favorite was donated to the public by the sugar magnate, Walter McBryde, and has wide fairways, wild chickens and sweeping views of the ocean. Need to zen out before playing your round? Take a stroll through the Japanese gardens you'll find in the neighboring park.
Molokai: Ironwood Hills Golf Course
Holes: 9
Price: $20 twilight rate
Molokai might not have any stoplights, but it does have a nine-hole golf course. Surrounded by stands of Ironwood trees, Ironwood Hills is set in the misty Kualapuu uplands, where fairways are carved out of open pastures and views stretch out to the sea. The course "clubhouse" is a simple trailer, and while the bunkers might just be patches of dirt (and the rough is a bit rough on the edges), it's about as unpretentious—and cheap—as golf in Hawaii can get.
Lanai: Cavendish Course
Holes: 9
Price: Free
No, that isn't a typo on the price; the course is actually free. A holdover from the days when Lanai was the world's largest pineapple plantation, the Cavendish course in Lanai City was constructed by Dole and completely free for pineapple workers and their families. Though the plantation closed in 1992, the island's subsequent series of owners have continued to maintain the course, and even though it's right in the heart of Lanai City, don't be surprised if an axis deer goes bolting across the green.
Oahu: Kahuku Golf Course
Holes: 9
Price: $19
Even with a price that's easy on the pocket, Kahuku Golf Course is a serious test of any golfer's skill. This scenic, Scottish links style course has ocean views from eight of the holes and is often buffeted by brisk trade winds that whip off the nearby waves. Take a deep breath while teeing off and you'll likely smell salt on the breeze, just don't expect to get whiffs of the restaurant—it's a pack your own lunch kind of course.
Maui: Pukalani Country Club
Holes: 9
Price: $31 after 3pm
The most "expensive" course on our list is Pukalani Country Club, which is 15 minutes from Kahului Airport and on the slopes of Haleakala volcano. A favorite spot among Maui locals, the course is manicured, offers spectacular views, and even features a driving range that's backed by a restaurant and clubhouse. And, if you tee off after 3 p.m. you can play nine holes for just $31—arguably Maui's best golf deal.