How to mail order fresh Hawaii-made guava bread on the Mainland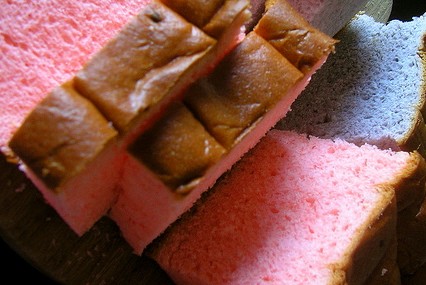 HAWAII Magazine reader Kathie W.W. e-mailed us asking where she could find one of her favorite Island-made breads, and have it mail-ordered to the Mainland:
We used to always buy guava bread at Costco on Oahu. But this past year, we couldn't find any at Costco or anywhere else on the island! Who is making guava bread and where can we get some?
You ask, we answer.
There are many bakeries in Hawaii that make guava bread: Oahu's Ani's Bake Shop and Mauna Kea Baking Co., among them. But the Big Island's Punaluu Bake Shop makes our favorite. It is also the only one we found that ships all over the Mainland and Hawaii's neighbor islands.
The Punaluu Bake Shop, in tiny Naalehu town, is the southernmost bakery in the U.S.A. Despite its relatively remote location, it claims to be the most visited bakery in Hawaii—welcoming over 200,000 visitors every year.
The bakery's specialty? A variety of Portuguese sweetbreads, which includes their famous pink-hued guava bread. All of Punaluu Bake Shop's sweetbreads are baked fresh daily—traditional, macadamia nut, cinnamon raisin macadamia nut and taro. There's also kalakoa sweetbread (the Hawaiian word for "calico"), a colorful blend of taro, guava and mango breads.
Sweetbread was first introduced to the Islands by Portuguese sugar plantation workers in the late 19th century, and has been a beloved Hawaiian treat ever since.The old family sweetbread recipe used by the bake shop was first enjoyed at the restaurant at the old Sea Mountain at Punaluu Resort in the 1970s. It quickly became a favorite of residents and visitors alike. In 1991, Punaluu Bake Shop opened in nearby Naalehu to sate demand for the bread.
Now, about getting that guava bread mailed to the Mainland. Punaluu Bake Shop does mail orders from its website, www.bakeshophawaii.com. You'll find a selection of its bakery products there, including guava sweetbread and guava sweetbread dinner rolls. Currently, the bake shop's guava sweetbread is available online only as part of a "Black Sand Box" or "Pahala Box" gift packs with traditional and taro sweetbread loaves or dinner rolls.
But fear not, if you wish to buy only guava sweetbread! Just give Punaluu Bake Shop a call at (866) 366-3501, and its staff will be happy to fill an order of just its guava bread.
The bakery isn't just famous for its sweetbread. If you're road tripping around the southern peninsula of the Big Island, its just about ritual to stop at the bakery for its famous fresh, hot malassadas (if you like, with lilikoi or guava-sugar glaze). Punaluu Bake Shop also sells shortbread cookies, jellies and jams, pineapple-coconut fruitcake and take-home malassada baking mixes.
Punaluu Bake Shop is located on a picturesque four-acre tropical estate, which includes both the bakery and an outdoor restaurant. If you're hungry for more than just baked goods, the restaurant serves up local-style plate lunches, sandwiches, salads, coffee and ice cream.
If you're on the Big Island, we'd recommend stopping by for a meal and to sample some of the bakery's sweetbreads and baked goods. (And that's not just because Punaluu Bake Shop is—full disclosure here—also owned by HAWAII Magazine parent company, aio.) We really do love its sweetbread and malassadas.
You'll find Punaluu Bake Shop midway between Kailua-Kona and Hawaii Volcanoes National Park, on the Hawaii Belt Road/Mamalahoa Highway (Route 11) . For more information, click here, or call (866) 366-3501.