How to make Hawaiʻi-style Portuguese Sweet Bread (Pao Doce)
Bake this delicious bread in your home oven, following a traditional recipe.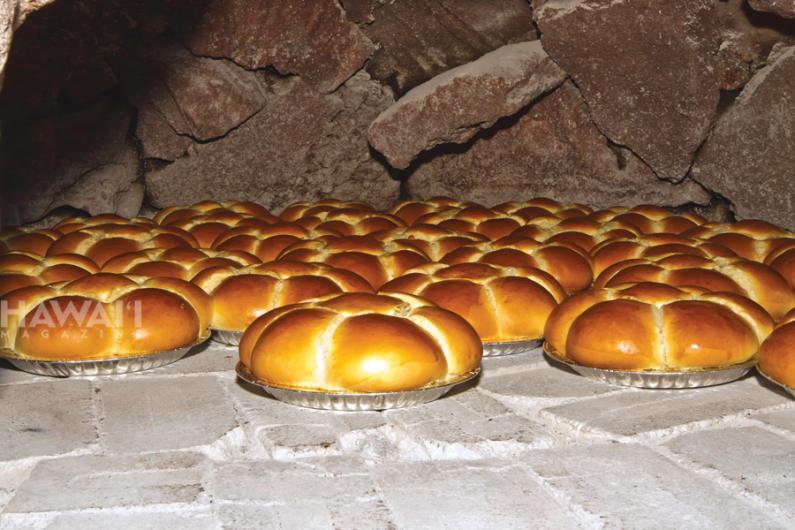 A HAWAII Magazine reader wrote in with this request:
"I need the recipe for Hawaiian sweet bread rolls that was published in the magazine a couple of years ago.  I have lost mine and my family is very sad…. It was made in a pie tin and 7 rolls were placed in the tin…I hope you can find the recipe for me."  
We're betting she's not the only one that enjoyed this Portuguese Sweet Bread (Pao Doce) recipe, so we decided to republish it online! Enjoy!
The ladies of the Kona Historical Society regularly bake up loaves of Portuguese bread in a large wood-fired stone oven called a forno. Someone has to get up and start the fire inside the oven at 6 a.m. You can skip this step and bake this delicious bread in your home oven, following the society's traditional recipe.
Why do you roll the risen dough into seven balls for each loaf? Seven is a lucky number for the Portuguese.
MAKES FOUR LOAVES:
In a large bowl, mix:
2 cups warm water
4 packages dry yeast
Then stir in:
2 cups sugar
2 sticks melted butter
4 eggs
Then stir in, one cup at a time:
8 cups bread flour
Stir in up to two more cups of flour as needed to make a soft dough. When the dough is too difficult to stir, turn dough out on a floured table and knead in the rest of the flour for about 3 to 5 minutes. Add more flour if needed to keep the dough from sticking to the table.
Put the dough back in the bowl and cover it until it has doubled in size (about an hour). Punch the dough down and form into four equal-sized loaves. Pinch off seven equal pieces of dough from each loaf, roll and place in greased 9-inch round aluminum pans. Let the dough rise again until doubled in size (about an hour) and brush with an egg wash made by mixing an egg with 2 Tbsp. water.
Bake in a 400-degree oven for 20 to 30 minutes.