How to photograph Hokunohoaupuni (The Milky Way) in Hawaii
Tips from an expert on how you can fit this incredible galaxy in the palm of your camera lens.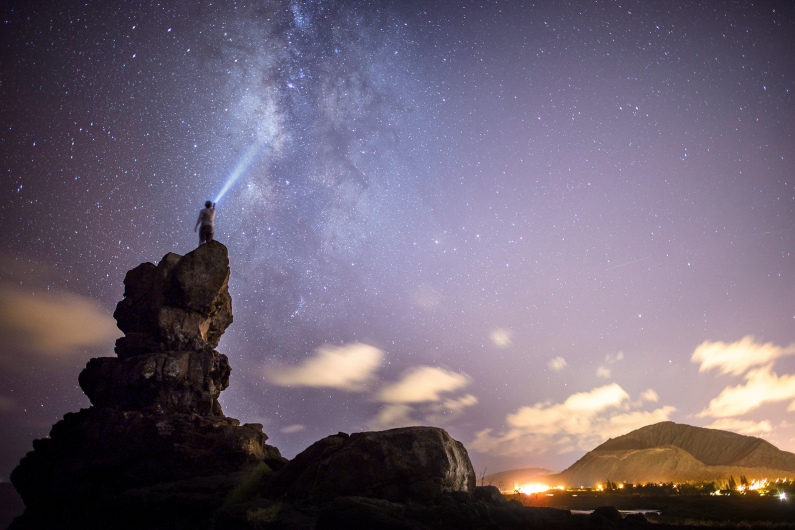 Hawaii is an amazing place to see far, far beyond, well, Hawaii.
If you've spent most of your life in a city, the first thing you'll notice in the more remote areas of Hawaii is all those millions of stars quietly blinking over you.
Photographer Marvin Chandra of Exploration Hawaii spent the greater part of this year capturing them, specifically Hokunohoaupuni (Milky Way), on Oahu and the final pictures are brilliant examples of astrophotography.
With all the preparation and complicated technical aspects involved in this specialized area of photography, when the whole process comes together you're rewarded with "satisfying and often unique results given the multiple challenges not seen in other areas of photography," Chandra says.
Here he shares some important tips with HAWAI'I Magazine about how you can fit this galaxy in the palm of your camera lens.
Track the Milky Way.
For Hawaii, the Galactic Core (the brightest spot of the Milky Way) is visible roughly from February to September. "The duration changes daily and the ideal time to catch it is during the summer months where its visible soon after sunset and out for many hours," Chandra says.
For extra assistance, use the mobile app Stellarium or an alternative star map program to find the best viewing times of the Milky Way and its location in the sky.
Scout the right location.
"Oahu's neighbor islands offer the best conditions for stargazing due to their lower light pollution," Chandra says, "but a few spots on Oahu such as the east coast and the Mokuleia side of Kaena Point offer nice options."
Check the lunar calendar and weather.
"Along with scouting locations with low light pollution, you'll need to stargaze while the moon is at a low brightness or not visible at all. Generally the few days before and after a new moon will be the best nights."
Check to see how clear the skies are before aiming your camera for hours at an overcast night sky with nothing to show for it but clouds.
Know your camera gear well.
The last thing you want is to be fumbling around with high-priced machinery in the dark. Familiarity with your equipment along with basic post-processing skills will yield the best photos out of these time consuming sessions, Chandra says. Lenses with a large aperture and a quality camera with the ability to take images at a high ISO setting are also very important.
"You will often also need to take multiple images then merge them," he adds. "Generally, the stars will be much brighter than the foreground so while a 30-second exposure is enough to get the Milky Way in an image, you may need to expose the earth for multiple minutes to get details." If you're in a much darker area, like a neighbor island, this is especially crucial.
Practice makes perfect.
If you're an astrophotography novice, that's all right; chances are your camera has the abilities to capture good night images. "Most cameras released in the last few years perform well enough for this," Chandra says, "so you may not need to buy any new gear outside of a tripod to get started if you're already somewhat invested in general photography."
He suggests looking up one of the many astrophotography tutorials online to get familiar with your camera settings. Also, The Photographer's Ephemeris will greatly help in both scouting locations and knowing which days offer ideal conditions for shooting.
Your sense of galactic adventure is priceless, however, so bring that with you to Lanai Lookout if you're on Oahu. It's located on Oahu's southeast shore right along Kalanianaole Highway, which Chandra says is a good learning spot. "There are dark areas right next to the parking lot and it's close to most living on the island."