How to plan a dream trip to Kihei, Maui
A quaint Hawaiian seaside town on your mind? This favorite getaway has you covered.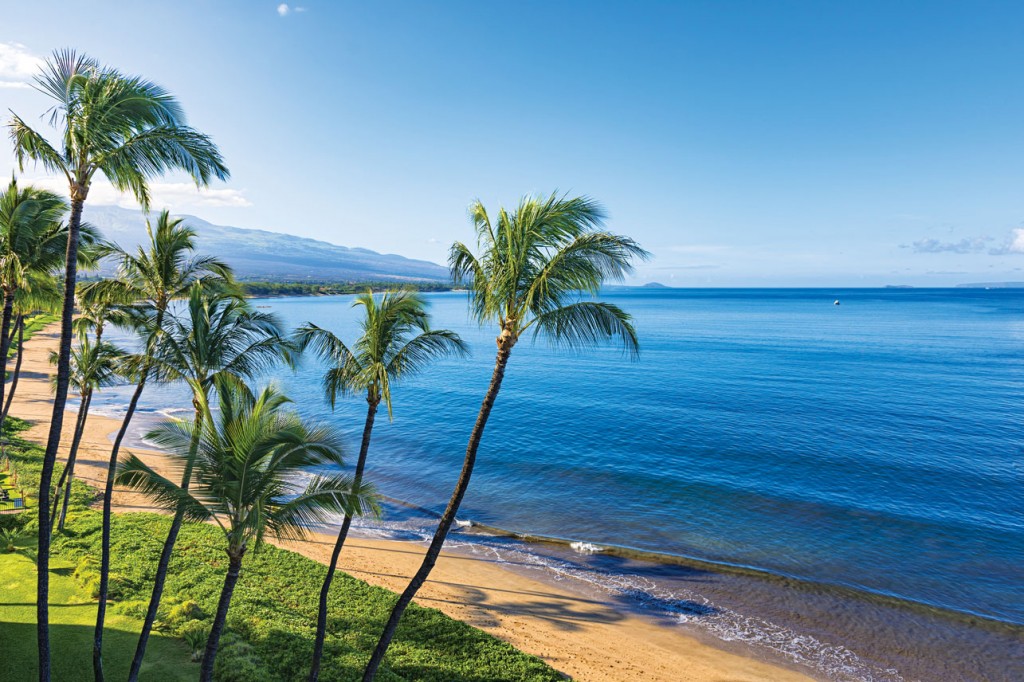 In our May/June 2017 issue, we asked travelers to imagine their dream Hawaii vacation—any and everything that springs to mind, from beachside brunches to adventurous hikes. Then, we asked them to share those trips with us on social media to help them turn those dreams into reality. Traveler Kelly Grogan-Albrecht wrote on Facebook: "My dream is to stay in a beachfront home with a pool, in walking distance to a town with great food, totally chill with no big sightseeing agenda."
Well, luckily, there's a south shore town on Maui that fits perfectly into each of those wishes: Kihei, a wonderful town between Maalaea and Wailea. Uncrowded, but not too sleepy, Kihei has lots to explore food and beach-wise should you decide to venture away from your home-away-from-home and go out for a stroll. Get swept up in nature here with fantastic views of the vast Pacific Ocean and the West Maui Mountains (and its generous offerings of rainbows).
Where To Stay
Because you asked for an oceanfront home-style accomodation, these vacation rental villas deliver.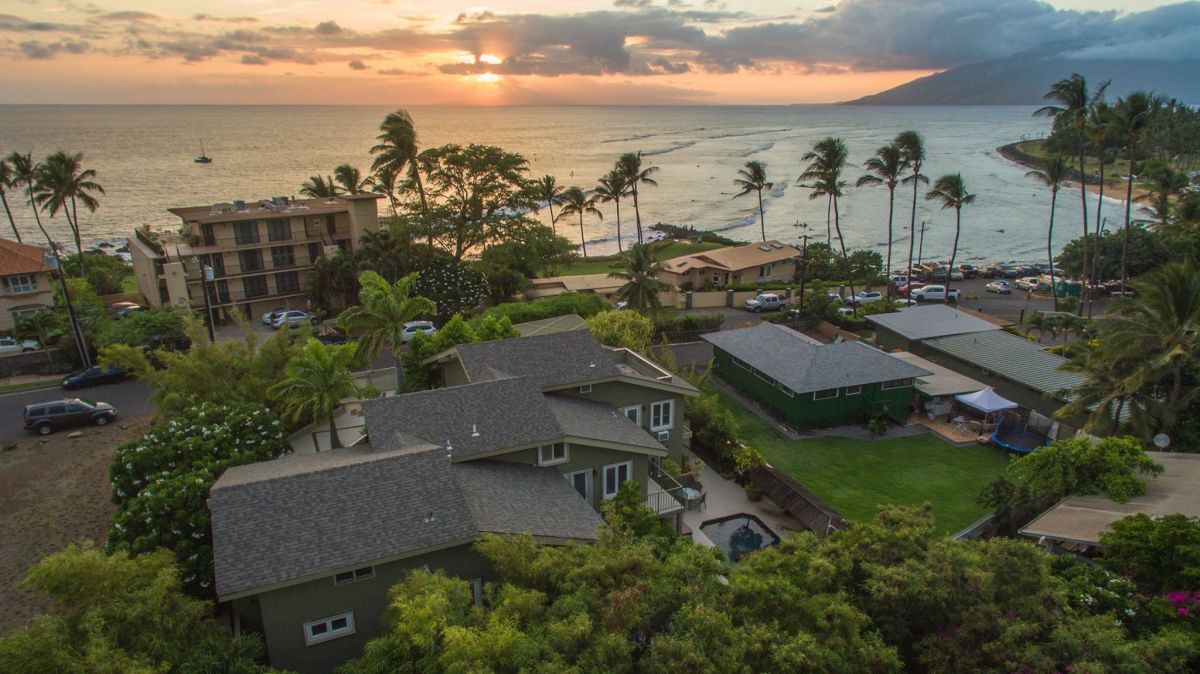 Luxurious accomodations awaits at Wailea Inn, a gorgeous oceanside estate with a penthouse and pool that claims to be just "100 steps" from Maui's south side beaches, which are a playground for everything from casual dining to beginner's surfing. The recently remodeled villa is 9,000 square feet and can accomodate up to 32 guests (should your dream be to surround yourself with all your friends and family … and there friends and family, that is). Centrally located, the inn is in a convenient, walkable part of the town, just a half-mile distance (leisurely 10- to 12-minute walks) in either direction of South Kihei Road from vibrant public spaces like beach parks and cute restaurants. Rates and availability at waileainn.com.
Beaches To Lounge Around
They're dreamy in every way.
The Cove Beach Park — A haven for families. This beach is a prime spot for surf lessons because of its soft, gentle waves and many of the local instructors and surfing businesses set up shop here. The cove itself is tiny, but adults and keiki (kids) like to frequent the area nonetheless. 2120 Iliili Rd.
Kalama Beach Park — Adjacent to The Cove, Kalama is visited more for its park facilities than its beach. Still, this is another great venue for families looking to make use of its wide open spaces, skate park, playgrounds, pavilions and outdoor skating rink. 1900 S. Kihei Rd.
Charley Young Beach — Located on the northern end of Kamaoke Beach Park I, find your bliss at this beach where you can swim, snorkel (look out for honu!) and sunbathe all day. Standup paddleboarders particularly like this beach (in the mornings before the afternoon winds kick in) when the water is flat, glassy and all around gorgeous. S. Kihei Rd., fronting Kamaole Sands, 2695 S. Kihei Rd.
Where To Eat
All that walking will work up an appetite.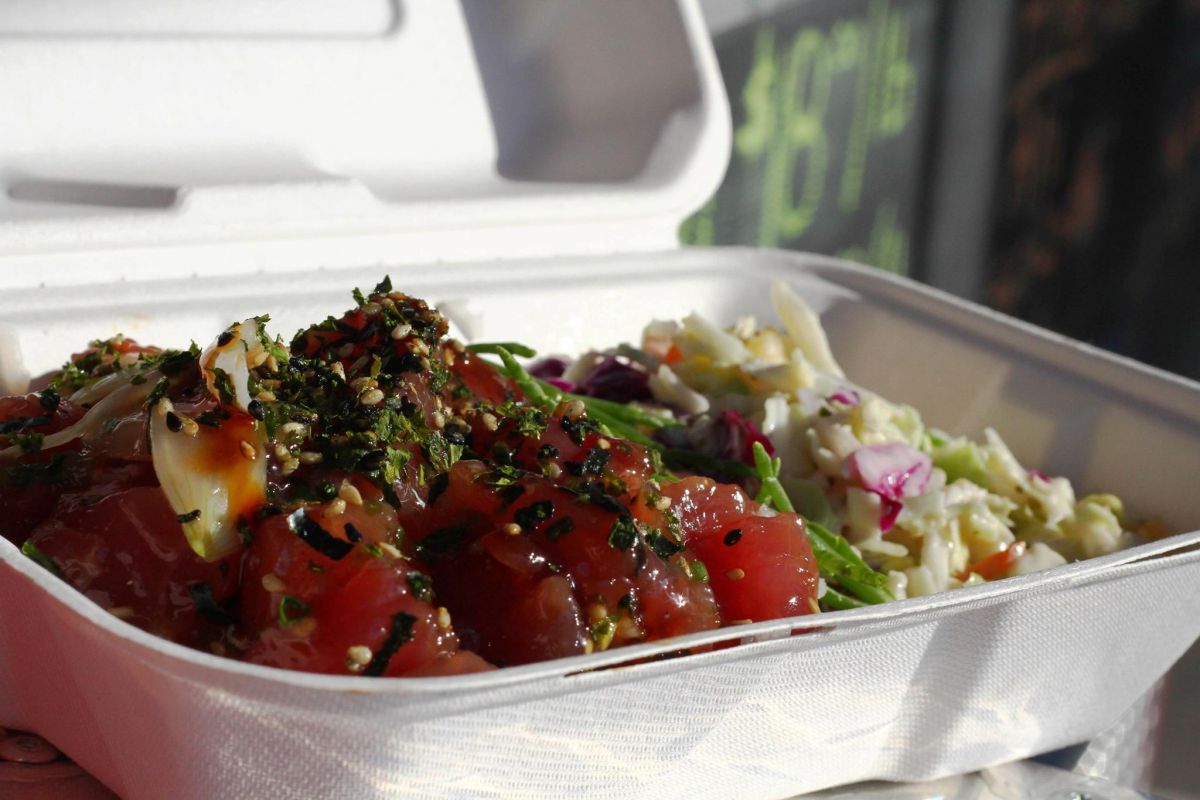 For breakfast — Ask anyone who's been to Kihei and they'll tell you Kihei Caffe is the town's go-to spot for breakfast. (Even if you don't ask, you'll see the line.) More than 40 hearty breakfast choices are scrawled out in chalk in the interior's menu board, so there's something for everyone here. Loco moco, chicken-fried steak plates and its famous French toast satisfy hungry beachgoers throughout the morning rush. 945 S. Kihei Rd., 5 a.m. to 2 p.m., cash only, (808) 879-2230, kiheicaffe.com.
For shave ice — Beat the heat with Local Boys Shave Ice and Ululani's Shave Ice (the 2017 Readers' Choice Award for Maui's Best Shave Ice), two local favorites with enough flavor combinations to delight all your sweet and sour cravings. Local Boys Shave Ice, 1941 S. Kihei Rd., localboysshaveice.com; Ululani's, 61 S. Kihei Rd., ululanishawaiianshaveice.com.
For seafood — It's about about what the sea provideth on Maui's south shore, and fresh fish is always on the menu. For anyone who hasn't been to Maui in the past few years, Nalu's South Shore Grill is a relative newcomer with a savory ahi club and a great evening atmosphere full of Kihei locals who come out for the live music and, on occassion, televised sporting events. At South Maui Fish Co., it's all in the name. Tucked just behind Kihei Caffe, this humble food cart fires up its grill for catch of the day grinds, fish tacos and on-the-go poke bowls to enjoy on the beach. Nalu's South Shore Grill, 1280 S. Kihei Rd., (808) 891-8650; South Maui Fish Co., 22 Alahele Pl., (808) 419-8980.
---
The May/June 2017 issue featuring the cover story, "Dream Trips," available for single-copy order here or by calling our Circulation Department at 1-800-788-4230.