How to spend a day relaxing in Kaanapali, Maui
The idea was to set aside a day in the West Maui resort town to do nothing but relax.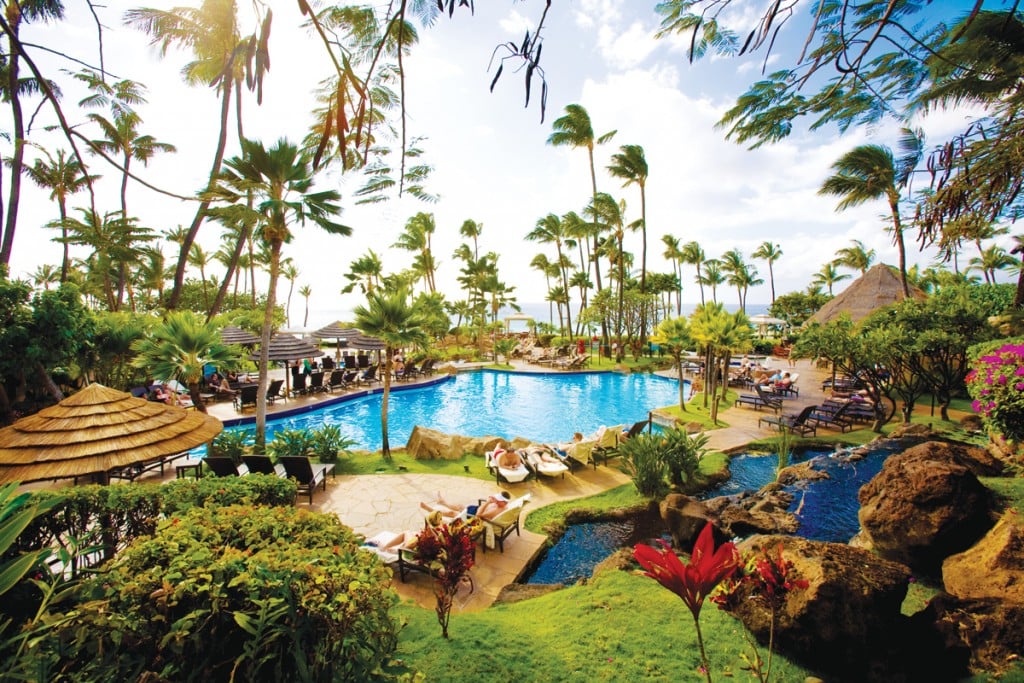 This is a story about a day on Maui I set aside to do nothing but relax.
Over four days, I'd been on 34 ziplines, from the slopes of Haleakala to the West Maui Mountains, all for this magazine. It was seriously fun. But, in the end, it was, well, exhausting.
I'd yet to spend a single moment of daylight where I was staying: West Maui's ever-popular, ever sun-kissed resort area, Kaanapali. This was bad traveler behavior. I decided I'd spend my fifth and final day on Maui exploring Kaanapali, with one caveat: Not a single moment of it would be spent working.
Where does one start when planning a restful day in Kaanapali?
I began by picking up the phone to schedule an afternoon couples massage for my travel partner and myself at the Westin Maui Resort's Heavenly Spa. I dispatched this bit of business from the lanai of my room at the resort, as the morning sun rose over the West Maui Mountains, dappling light on choppy winter surf off Kaanapali Beach. You can't casually stroll into a busy resort spa without a reservation, even if you claim you are on a mission to relax. After four days of ziplining, I needed this massage.
After breakfast, I pondered whether we'd spend the morning in the ocean or in the resort's pool. With blue skies above and the sun already blazing, both options were tempting.
It seemed appealing to take a mid-morning kayak ride off Kaanapali Beach's three miles of white sand. The beach boasts, on one side, unimpeded views of the island of Lanai, eight miles away across the Auau Channel. On the other, the almost 6,000-foot West Maui mountains. Surfing and stand-up paddleboard lessons, snorkeling, scuba diving and other ocean activities were offered, too.
The Kaanapali shore break, usually quiet, looked rough enough that braving it didn't seem to fit the day's plan. We wanted rest. So my travel partner and I headed to the Westin Maui's beach pool.
This was quite the swimming hole—a multitiered, 87,000-square-foot water playground with five pools, slides and a swim-through grotto with waterfalls and secluded whirlpool soaks. Still, even this seemed too arduous.
We finally decided to find day-off nirvana on a couple of reclining lounge chairs at the resort's quiet adult pool. I caught up on some reading, occasionally taking cooling dips in the tranquil kid-free, no-splashing zone perched above all of the activity pools.
On loungers by the resort's pool, time seemed to slip quietly away. We relaxed so much that we almost forgot lunch. Fortunately, sustenance was nearby.
Whalers Village, the Westin Maui's next-door neighbor, offered a variety of takeout and dine-in lunch options. A bonus? Nearly all of its eateries also boast great views of Kaanapali Beach. After lunch, we perused the rest of Whalers Village—a pleasant, open-air shopping arcade retailing everything from slippers, swimwear and groceries to Coach bags, Louis Vuitton luggage and fine art. Slightly more educational, and free of charge, the arcade's Whalers Village Museum traced the rich and colorful history of Hawaii's long-gone whaling industry.
Hawaii's 19th-century whaling epicenter was Lahaina, Kaanapali's neighbor down the coast. Humpback whales still return to the Islands en masse each winter to birth and nurse their calves. Still, it seemed just a bit too fortuitous when, as we left the whaling museum for a stroll on the Kaanapali Beachwalk, we saw pods of humpbacks breaching offshore in the Auau Channel. We paused our stroll long enough to stand and stare.
The paved Kaanapali Beachwalk spans the southern half of the beach, offering views of the blue Pacific and the islands of Lanai and Molokai, miles away. Mornings before breakfast are the best time to stroll both beach and beachwalk if you want relative solitude before sun worshippers arrive. The beachwalk at dusk crowds with another kind of sun worshipper, this time hoping to catch one of Kaanapali Beach's renowned sunsets. At the north end of the beachwalk is Puu Kekaa, or "Black Rock," an eroded volcanic cinder cone splitting the beach in two. The calm cove created by Puu Kekaa teemed with snorkelers in search of schools of brightly colorful fish and sea turtles. The white sand near the cove was just as popular, filled with sunbathers sneaking naps, curled up with books or pondering the remarkable ocean scenery before them.
The cove's beachfront attracts dozens of Kaanapali denizens each day at sunset when the Sheraton Maui Resort & Spa—perched on and along Puu Kekaa—sends a fit, pareu-clad young man out to light a series of torches before leaping dramatically into the ocean below.
After our walk, we decided another couple of hours in the Westin Maui pool—this time actually splashing about in its activity pools—might place us in the properly relaxed mood for our afternoon massage.
It's always good to be right.
Our first impression of the Westin Maui Heavenly Spa: A secret oasis overlooking the blue waters of Kaanapali—instantly calming, instantly relaxing. We arrived a half-hour early, the better to enjoy the spa's steam room, sauna, whirlpool bath and a glass of lavender-infused lemonade.
Upcountry Maui-grown lavender is the signature ingredient of many of the spa's treatments and products. The scent wafted lightly through the air as we relaxed in the spa's airy ocean-view lounge and then settled in our private couples massage suite.
The spa menu offered a diversity of massages—everything from rhythmic Hawaiian lomi-lomi and pohaku hot stone to deep tissue and laulima ("many fingers"). We'd selected the spa's signature full-body Heavenly Massage—50 minutes of pure bliss customized to wherever we needed it.
My memory of what happened during those 50 minutes has since drifted into a blissful haze. But I do remember the one promise I made to myself after my massage, as I settled in the spa lounge nibbling on almonds, sweet dried pineapple and mango, all the while watching the sunset off shore.
There'd be no more work on this Maui trip.
Whalers Village
2435 Kaanapali Parkway, (808) 661-4567
www.whalersvillage.com
Sheraton Maui Resort & Spa
2605 Kaanapali Parkway, (808) 661-0031
www.sheraton-maui.com
Westin Maui Resort & Spa
2365 Kaanapali Parkway, (866) 500-8313
www.westinmaui.com