How to throw a Christmas luau
Use the lyrics of a classic Hawaiian carol as your guide.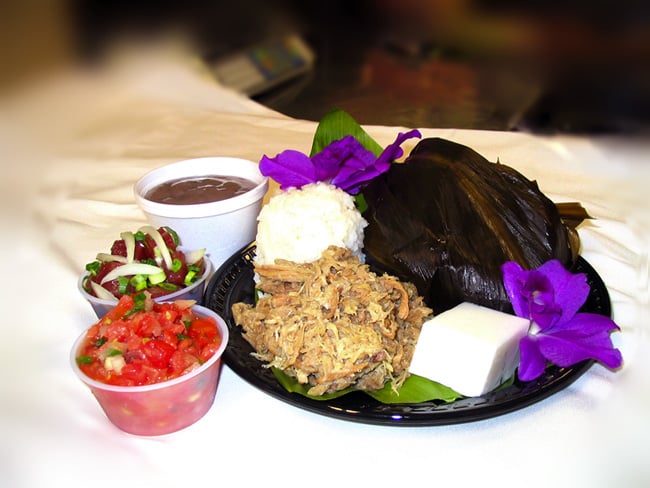 The Hawaiian carol, "Christmas Luau," is a classic song in heavy rotation during the holiday season in Hawaii. It was written and composed by Leonard Hawk, who also wrote other iconic songs like "May Day is Lei Day in Hawaii."
Here is a video of "Christmas Luau" below performed by Pure Heart.
If you're planning a Hawaiian-themed feast for your holidays then the lyrics of "Christmas Luau" is a great guide of what you need. Checkout this translation and breakdown of the song so you can make a checklist for your Christmas luau:
Twas the night before Christmas and all through the hale
The word hale is "house" in Hawaiian so you'll need one of these structures.
Was singing and dancing and hoomalimali
Hoomalimali is "flattering" in Hawaiian. Keep the comments flowing at your luau.
Papa in his malo and me in muumuu
A malo is a traditional Hawaiian garment worn by men that resembles a loin cloth. The muumuu is a loose-fitting, aloha-printed dress.
Greeting aikane, pehea, mahalo
"Friend" in Hawaiian is Aikane. Simply asking pehea? is "how are you?" and as most of us are already aware that mahalo is "thank you."
Sister gathered flowers for a lei
Flower garlands are so necessary for a Hawaiian gathering.
Brother watched the imu all of the day
The imu is an underground oven heated by river stones and usually takes a couple of days to cook with.
Soon the music boys began to play mele old and new of Hawai`i nei
Mele is "song" in Hawaiian and you can only call this place "Hawaii nei" when you're physically in Hawaii.
The tables were loaded with plenty of kaukau
Kaukau is another way to say "food" in Hawaiian.
Opihi and salmon and steaming hot laulau
Opihi are limpets that live in the ocean or on the shoreline that resemble escargot, while the laulau is made in the imu and is a steamed protein (pork, beef, salted) wrapped in taro leaves.
We ate and talked stories until we were all pau
Pau means "finish" in Hawaiian.
It was really maikai at our Christmas luau
It was really (good) at our Christmas (feast).