How to Travel to Lānaʻi
Unless you're arriving on a private jet or charter, you'll need to take this mode of transportation.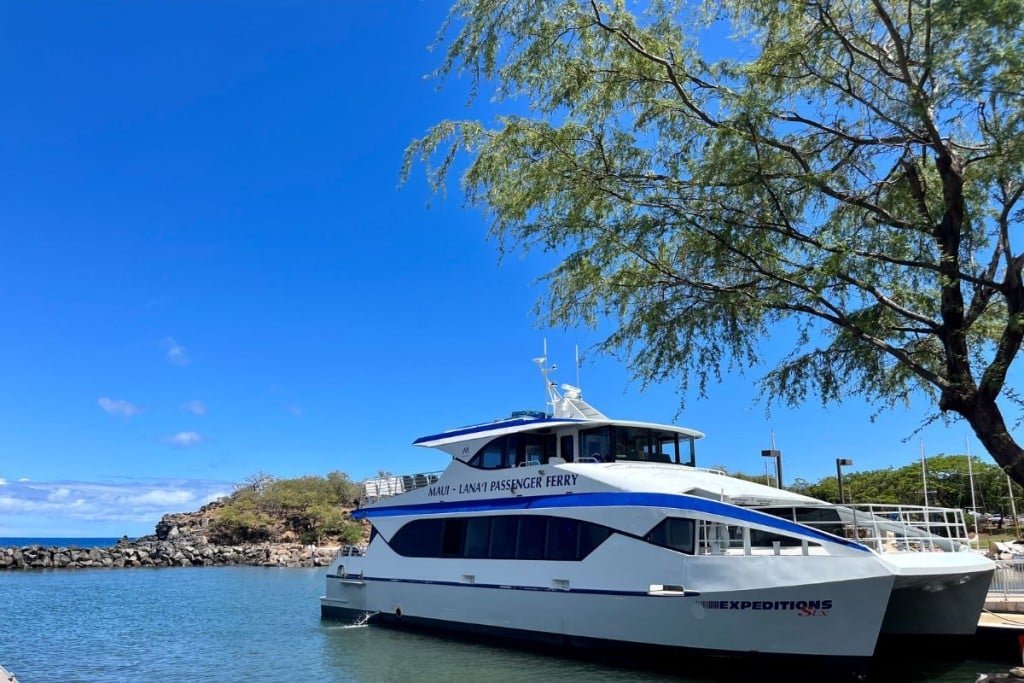 Just nine miles off the coast of Maui, Lānaʻi is a serene escape to an even more quiet and relaxed way of life. With about 3,100 residents, Lānaʻi is the smallest of the inhabited Hawaiian Islands and is owned by Larry Ellison, cofounder of the software company Oracle Corporation.
From a charming town and untouched terrain to opulent resorts and world-class golf courses, visitors are sure to find both tranquility and adventure on the island. Mom-and-pop shops line the street in Lānaʻi City and the cat sanctuary is a short 10-minute drive away. And there's no need to worry about traffic; there are no stop lights on the island.
Inspired to visit the island? Here's what you need to know.
Take the Expeditions Ferry
The most common way to travel to Lānaʻi is on the Expeditions Ferry, which departs from Lahaina Harbor on Maui and arrives in Manele Harbor. The 45-minute ride crosses the ʻAuʻau Channel with breathtaking views of Lahaina, Mauna Kahālāwai and Molokaʻi. During the winter months, passengers can also witness spectacular shows by humpback whales and their playful calves.
The ferry offers four departure times throughout the day from Lahaina and Manele. The last ferry ride departs Manele at 5:30 p.m. Passengers are encouraged to book their tickets in advance, especially when traveling on weekends. Seniors and kamaʻāina (residents) can receive discounts. The ferry is docked in front of the Pioneer Inn and passengers should arrive at least 30-minutes before departure. For those that want to sit on the top of the double decker boat, arrive early because those are the most coveted seats and fill up fast.
For those that would rather fly, airlines with flights to the island include Lānaʻi Air. The luxury plane offers flights between Lānaʻi City and Daniel K. Inouye International Airport on Oʻahu. Mokulele Airlines also offers flights to the island but by charter only.
What to Expect on the Ferry Ride
The ocean is smooth and glassy crossing the ʻAuʻau Channel early in the morning. The channel is one of the most sheltered passages in the state, lying between Lānaʻi and Maui, with protection by Molokaʻi in the north and Kahoʻolawe in the south. ʻAuʻau was named for its calm, bath-like conditions, translating to "to take a bath."
While the channel is indeed calm in the morning, wind and waves strengthen throughout the day. For those prone to motion sickness, be prepared because rides in the afternoon can be turbulent. Often the top of the boat is the best place to ease motion-sickness. The open-air and breeze certainly helps, however there is limited shade and a high chance of getting sprayed by ocean waves.
Make Reservations with Shuttles
Before embarking on the journey to Lānaʻi, make sure to reserve shuttle rides at least one day in advance. There are multiple cabs that will transport passengers from Manele Harbor into Lānaʻi City and the Lānaʻi Cat Sanctuary. Renting a car is also a terrific way to explore the island and rugged terrain. Four-wheel drive vehicles can be booked with Lānaʻi Car Rental in town.
Walkable Attractions from Manele Harbor
For those that did not plan and make shuttle reservations in advance, don't fret. At the harbor, Manele General Store is a small convenience shop with snacks and refreshments. It even carries beer and wine. After securing beverages and food, take a 7-minute walk to Hulopoʻe Beach Park. The water is crystal-clear at this white-sand beach, making it ideal for snorkeling. It's also a peaceful spot to spread a towel out and lie on the beach all day. Just remember to catch the last ferry to Maui!