How We Celebrate Girls' Day in Hawaiʻi
The story behind this ancient Japanese custom—and a mochi recipe, too.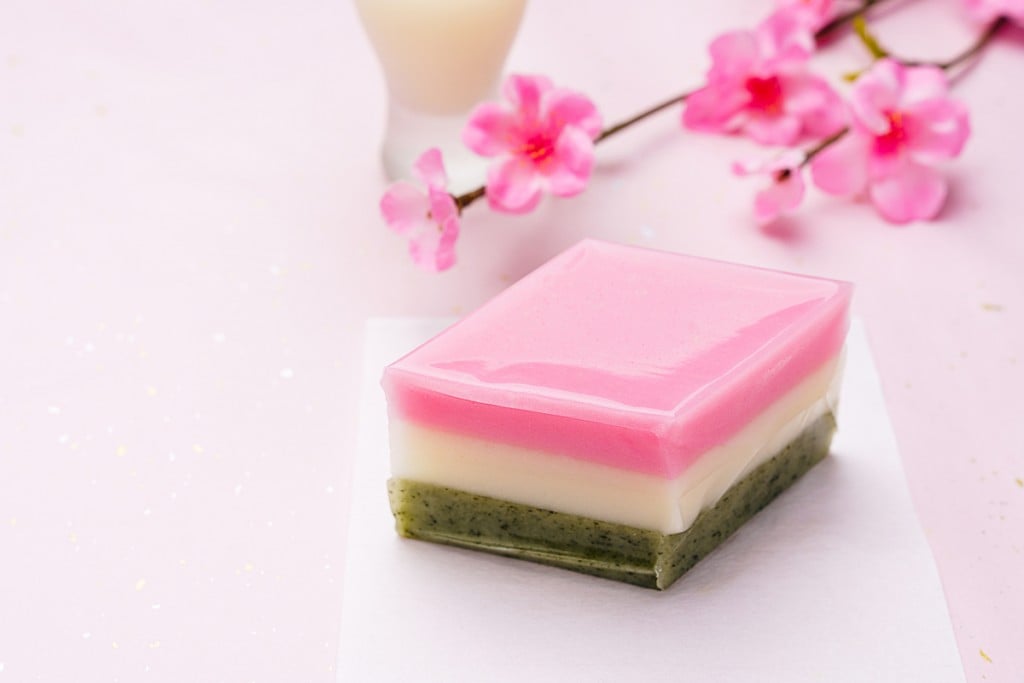 During Japan's Edo period (1603-1868), families began displaying hina-ningyo or dolls, on the third day of the third month. Timed with the blooming of vibrant pink peach blossoms, displaying hina-ningyo was believed to ward off evil spirits. The custom became known as "Momo no Sekku (Peach Blossom Festival)," "Hinamatsuri (Doll Festival)," and "Girls' Day," slowly evolving into an annual celebration to honor the happiness and well-being of young girls. Nowadays, women of all ages are honored every year on March 3.
In the early 19th century, Japanese contract laborers coming to work on sugar and pineapple plantations in the Islands brought Girls' Day traditions with them, many of which local families of Japanese descent continue to practice today.
Starting in mid-February, families begin to display their hina-ningyo collections in their homes on red-carpeted, multitiered platforms called hinadan. The collections are generally passed down through the generations or bought for a family's first daughter, and contain exquisite, fragile figurines depicting court life in Japan's Heian period (794-1185).
Although collections vary in size, the two most important dolls are undoubtedly the emperor, or the odairisama, and empress, or ohinasama, which are placed side by side on the highest tier of the hinadan. Dolls representing court ladies, musicians and ministers, along with various furniture pieces are on the lower tiers. The hina-ningyo stay out until March 4, since centuries ago, families believed that leaving the dolls out for too long would prevent their daughters from getting married.
Cultural traditions aren't complete without food. On Girls' Day, people in Hawaiʻi enjoy eating hishi mochi, a pink, white and green diamond-shaped rice cake, and chichi dango, a pink or white rice cake made with sweet milk. Each color in the mochi holds a special meaning: white symbolizes purity, pink reflects energy and the iconic peach, plum and cherry blossoms of spring, while green represents fertility and new growth. Get your mochi fix at Nisshodo Candy Store (1095 Dillingham Blvd., Suite I-5, nisshodomochicandy.com), a family-run shop loved by locals.
Chirashizushi, or scattered sushi, is another characteristic Hinamatsuri food that is enjoyed year-round. Chirashizushi is unlike most sushi, which involves wrapping ingredients in nori or seaweed. Instead, ingredients such as lotus root, shrimp, green onion, strips of fried egg, and raw fish are layered on top of vinegary rice. Stop by Maguro Brothers Hawaiʻi (locations in Chinatown's Kekaulike Market and Waikīkī) for chirashi donburi: slices of fresh raw tuna, king salmon, octopus and hamachi (yellowtail) served over a hot bed of white rice.
On Girls' Day, elementary school students in Hawaii often pass out hina-arare, sugary pink, white and green puffed rice crackers, to their friends. They may even receive money from their aunties and grandparents. As women get older, they may exchange mochi or small gifts with each other.
My family never had a hina-ningyo collection to display, but my grandmother taught me a mochi recipe that my sister and I make together each year around Girls' Day to share with our friends and co-workers. You can find everything you need at Don Quijote (various locations, donquijotehawaii.com).
Hina-Ningyo Mochi
Ingredients
2 cups mochiko (sweet rice flour)
1 cup katakuriko (potato starch)
1 cup sugar
1 can (13.5 oz.) coconut milk
About 1/3 cup (2.5 oz.) water
3 drops of red and/or green food coloring (optional)
Directions
Put the mochiko, sugar, coconut milk, water and food coloring in a bowl. Mix until smooth and transfer the mixture into a microwaveable mochi pan. Cover the pan with plastic cling wrap and microwave for nine minutes. Cut the mochi when cool and dust lightly with katakuriko.