Hualani's Restaurant On Kauai Puts the Farm in Farm-To-Table
The eatery at Timbers Kauai Ocean Club & Residences sources many of its ingredients from the organic farm on property.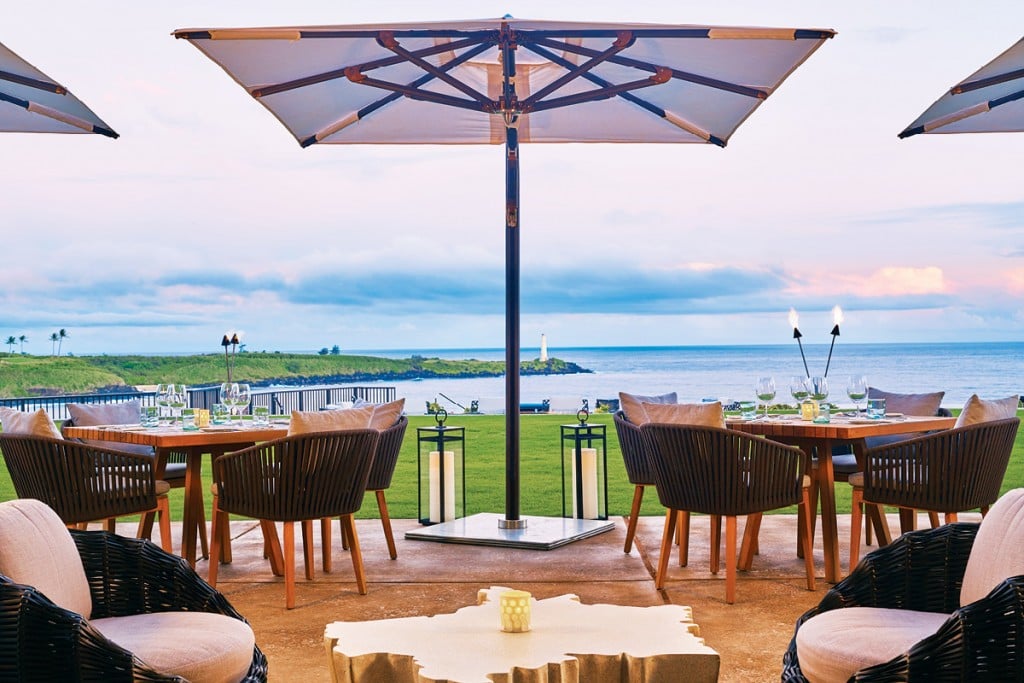 There's nothing ordinary about the new Timbers Kauai Ocean Club & Residences, which opened last June and sprawls across 450 oceanfront acres on Kauai's sunny southern coast. This resort community, developed and operated by the Colorado-based Timbers Resorts, offers a variety of ultra-luxe residences that range from timeshares to outright ownership for up to $9.75 million per unit. But the resort also offers luxury rentals for its two-, three- and four-bedroom accommodations, too, with rates ranging from $1,500 to $6,500 a night.
With that price, you can expect a host of lavish amenities, including an infinity-edge oceanfront swimming pool, a state-of-the-art fitness center, a world-class spa, a sunset fire-pit lounge, dry-cleaning services, a slew of activities and cultural classes, and free produce from the resort's organic community farm.
So it's no surprise the restaurant here—Hualani's—sets a high bar, too.
The restaurant, which is open to the public, boasts a menu that's truly farm-to-table—the farm being the one right on the property.
Run by farmer Cody Meyer, The Farm at Hokuala spreads across several acres on an overgrown golf course that's not used anymore. (The 18-hole Ocean Course at Hokuala is the one currently playable.) He grows a dizzying number of crops—at least 50 different vegetables and 30 different fruit trees—from white pineapples to ulu (breadfruit) to kabocha squash to jicama. Part of his farm is dedicated to herbs: Mexican tarragon, all sorts of basil, mint, rosemary. In six months, he's harvested about 7,000 pounds of produce, with most of it going to Hualani's.
It helps that Meyer, a third-generation farmer, has a culinary background, too, working as a cook in Costa Rica, Alaska and even Antarctica. He has a good sense of what the kitchen could use—with the rest of his crops going to residents and those who come to tour the farm.
Our dinner at Hualani's was exactly what you'd want, and probably expect, from this resort. From the open-air dining room, you can catch the sunset and take in views of Haupu Peak, Ninini Point Lighthouse and Nawiliwili Harbor. The atmosphere immediately made us feel like we were on vacation.
Executive chef Jafet Tallez (who's no longer there) brought out one of the more unique appetizers, a creation called the guacapoke. As the name sounds, it's a combination of freshly made guacamole using local avocados and poke made from 'ahi caught that morning. The dish, which is massive and meant to be shared, is served with fried farm-grown plantains, sweet potato and taro chips.
The pupu menu offers fun options for light eaters: ahi tuna crispy rice ($17); chilled soba noodles with mango, avocado and carrots tossed with a honey-chipotle vinaigrette ($14); and seasonal soups. Popular entrées include the seared ahi tuna with Okinawan potatoes and pickled cabbage (market price), seven-spice half-chicken with braised bok choy and shiitake mushrooms ($26) and the Big Kahuna burger made with grass-fed beef topped with caramelized onions and melted cheddar cheese on a King's Hawaiian bun ($18).
The menu is packed with ingredients grown on the resort's farm: bok choy, avocado, carrots, tomatoes, eggplant, kale, taro. And if the farm doesn't grow it, the restaurant seeks out other local purveyors. That means dishes rotate based on seasons and availability—a good thing for diners who are easily bored with static menus.
The name of the restaurant makes sense, when you consider what it means. In Hawaiian, one meaning of hualani is "fruit of heaven," which refers to the crops grown on the property.
But Hualani is also the name of one of the resort's treasured staffers, Hualani Duncan, who we had spent much of the day with prior to dinner. She works in sales for the golf course and served as our unofficial tour guide of the property. She zoomed us around the resort's gorgeous Ocean Course on a golf cart, pointing out her favorite holes and sharing her infectious love for the game. She handed us golf clubs and encouraged us to hit a few at the course's more picturesque holes. We stood at the tees, barefoot and awkward but having the best time. We laughed, she took selfies; golf was never this fun.
Duncan, whose family hails from Niihau, told us how she named the three main buildings at Timbers Kauai—Maliula, Kaiholo and Laola—and a few other spaces. So, the resort thought, it was appropriate to honor her back by immortalizing her spirit in the restaurant. It's as welcoming and comfortable as she is—and unabashedly local.
Hualani's, 3770 Ala Oli St., Suite 2, Lihue, Kauai, (808) 320-7399