Hula and Hawaiian culture celebrated at 8th annual Moku O Keawe Festival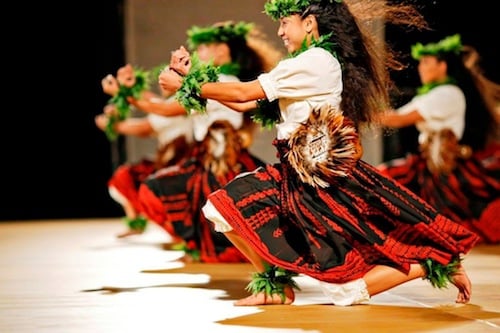 Kicking off its eighth annual hula competition on the Big Island today, the Moku O Keawe International Hula Festival offers more than three days of superb hula contests
The three-day festival is indeed one of Hawaii's top annual hula events, featuring hula halau (dance troupes) from Hawaii, the U.S. Mainland and Japan in hula kahiko (ancient hula) and hula auana (modern hula) competitions in both group and solo divisions. There's also a kupuna (elders) division, too. But Moku O Keawe also hosts an accompanying schedule of open-to-the-public hula and Hawaiian cultural education workshops and a "Made-in-Hawaii Marketplace," the latter featuring a variety of locally-made products from across the state
Moku O Keawe begins today through Nov. 9 at the Hilton Waikoloa Beach Resort on the South Kohala Coast of the Big Island. Hula competitions—happening on all three days of the fest—will be held in the resort's Monarchy Ballroom.
The competition, which runs over all three days, will be held in the hotel's Monarchy Ballroom. Tickets are $15 for open seating and $25 for VIP seating. Click these links for Moku O Keawe's hula competition schedule and Moku O Keawe's schedule of Hawaiian cultural workshops.
The fest's Made-in-Hawaii Marketplace, featuring more than 40 vendor booths, will be open from 9 a.m. to 6 p.m., on Fri., Nov. 8 and Sat., Nov. 9, on the resort grounds. Click here for the list of marketplace vendors and products.
The festival is sponsored by the nonprofit Moku O Keawe Foundation, which is dedicated to the development of hula and associated arts.