Hula and Hawaiian culture celebrated at weekend Moku O Keawe Festival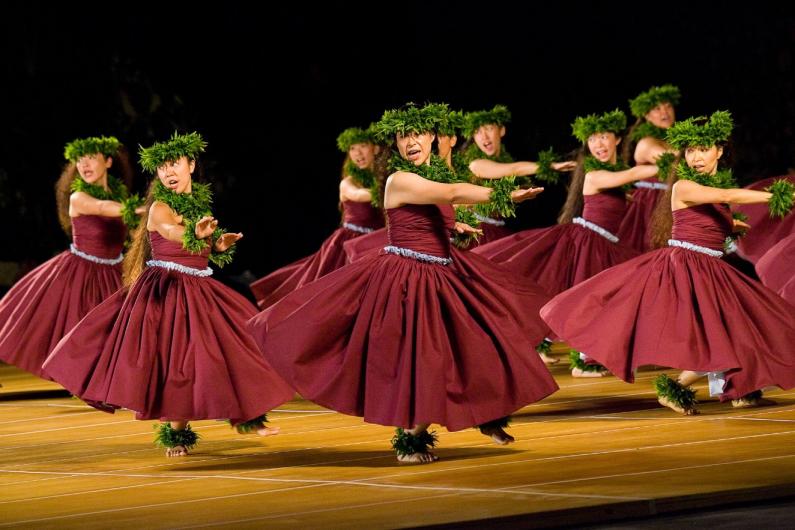 If you're on the Big Island of Hawaii today through Sunday and in the mood to catch some great competitive hula for a great price, the Waikoloa Beach Resort is the place to be.
The South Kohala resort area is once again playing host to the Moku O Keawe International Festival, a four-day annual celebration of Hawaiian culture—highlighted by three nights of hula competition from Hawaii, U.S. mainland and Japan halau (hula troupes). The fest's weekend schedule also includes Hawaiian culture workshops and classes, a made-in-Hawaii merchandise marketplace, and a closing night music and hula concert.
Moku O Keawe Fest's three evenings of hula contests opens tonight with hula kahiko (traditional hula) competition, continue Fri., Nov. 5 with kupuna (grandparent/senior) competition, and end Sat., Nov. 6 with hula auana (modern hula) competition. The contests are staged outdoors and under the stars at the Waikoloa Bowl amphitheatre. Tickets for each night are just $6.50 for lawn seating and $19.25 for reserved seating.
Though relatively new among Hawaii hula festivals, Moku O Keawe has become a notable showcase for the art of hula.
Moku O Keawe isn't as well-known a competitive hula entity as the Merrie Monarch Festival—the world's premier hula festival, held annually in Hilo, on the other side of the Big Island. Just five-years-old, it also doesn't have the Merrie Monarch's 47-year history. But if you want to catch a hula competition that, like Merrie Monarch, respects and pays tribute to the varied artistry of both modern and traditional dance, Moku O Keawe is a great ticket.
We're also fond of Moku O Keawe's inclusion of a kupuna competition night for senior-age dancers. After all, as any good kumu hula (hula instructor) proudly teaches, one is never too old to dance.
Moku O Keawe Festival workshops and classes from Nov. 4 to 6—headed by master instructors in each art form—will include beginning and experienced lauhala weaving, how to make the ipu heke gourd used for hula percussion, and hula kahiko and hula auana dance instruction. The Moku O Keawe Fest's marketplace, open on Fri. Nov. 5 and Sat., Nov. 6 at the Waikoloa Beach Resort & Spa, will feature made-in-Hawaii crafts, fashion, lei, hula implements and other artisan merchandise for sale.
The festival ends Sun., Nov. 8 with a sunset hoike (showcase) at the outdoor Waikoloa Bowl, featuring a full evening of hula and live Hawaiian music by O'Brian Eselu, Uluwehi Guerrero, Nalani Kanakaole and more.
For more information on fest events, an events schedule, and ticket prices and purchase, visit Moku O Keawe Festival's website.