Hula takes center stage at 9th annual Moku O Keawe Festival on Hawaii Island this week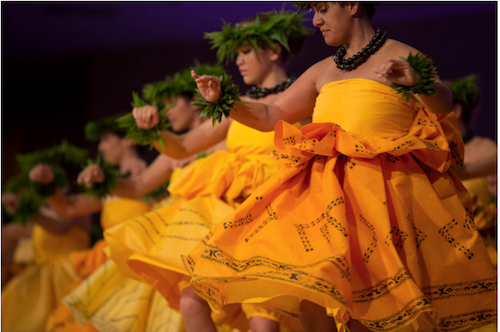 Colorful costuming, music and expertly executed visual storytelling combine in one of Hawaii's top annual hula contests, beginning tomorrow on Hawaii Island.
The 9th annual Moku O Keawe International Hula Festival will bring three days of hula competition, workshops and a craft market to the Hilton Waikoloa Village on Hawaii Island, Nov. 6-8.
Halau (group) and pakahi (solo) dancers will compete in kahiko (ancient) and auana (modern) hula events. A competition for solo and group kapuna (elder) practitioners is also part of the schedule.
Each evening of the Moku O Keawe festival will feature a ticketed hula competition and awards ceremony held in the Hilton Waikoloa's Monarchy Ballroom. Tickets are $15 for open seating along the edges of the stage and $25 for center assigned "VIP" seats.
In addition to hula competition, a lineup of daytime workshops includes dance instruction with kumu hula (hula masters) for four different hula mele (stories). The workshops span several skill levels and will be capped at 50 students. Cost is $60 per student.
Two open-to-the-public lectures will explore and explain specific cultural aspects of hula. Lectures on "Kinolau Hula," on Nov. 6 at 1 p.m., and "Adornments of Hula," on Nov. 7 at 1 p.m., will explore the symbolism and meaning of plants used to craft lei and adornments for hula. Both lectures are free, but will be accepting donations for the Moku o Keawe Foundation, the non-profit organizing the festival.
The Moku O Keawe Market Place—showcasing Hawaii Island crafts as well as hula-inspired and –related implements, fashions and more—will be open to the public on Nov. 7 and 8, from 9 a.m. to 6 p.m.
For more information, check out the competition schedule, a list of the festival's ticketed events and related workshops.